Happy 20th Birthday, Netscape Navigator 3.0!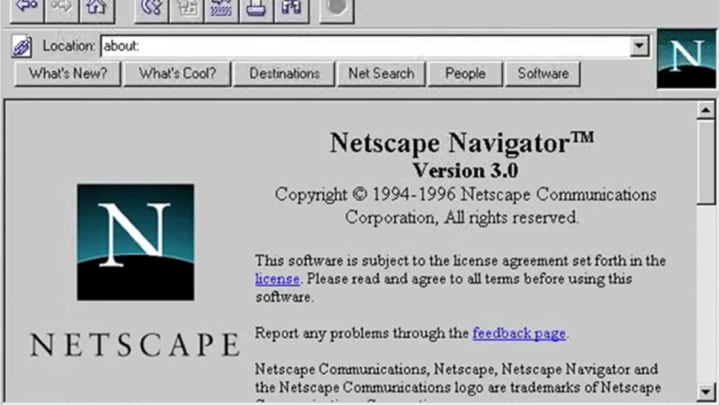 YouTube // Netscape communications / YouTube // Netscape communications
On August 21, 1996, Netscape released its massively popular Navigator 3.0 browser. Although Microsoft was busy amping up its Internet Explorer browser, Netscape Navigator peaked around 85% of browser marketshare in the mid-1990s. (Obviously, this changed as the browser wars raged.)
Although we forget it now, in 1996 web browsers weren't all free! Netscape sold its browsers in standard and "Gold" editions, starting at $49. Technically, students were allowed to use the software for free...and magically, virtually every computer user became a student (ahem).
To look back at Netscape history on this auspicious date, let's check out Code Rush, a documentary about the Netscape team when they created the Mozilla browser, right before AOL acquired Netscape. It's a heck of a late-1990s time capsule.
(Note: If you'd like to download Code Rush, The Internet Archive has you covered.)
If you're curious what Netscape Navigator 3.0 looks like today trying to browse the web, let this excruciating video be your guide. You might also enjoy the release notes for the browser, which are mostly concerned with plugin compatibility.
If that's not enough 1990s browser nostalgia for you, here's the keynote address from the 1996 Internet Developer's Conference, featuring Marc Andreesen and others. There is a lot of 1990s hair going on here (and some fuzzy audio):