This Smart Toaster Lets You Customize Your Breakfast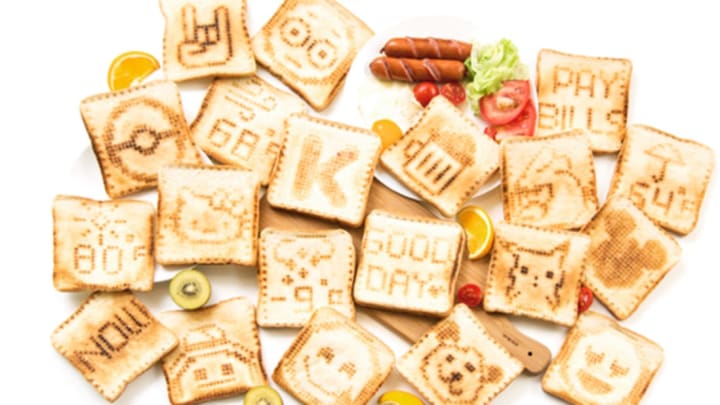 Toasteroid / Toasteroid
Toast is no longer the bland breakfast food you remember from childhood. In fact, it's having a bit of a cultural moment. There's a new toast-inspired General Mills cereal, people share elaborate toast art pictures on social media, and you've probably encountered avocado toast on multiple restaurant menus. Adding to the craze, The Daily Meal reports that there's now a Kickstarter-backed "smart toaster" called Toasteroid that lets you toast images and text onto a piece of bread.
The toaster comes with a corresponding mobile app. Simply download it, connect your phone to the toaster via Bluetooth, and select a template design to sear into your bread. You can also sketch your own design and use it instead. As for logistics, the toaster's settings let you choose how light or dark your design is, and if you're not in the mood for a customized meal, you can skip the design and make plain toast by simply pushing the toaster's start button.
The Toasteroid is currently available for pre-order on Kickstarter, where it's raised nearly $120,000 of its $150,000 goal. You can purchase a Toasteroid Mini for $65, and a full-sized Toasteroid for $85, with an estimated delivery of August 2017.
[h/t The Daily Meal]
Know of something you think we should cover? Email us at tips@mentalfloss.com.