15 Amazing Notebooks to Inspire You to Write More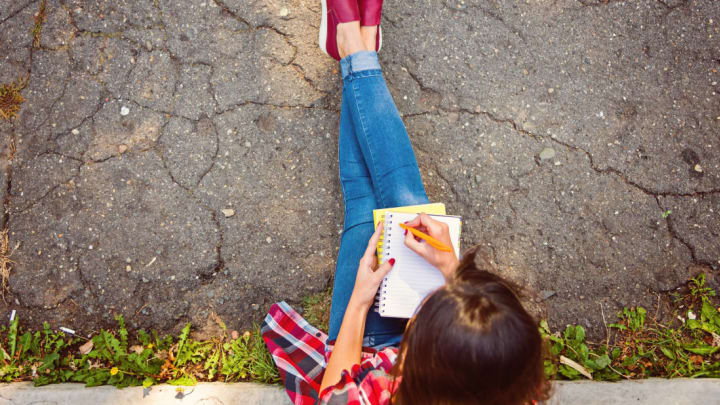 iStock / iStock
This article contains affiliate links to products selected by our editors. Mental Floss may receive a commission for purchases made through these links.
It can be hard to get started writing, but when you're using one of these awesome notebooks, you'll at least be tempted to jot something down (especially with the right pencil).
Mental Floss has affiliate relationships with certain retailers and may receive a small percentage of any sale. But we only get commission on items you buy and don't return, so we're only happy if you're happy. Thanks for helping us pay the bills!
1. STAR TREK CAPTAIN'S LOG; $7.95
A lot can happen on a mission, so it's important to keep a thorough captain's log to help you remember it all. Trekkies will love writing their notes in this 64-page themed notebook, which is about the size of a passport and slides easily into a pocket.
Find it: Amazon
2. WONDERLAND PASSPORT; $7.95
It's unlikely Alice would have had an easier time exploring Wonderland if she'd had the proper paperwork, but this notebook modeled to look like a passport will please any literary bureaucrats you know.
Find it: Amazon
3. TREE TRUNKS; $9.17
Write down all your most outdoorsy thoughts in these notebooks, which have covers that look like different tree barks—and are textured to feel just like real trees. The 96-page books are made with FSC certified wood and recycled paper.
Find it: Amazon
4. LEFTYBOOKS; €9.50
Most of the notebooks designed for lefties are pretty basic. Not Leftybooks, which are made specifically with left-handed people in mind and are plenty of fun, too: Writers can choose from covers with fun designs like marble, feathers, cereal, and more.
Find it: Imborrable
5. MICROWAVEABLE BOOKS; $23.57
Your mother probably told you not to put non-food items in the microwave, but we're here to tell you to put your notebook in there—or at least this one specific kind. The Rocketbook is a handy notepad that's reusable: After filling it with notes and doodles taken with a Pilot FriXion pen, pop the notebook in the microwave. When the pen's ink hits 140°F, it turns invisible, rendering the the pages clean and ready for another use. You can microwave the notebook up to five times before you have to get a new one. Writers who want to keep their notes can download an accompanying app that will send your notes to the cloud service of your choice.
Find it: Amazon
6. TABLE TENNIS NOTEBOOKS; $20
When you have this set of notebooks, you and a friend can play table tennis anywhere. Two books act as paddles—they even have textured rubber on their covers, just like actual paddles—while the third book serves as the net. There's also a scorecard on the inside of the books to keep track of your games, plus 100 pages in each for recording tactics and strategies.
Find it: Amazon
7. ETCH-A-SKETCH; $13.49
This may seem like an ordinary Etch-a-Sketch, but it's really a notebook in disguise. Open it up and discover 200 blank, unlined pages waiting to be filled. The two white dials are secretly erasers, since shaking it won't work this time.
Find it: Amazon
8. LENTICULAR MARIO BROTHERS; $7.61
The lenticular cover of this notebook features everyone's favorite Koopa-killing plumber; Mario jumps up to activate a question mark block as you open and close the book. Inside, you can find 200 lined pages with grey illustrations along the bottom.
Find it: Amazon
9. R2-D2; $11.99
ThinkGeek
Jot down your screenplay ideas in this officially-licensed i>Star Wars R2-D2 Journal. The end papers are decorated with even more R2, and there are 240 unlined pages waiting to be filled.
Find it: ThinkGeek
10. COLORING BOOK NOTEBOOK; $21.95
If you hit a wall while writing, take a coloring break—and with this fun notebook, you don't even have to change books when you make the switch. The hardcover book lies flat when you open it, making it easier to color every inch of the 50 pages that feature illustrations (the notebook has 176 total pages).
Find it: Coloring Notebook
11. DECOMPOSITION; VARIOUS PRICES
Decomposition Notebooks are a lot like regular notebooks, but these are made with recycled paper—and they're absolutely adorable. The fun designs vary from dinosaurs to feline cosmonauts. Each book is made with soy-ink and contains no chlorine, so it can be recycled again.
Find it: Amazon
12. RAINBOW PAGES; FROM $28.45
Your notes will look beautiful when jotted down on pastel paper—especially when that paper is also handbound in colorful leather. The 120-page A6 journal can be purchased with either lined or blank sheets.
Find it: Etsy
13. SUSHI CATS; $5.99
When picking out just the right notebook, why not choose one covered in sushi cats? You can even get matching puffy sushi cat stickers to put on it.
Find it: Amazon
14. LEGO MOLESKINE; $17.92
If you love building with LEGO bricks, pick up this Moleskine notebook. The black hardcover comes with a fancy LEGO design and a real LEGO plate. Inside, you can find two sheets of LEGO stickers.
Find it: Amazon
15. INSPIRATION PAD; €11
Created by a Brussels-based design and advertising firm, this notebook is meant to break the norm of traditionally lined paper. The Inspiration Pad features a different pattern on each page: You can watch as the lines warp and shift in spirals, slopes, and waves. The notebooks are available in yellow, brown, or blue and can be shipped internationally.
Find it: TM Shop