The Weird Week in Review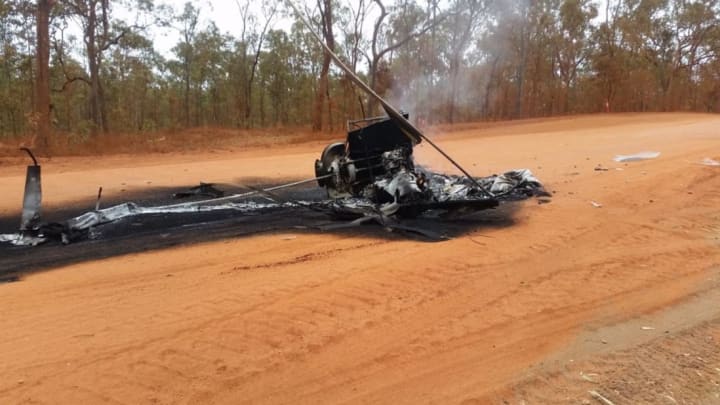 Coen Police Station / Coen Police Station
COW TAKES DOWN HELICOPTER
Australian cattle ranchers have gone hi-tech for herding, but the cows are striking back. A pilot in a Robinson R22 Beta mustering helicopter was herding cattle at a Coen Cattle Station in Queensland when it crashed to the ground on Sunday. The cause? A cow. The pilot believes that the helicopter's landing gear became entangled in the cow's horns, pulling it off-balance. The helicopter was engulfed in flames after the crash, and the Rural Fire Service extinguished the blaze. The helicopter pilot escaped with no injuries. So did the cow.
HOSPITAL HIRES ROBOT TO PATROL PARKING LOT
Bakersfield Memorial Hospital in Bakersfield, California, has unveiled its new security guard: an egg-shaped robot. The robot is able to move about without human control, and has been assigned to the hospital's emergency room parking lot.  
Equipped with several cameras, the meandering machine also has a security button that can be pressed to alert human guards. Ken Keller, the hospital's chief operating officer, also said after a software upgrade, people will be able to give it commands in both English and Spanish. "It's here for three reasons: safety, security and surveillance," said Keller.
The hospital is currently running a contest to name the robot.
SPIDER CAUSES CAR CRASH
An unidentified woman lost control of her car and went off the road in Portland, Oregon, on Wednesday. The car rolled over into a ditch and landed upside-down. The driver was okay, emerging with only a scratch on her hand. The reason she lost control was fright -when a spider fell from her rearview mirror. The fate of the spider is unknown.
GOLF COURSE ADAPTS TO BALL-STEALING CAT
A cat named Merlin has been stealing golf balls from the Aldeburgh Golf Club in Suffolk, UK. The cat's owner, Peter Bryson, says Merlin brings home up to a half-dozen golf balls a day. Witnesses have seen him carrying balls away in his mouth. The exasperated club managers have issued a temporary rule change to deal with the cat burglar. A new notice says,
"A large brown coloured Burmese cat has been seen picking up and carrying away golf balls in the vicinity of the 14th hole. "Where this has been witnessed or when it is virtually certain that a ball has disappeared from the closely-mown surfaces, a substitute ball may be dropped."
Merlin has pilfered around 30 balls so far.
MCDONALD'S PUMPKIN SPICE FRIES
People go a little nuts over anything that is "pumpkin spice" flavored in autumn. Starbucks' Pumpkin Spice Latte became such a hit that the pie flavors (cinnamon, cloves, ginger, nutmeg, and sometimes allspice) were put into everything: candy, cookies, ice cream, soda, and now french fries. Would you eat pumpkin spice fries? You won't get the chance unless you're in Japan. Pumpkin spice fries are normal everyday fries with a squirt of chocolate sauce and a squirt of pumpkin spice sauce. McDonald's Japan is offering pumpkin spice fries beginning on September 28.
BUS SHELTER STOLEN
A full-size bus shelter has disappeared from Torea Street in Granity, New Zealand. It was taken sometime between June and August as construction was being done in the area. Police are asking for information from the public, stating that it is a highly unusual item for anyone to try to hide. One would think that if no one noticed in three months, maybe they don't really need a bus shelter in that location.