11 Brilliant Gifts $10 and Up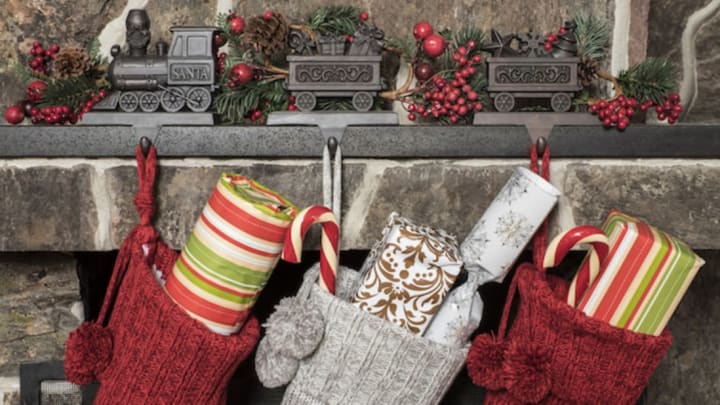 iStock / iStock
This article contains affiliate links to products selected by our editors. Mental Floss may receive a commission for purchases made through these links.
This year, rock Secret Santa with ease. These 11 budget-friendly ideas are ideal for stocking stuffers, gift exchanges, and last-minute presents.
Mental Floss has affiliate relationships with certain retailers and may receive a small percentage of any sale. But we only get commission on items you buy and don't return, so we're only happy if you're happy. Thanks for helping us pay the bills!
Amazon
Even those with the most discerning taste will appreciate this affordable, Italian-made decanter with matching stopper. Its elaborate cut-glass pattern gives an air of sophistication to any whiskey of choice and it's even dishwasher-safe.
Find It at Amazon for $13 and also at these other retailers:
Banish blurry photos and shaky video with this foldable tripod. The lightweight gadget is compatible with smartphones, mini tablets, and small cameras—and is perfect for the person who's constantly capturing moments on the go.
Find It at Amazon for $10 at also at these other retailers:
Uncommon Goods
An appetizing plan: Just add beer to this mix to create soft, salty pretzels in less than an hour. Include a beloved brew alongside this gift to really show you care. According to the markers, darker beers will create a heartier dough while lighter beers will add more of a citrus taste.
Find It at UncommonGoods for $25.
This tree kit includes everything your loved one will need to show off their green thumb, including a packet of tree seeds, a biodegradable peat pot, nutrient soil pellet, and a how-to guide packed with simple-to-follow steps. There are plenty of tree options available from sycamore to ponderosa pine.
Find It at Tree In A Box for $6.
Serve up festive appetizer plates to your favorite holiday hostess. Each microwave-safe dish features a mixed-media illustration, like the one above which shows a stick figure marching with a champagne cork hat and toothpick baton.
Find It at CB2 for $3.
Give the gift of relaxation. Apple, citrus, and heliotrope create a calming combination, and best of all, this soap is vegan and cruelty-free.
Find It at Soap & Paper for $8.
Ocean salt combined with mustard, garlic, and herbs makes this artisanal blend a must-have in any foodie's kitchen. Sprinkle the homemade mix over veggies or chicken to transport taste buds to France. Other available options include the Magic Unicorn blend (salt, paprika, rosemary, and garlic) and Hot Steve (salt, cayenne, chipotle, orange, garlic, and smoked paprika).
Find It at Etsy for $8.
Shopping for a fickle fashionista can be tricky, so hedge your bets and give them four perfume options in this sampler kit from TOCCA. Each scent has its own signature mix with personality, from Emelia's fruity zest of clementine and fig to Florence's sophisticated florals of jasmine and iris.
Find It at Birchbox for $7.
Perfect for the Star Wars fan in your life, this ceramic bank is shaped like the BB-8 droid from The Force Awakens. The slot in the back makes saving for a rainy day easy, and all the painted details turn this bank into a fantastic addition to any Star Wars collection.
Find It at Amazon for $10.
College kids and cheese sandwich-enthusiasts can up their grilled cheese game with these toaster bags. Slide a sandwich or leftover pizza slice into one of these bags and pop it in the toaster. The gooey contents are protected from becoming a burnt mess, thanks to the bags' Teflon coating. Each bag is dishwasher-safe and lasts for 50 grilled cheese sandwiches.
Find It at UncommonGoods or $10.
Help a friend or family member honor another year of standout television with these mini figurines. The collection includes characters from The Flash, The Walking Dead, Golden Girls, Game of Thrones (like Daenerys Targaryen, pictured above), and more.
Find It at Amazon for $7 and up and also at these other retailers: