10 Smart and Fun Accessories That Help You Make the Most of Your Phone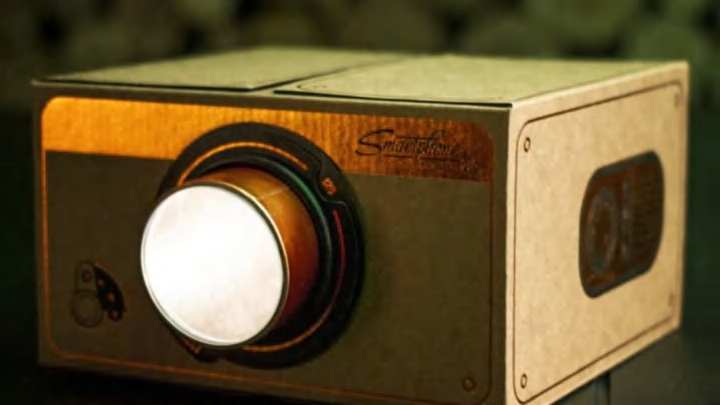 Firebox / Firebox
Your smartphone is a communicator, computer, and camera in one, but a wide variety of accessories can help you get even more out of your phone. Here are a few of them.
1. ZEISS EXOLENS WIDE-ANGLE KIT; $199
Take your smartphone photos to the next level with these professional quality lenses, created in a collaboration between Exolens and the optical manufacturing company Zeiss. There are three types of lenses—wide angle, telephoto, and macro—which can be attached to a smartphone mount. (Lenses can also be purchased separately.) Each kit comes with one lens and an Edge mount that uses gel linings to make it compatible with several models of iPhone. (The Edge also has a cold-shoe mount to attach lighting or other accessories.) Putting on and removing the mount can be tough, but Exolens will soon release a case that can stay on your phone at all times.
Find it: Amazon
2. OTTERBOX UNIVERSE CASE; $45
Simply slip out a panel on the back of this case to swap in any number of modules Otterbox has created for it, including a speaker, tripod, wallet, bike mount, and thermal imaging camera.
Find it: Amazon
3. IBLAZR 2; $56
When natural light isn't enough and your phone's flash washes out your subject, turn to iBlazr. The LED flash connects to your phone via Bluetooth and works with native camera apps; it allows you to adjust the temperature of the light for better, more professional looking photos.
Find it: Amazon
4. LIFEPRINT; $130
There are a number of devices that will allow you to print photos from your smartphone, but LifePrint goes beyond just photos using its Hyperphoto technology. First, you select a frame of a video to print. Then, when you hold up the printed photo in front of the LifePrint app, the photo comes to life. LifePrint is currently just for iOS, but the company is developing an Android version that it plans to release this year.
Find it: Lifeprint
5. STEELIE DESK AND DASH SYSTEM; $39
This system—which includes a socket, vent mount, and tabletop stand—allows you to use your phone sans hands. Simply connect the socket, which contains a magnet, to your phone (or its case), then attach it to one of the mounts. Use the tabletop stand in the kitchen to follow a recipe easily or clip the vent mount into your car for hands-free navigation.
Find it: Amazon
6. POOCH SELFIE; $17
It can be hard to get your dog's attention long enough to snap a sharp selfie. Enter the Pooch Selfie, a tennis ball on a mount that clips onto your phone. (Though it was designed for iPhones and Samsung Galaxies, according to the manufacturer, "it works universally with most smartphones and tablets.") If the tennis ball—which squeaks—doesn't hold your pupper's attention, simply swap it out for his favorite toy.
Find it: Firebox
7. TRAVEL ADAPTOR WITH USB PORTS; $28
Make sure you're fully charged when traveling in the UK, Europe, and Australia with this adaptor, which accepts 100V to 240V and has two USB ports.
Find it: MoMA
8. SMARTPHONE PROJECTOR 2.0; $26
Most projectors will set you back a pretty penny, but this device isn't going to break the bank. Made of cardboard, it comes fully assembled and allows you to project videos onto the wall from your phone at eight times their normal size. Simply slip your phone inside, where it's held in place by a silicone grip, sit back, and press play.
Find it: Firebox
9. INFINITY VIRTUAL REALITY HEADSET; $39
Those in the market for a virtual reality headset who don't have $600 to shell out on the Oculus Rift should consider this device, which fits phones up to 3.5 inches by 6 inches and is equipped with eye cushions, earphone slots, and an adjustable head strap.
Find it: Firebox
10. IROLLER; $20
This device is like a lint roller for your phone: It easily removes smudges and dirt from touchscreens and displays. Cleaning it just requires a rinse in warm water.
Find it: MoMA