Bob Ross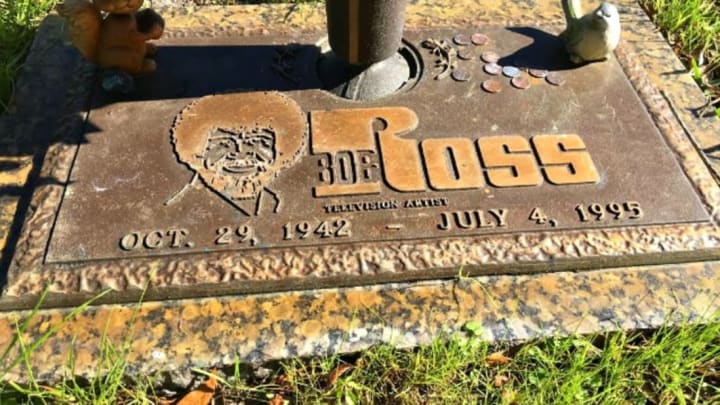 Stacy Conradt / Stacy Conradt
Whether or not you're artistically inclined, there's a good chance that you, like millions of others, have been captivated by Bob Ross's instructional landscape paintings and soothing voice.
In fact, it was his dulcet tones that caught Annette Kowalski's attention. Kowalski—credited as the woman who "discovered" Bob Ross—took a five-day instructional course with Ross in 1982. The classes had originally been the brainchild of Bill Alexander, an Emmy Award-winning TV painter who used a more exuberant version of Ross's positive patter. When Alexander stopped teaching, he tapped Ross, his protégé, to take over.
Though Kowalski had originally hoped to take the course with Alexander, she quickly became enamored with Ross's calming voice and positive messages. In addition to newfound painting skills, Kowalski left the class with a new client—she became Ross's manager, helping him broker the deal for The Joy of Painting television show with PBS, and later, a line of Bob Ross art supplies.
Though Ross's shows seemed effortless, the paintings didn't come as easy as they appeared to. Though he liked to talk about "happy accidents" on camera, Ross was a perfectionist. He recreated each painting on his show at least three times: One was used off-camera as a reference for the seemingly impromptu painting he did on-air; he painted the second one during the show; and he created a third, more detailed version for his instruction books.
His lines about happy trees and friendly clouds weren't ad-libbed, either. "He told me he would lay in bed at night and plan every word. He knew exactly what he was doing," Kowalski has said.
The careful planning paid off. A hit with artists and non-artists alike, The Joy of Painting ran for an impressive 403 episodes over 31 seasons. Ross knew his pieces weren't exactly Van Goghs, but that was never the goal. Most people, he said, didn't watch the show with the goal of learning to paint like the masters—they simply watched to unwind: "We've gotten letters from people who say they sleep better when the show is on."
The Happy Painter had more up his sleeve—a non-painting children's show was in the works, for one—when he was diagnosed with lymphoma in 1994. The Joy of Painting was canceled in order to give Ross time to focus on his health, but he passed away the following year, at the age of 52.
Stacy Conradt
If you'd like to pay your respects—maybe with some cheerful little woodland creatures like the ones above—you can find Bob Ross at Woodlawn Memorial Park in Gotha, Florida. While his headstone may be understated and unassuming, there's no doubt who it belongs to.