These Sour Gummy Sloths Are Cute Enough to Eat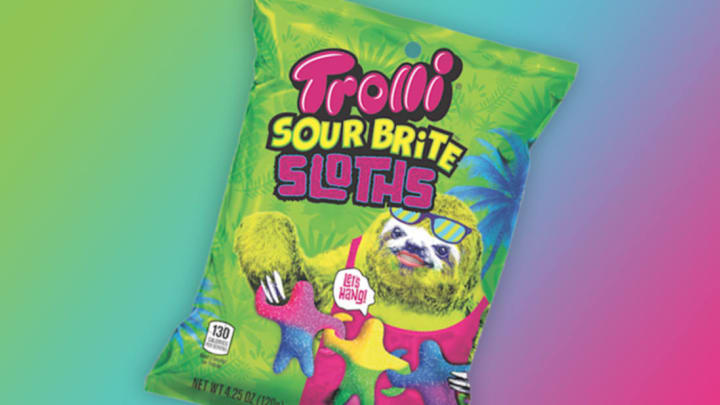 Trolli / Trolli
Haribo may have our hearts when it comes to regular gummies (the Twin Snakes are practically candy royalty), but Trolli's got the market cornered on sour gummies. The sweets company is known for its Sour Brite Crawlers, better known simply as "sour worms." If you love the flavor but are a little creeped out by eating worms, you might be more inclined to try their brand new and super cute alternative: Sour Bright Sloths!
The adorably slow mammals, beloved by Kristen Bell, can now be found in candy form in most 7-Eleven locations. The tropical flavors include pineapple and lime, strawberry and grape, and blue raspberry and berry punch. Thanks to their shape, the sloths can be linked together—Barrel of Monkeys-style—and casually dropped into your mouth like you're Bacchus eating grapes. While you're running (or slowly ambling) over to your nearest 7-Eleven, you can also grab a new Trolli flavored slushie called Pineapple Lime. Both sugary treats will be available until April 30.
This isn't the first quirky candy selection from Trolli. Besides sloths, they also sell sour beards modeled after Houston Rockets star James Harden's facial hair.