Trend Alert: Amazon's Internet Famous Page Is Packed With Top-Rated Products That Have Gone Viral Online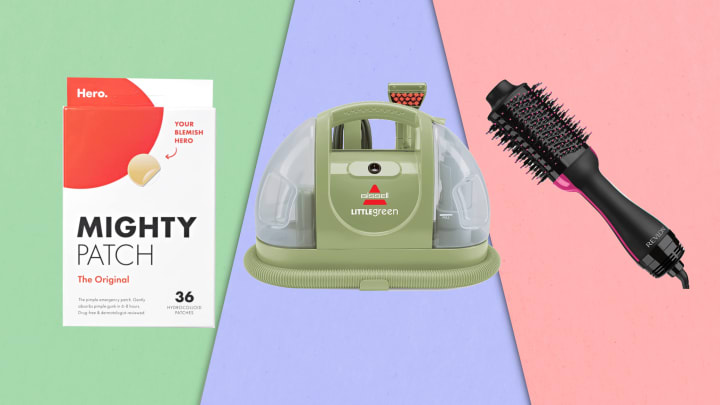 Treat yourself to one of these internet-approved products. / Mighty Patch/Bissell/Helen of Troy/Amazon/Dony/iStock/GettyImages
This article contains affiliate links to products selected by our editors. Mental Floss may receive a commission for purchases made through these links.
When the internet learns about something new and fun, word tends to spread quickly. Some things—like Wordle, for instance—get so popular, they inspire a slew of imitators. When it comes to products, TikTok has become a go-to source for discovering all kinds of new gadgets. The only problem? Most folks don't shop directly on the social media platform. But now on Amazon, you can find some of the most buzzed-about items online (specifically, on TikTok) through the retailer's newest shopping hub.
The Amazon Internet Famous page is a curated space where you can track down all the bestselling products people have discovered via social media. Through the hub, you'll find more than 1000 of the most beloved home goods, beauty, and fashion items online, from the highly coveted Revlon One-Step Volumizer Original brush (from $40) to Mighty Patch ($12), the acne spot treatment kit that nearly 100,000 Amazon reviewers have tried and reviewed on the site. The bestselling portable multi-purpose cleaner Bissell Little Green vacuum ($121) is also one of the top results on this page.
Bissell Little Green multi-purpose cleaner / Bissell/Amazon
In addition to showcasing items the internet has grown to love, there are also curated picks selected by top influencers. If you're looking to add to your beauty and skincare collection, you'll want to see TikTok makeup guru Victoria Lyn's roundup of must-have products, which includes the 4.6-star-rated Glow Recipe watermelon toner ($34) and the wildly popular Aztec Secret Indian healing clay mask (priced from $12), which more than 19,000 Amazon shoppers have given a 5-star rating. You can even explore trending women's fashion with the Montes Twins, peruse stylish men's clothing options with Tyler Joe, or spruce up your home with appliance and décor picks from Lone Fox Home.
With the new Internet Famous page on Amazon, you won't need to spend much time tracking down those must-have products you keep seeing online—you'll find them all in one convenient hub. And if you want to save more money while you shop the site, be sure to check out these under-the-radar Amazon pages where you can find discounts on all kinds of household items.