Keep the Summer Heat Away With Cooling Sheets That Cost As Little As $12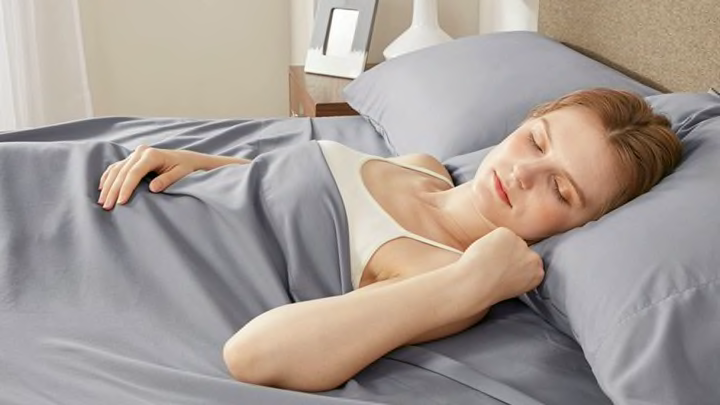 Comfort Spaces COOLMAX Cooling Sheets / Comfort Spaces/Amazon
This article contains affiliate links to products selected by our editors. Mental Floss may receive a commission for purchases made through these links.
No matter how much you crank your air conditioning unit or how fast your ceiling fan turns, sometimes it's just too hot to sleep. This is especially true for people who are hot sleepers or get hot flashes. Besides opening a window, you can help stop the heat from disturbing your slumber by getting a set of cooling sheets.
The Comfort Spaces COOLMAX Cooling Sheets are now on sale in various colors and sizes on Amazon. To ensure you get the best deal possible, check out the full-sized white sheets, which are now the lowest price of all the sets at just $12.
Comfort Spaces COOLMAX Cooling Sheets / Comfort Spaces/Amazon
The quick-drying sheets are made of COOLMAX polyester microfibers. The fabric wicks heat and moisture from the skin to the sheet's surface, where it then evaporates. It also allows cool air to circulate easily through the material.
Each set is machine washable and contains a flat sheet, a fitted sheet, and two pillowcases. These particular full-sized fitted sheets feature 16-inch deep corner pockets so you can fit your mattress and a topper.
With over 11,000 reviews and a 4.3-star rating, it's clear many people have found solace from the heat thanks to these Comfort Spaces sheets. One person who has an autoimmune disease that gives them hot flashes throughout the night was surprised by these cooling sheets. "I was unsure if these would work. But they really are [moisture-wicking] and are so so soft and comfortable. I would definitely recommend these sheets and will buy more," the customer wrote. Another reviewer, who lives in Arizona with their hot sleeper husband and considers cooling sheets a necessity, was elated to discover these at such an affordable price. "I'm so happy to report that these sheets are exactly what they purport to be. They are EXTREMELY comfortable and soft. They are also very cool," the customer wrote.
Get yourself a set of these Comfort Spaces COOLMAX Cooling Sheets on Amazon before the temperatures start to rise.