This Stylish Stationary Vacuum Sucks Up Pet Hair, Dirt, and More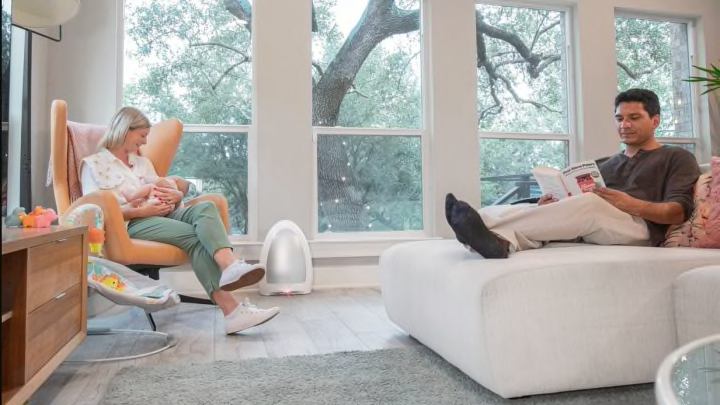 EyeVac Home Touchless Stationary Vacuum / JPaulJones, L.P./Amazon
This article contains affiliate links to products selected by our editors. Mental Floss may receive a commission for purchases made through these links.
Whether you want to admit it or not, no floor in your home is immune to becoming a mess of pet fur, food crumbs, and dirt that gets tracked inside. But instead of using an old dustpan to gather up all that grit and grime, you can opt for a stationary vacuum that does most of the heavy lifting for you.
The EyeVac Home Touchless Stationary Vacuum on Amazon ($129) is a sleek gadget that comes in six colors. It's more efficient than using a dustpan—and not having to bend over to use it will help save your back. The device uses infrared sensors to detect when any dirt or debris is nearby, so all you need to do is sweep your mess near the device and the EyeVac will suck it up.
To use the EyeVac, start by plugging the 6-foot cord into an outlet; place it on tile, cement, linoleum, or wooden flooring; and push either the manual or auto mode button on its top. You'll have more control over the vacuum in manual mode, but auto mode allows you to just sweep dirt near the vacuum's opening to activate it. An indicator light near the mode buttons will tell you when the canister that collects all the debris is full.
EyeVac Home Touchless Stationary Vacuum / JPaulJones, L.P./Amazon
According to the company, this easy-to-use cleaning solution is safe around pets and children, and its infrared sensors can detect debris from about 7 to 10 inches away. In addition, the EyeVac uses a powerful 1000-watt motor to bring all the mess from your floor into the vacuum on seven-second cycles. This device even has high-efficiency pre-motor and exhaust filters, which keep the vacuum running smoothly while removing pollen, dust, and mold particles from the air.
Check out the EyeVac Home Touchless Stationary Vacuum on Amazon before everyone else catches up on the genius of this gadget.