Goldbelly's New York Box Features the City's Best Hot Dogs, Bagels, and Pizza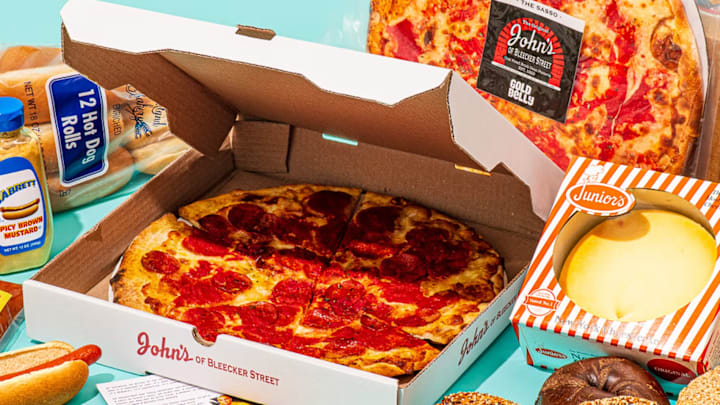 The Big Apple never looked so scrumptious. / Goldbelly
This article contains affiliate links to products selected by our editors. Mental Floss may receive a commission for purchases made through these links.
New Yorkers are proud of their local cuisine—so proud that they may resist ordering pizza and bagels when traveling outside the metro area. Now, they don't have to choose between taking a vacation and eating like they're at home. As Thrillist reports, Goldbelly offers a Taste of New York Weekender box packed with the city's most iconic bites.
The curated selection fits a city-wide food tour of New York into one package. Several of the city's top eateries have contributed ingredients and dishes that foodies would normally have to wait in long lines to sample. For pizza lovers, there are two pre-made pies courtesy of John's of Bleecker Street. Gray's Papaya fans can assemble their own hot dogs at home using buns, sausages, and condiments from the New York City institution. An assortment of a dozen bagels comes from Ess-a-bagel, and for dessert there's a six-inch cheesecake from Junior's.
There's enough in this box to feed eight to 12 people. / Goldbelly
The package is perfect for homesick New Yorkers—or aspiring tourists who aren't ready to commit to booking a trip. It comes with enough food to feed eight to 12 people, and if you've every tried reserving a table for a party that size in Manhattan, you know that's a steal. One box costs $230, and includes free shipping to almost anywhere in the U.S. You can order yours from Goldbelly today.
[h/t Thrillist]