11 Tips for That Benjamin Harrison Birthday Bash You're Probably Planning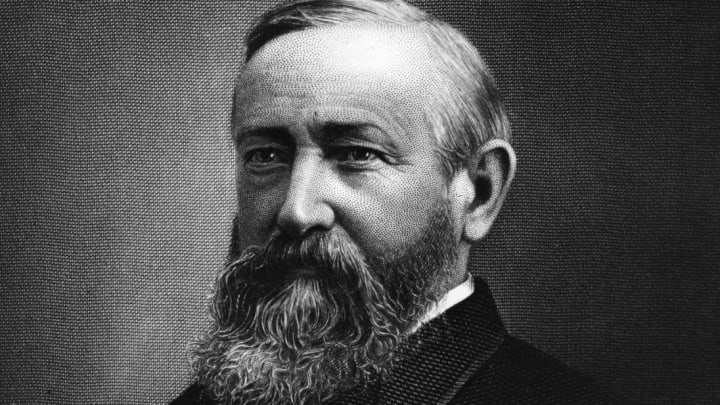 Hulton Archive/Getty Images / Hulton Archive/Getty Images
If you're looking for an excuse to host an impromptu Monday get-together, why not throw a birthday bash for America's last bearded president? Today happens to be Benjamin Harrison's 179th. Here are 11 party-planning tips that'll help you set the scene for an epic celebration.
1. Leave the Lights On
It is imperative that your rave be well-lit. Benjamin Harrison was the first president to have electricity installed in the White House. He was so afraid of being electrocuted that he refused to touch the light switches. Consequently, he and his wife often left the lights on all night long. So if you want to rage Harrison-style, don't expect to do it in the dark.
2. Rent a Goat!
Harrison kept a pet goat named Old Whiskers who would often pull the president's grandchildren around the White House lawn in a cart.
One day, Old Whiskers managed to slip through the White House gates and made a break for it, pulling the kids behind him. Harrison chased them down Pennsylvania Avenue, frantically waving his cane as he struggled to hold on to his top hat. Passersby eventually apprehended the rogue goat when they saw the president feverishly running after him. We suggest you unveil your Capricorn early to establish an Animal (White) House vibe early on.
3. Ice, Ice Baby!
Harrison wasn't exactly a warm and fuzzy guy. In fact, he was known as "the human iceberg" —and it wasn't exactly a term of endearment. Theodore Roosevelt once called Harrison "a cold-blooded, narrow-minded, prejudiced, obstinate, timid old psalm-singing Indianapolis politician." To honor His Frigidness, prepare a party menu that includes plenty of chilled items. Serve up ice cream, ice pops, frozen margaritas, Patron on the rocks—anything below 32 degrees. Maybe even include a little Vanilla Ice or Ice Cube on your party playlist. We hear Harrison was a big fan of (18)90's rap. (OK, that's probably not true.)
4. Spend it Up . . .
If you're throwing a party for Benjamin Harrison, get ready to part with some Benjamin Franklins. Harrison's was the first administration to appropriate more than $1 billion in Congressional spending, and we've never looked back. While Harrison spent the money on internal improvements, naval expansion, subsidies for steamship lines, and veterans' pensions, we suggest that you budget your bash differently.
5. . . . But Not at Walmart
If Harrison were alive today, we're betting he wouldn't be buying his party supplies at America's superstore. During his presidency, Harrison supported the landmark Sherman Antitrust Act, the first bill that ever attempted to curb the power of America's corporate giants. Harrison was also a protectionist who favored high tariffs—meaning that businesses who wanted to import products from other countries had to pay major taxes. Harrison believed that consumers should buy American-made products at fair prices. He once said, "I pity the man who wants a coat so cheap that the man or woman who produces the cloth will starve in the process."
6. Be Chill With Big Love
When it comes to a Benjamin Harrison rager, anything goes. Harrison wasn't exactly your everyday swinger, but he did give his polygamist friends a free pass. In 1893, he issued a proclamation pardoning Mormons who had been in polygamous marriages on the condition that they stick to monogamy from then on. And though he may have appeared supremely traditional, Harrison had his fair share of romantic drama. After Harrison's first wife Caroline passed away, he married her niece Mary – a widow nearly thirty years his junior.
7. VIP Treatment for the Bearded
Harrison was, regretfully, America's last bearded president. To honor him right, give your bewhiskered guests special treatment. Rope off a reserved VIP section that only guests with beards can enter. Make sure that they get all sorts of presidential perks—like permission to eat all the chocolate out of the Neapolitan ice cream without consequence.
8. Serve Cleveland Sandwiches as Hors d'Oeuvres
Harrison's presidency was sandwiched between Grover Cleveland's two nonconsecutive terms. In 1888, Harrison lost the popular vote to Cleveland by a narrow margin, but won the Electoral College. In 1892, however, Harrison lost to Cleveland in a landslide—largely because his tariff policies were so unpopular. Scrumptious Cleveland sandwich hors d'oeuvres might consist of ice cream to represent the notoriously frigid Harrison, sandwiched between two soft, buttery cookies to symbolize the generously proportioned Cleveland.
9. Show the 700 Club
Turning on a TV or two can help create a party-appropriate ambiance. While your run-of-the mill nightclub probably shows music videos or sports games, we suggest a totally original program to really get the party started: The 700 Club. Televangelist Pat Robertson is a relative of the Harrison clan. Harrison was a born-again Christian himself, and his faith formed the sense of duty that underlaid his political activities. Harrison's rhetoric reflected civil religious themes, advocating equal opportunity.
10. Steal the Stage
Make sure you prepare a few eloquent words to appease the mid-party calls for a speech. After all, it's not a real Ben Harrison bash without a great speech or five. Harrison was known as an outstanding and prolific orator; he once made 140 different speeches in one month. That's 4.67 distinct addresses per day! And he came by his love of public speaking honestly. Harrison's grandfather, William Henry Harrison, gave the longest inaugural address on record; it lasted nearly two hours and was delivered outside in a snowstorm. (Grandpa Wills died of pneumonia about a month into his term, which many people attributed to his record-breaking address.) We suggest that you make your toast a little shorter, and consider holding it indoors just in case.
11. Ignore the Party Poopers
Harrison certainly wasn't popular with everyone. In fact, some scholars argue that his economic policies contributed to the Panic of 1893 shortly after he left office. Although he's not traditionally regarded as one of our most distinguished chief executives, recent historians have come to recognize the important achievements of the Harrison administration. Harrison helped usher the United States into a new epoch of international trade, convened the first Pan-American conference, championed for black citizens' voting rights, admitted six states into the Union, and took the first step toward curbing the power of corporate giants – all while maintaining impeccably groomed facial hair. So if partygoers aren't enjoying your awesome rager, give them some time (a hundred years or so) to get into the mood.