The Quick 13: Where the 13 Colonies Got Their Names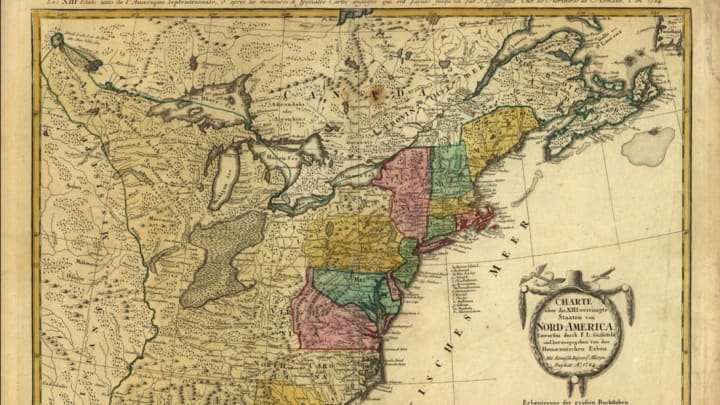 F.L. Guffefeld, Wikipedia Commons // Public Domain / F.L. Guffefeld, Wikipedia Commons // Public Domain
You probably knew that Rhode Island is not an island—so how did it gets its name? Read on for the full scoop on it and the other 12 original colonies.
1. NEW HAMPSHIRE
This New England colony started out as the Province of New Hampshire. It was named by John Mason after the county of Hampshire in England (home of Jane Austen and Charles Dickens).
2. MASSACHUSETTS
Massachusetts was originally the Province of Massachusetts Bay. It was named after an Algonquian tribe, the Massachusett, which translates to something along the lines of "people of the great hill" or "at the place of large hills," referring to the famous Blue Hills.
3. RHODE ISLAND
Rhode Island is just a colloquialism—the official name is the State of Rhode Island and Providence Plantations. Basically, Italian explorer Giovanni Verrazzano compared what is now Block Island to the Island of Rhodes in size. And in 1636, Roger Williams was given some land at the top of Narragansett Bay by Indian chiefs Canonicus and Miantonomi. Williams decided to call the land "Providence Plantations" because he felt that God had guided him there. The story is longer than this, and it's actually really interesting. You can check it out at the Rhode Island Office of the Secretary of State.
4. CONNECTICUT
Connecticut got its name thanks to the Connecticut River (which obviously wasn't named that at the time). The word comes from the Indian word "Quinnehtukqut," which means, roughly, "beside the long tidal river." So the Connecticut River is called "Beside the Long Tidal River River," sort of.
5. NEW YORK
You'll see in a minute that King Charles I and II basically included shout-outs to their friends and family all over the 13 colonies. And New York is one of them. It was originally called New Netherland when the Dutch founded it—it was when the British took over in 1664 that it received its current name. But why? To honor King Charles II's brother, the Duke of York and Albany (see?).
6. NEW JERSEY
New Jersey got its name from an island in the English Channel, named, appropriately, Jersey.
7. PENNSYLVANIA
This colony, of course, was named after founder William Penn. And "sylvania" is Latin for woods or woodland, so "Pennsylvania" means Penn's woods. If you're curious about how Penn got to name the state after himself, here's a clue—the 1680 charter was provided by King Charles II, and the Penn family were great friends of the English monarch.
8. GEORGIA
Georgia is another one named for a King—King George II, of course. George granted the charter in 1733, stipulating that the territory bear his name. It was the last of the 13 colonies.
9. VIRGINIA
This colony was named after Queen Elizabeth I, the "virgin queen" who married England instead of a husband. West Virginia wasn't a separate state until 1861.
10. MARYLAND
The Free State received its name by edict, not by choice. Cecil Calvert, the second Lord Baltimore, received a charter from Charles I of England for this new colony. But there was a catch: the colony must be named after Charles' wife, Queen Henrietta Mary (she went by Queen Mary).
11, 12. NORTH CAROLINA AND SOUTH CAROLINA
These two colonies were considered one big unit until they divided up in 1729. By this time, King Charles II was in power and provided the charters, specifying that they be named after his father, King Charles I. The Latin version of Charles is "Carolus," from which "Carolina" is derived.
13. DELAWARE
According to the book State Names, Seals, Flags, and Symbols, the state of Delaware is named after the Delaware River. The Delaware River, in turn, is named after Sir Thomas West, Lord de la Warr.
And, a bonus: Vermont, which was not one of the 13 colonies, is named because, after seeing the Green Mountains, Samuel de Champlain referred to it as "Verd Mont" (green mountains) on a map in his native French.