10 Fun Facts About Grauman's Chinese Theatre
Grauman's Chinese Theatre is one of the world's most famous cinemas, and one of Los Angeles's best-known tourist traps. With the handprints, footprints, and signatures of Hollywood's biggest stars peppered across the forecourt of the theater—and everyone from Spider-man to SpongeBob standing by ready to pose for a photo with you—tourists can't really help themselves. But there's more to this theater than meets the eye. Here are 10 things you might not know about the world-famous cinema, which opened its doors on May 18, 1927.
1. IT WAS THE LAST OF SID GRAUMAN'S THEATERS TO BE BUILT.
It may (arguably) be the most well-known of Sid Grauman's theaters, but it was the last one to be built. After Grauman was unsuccessful at gold mining during the Klondike days, he decided to open up a chain of theaters in Alaska and Northern California before setting his sights on Los Angeles. The Million Dollar Theatre (which actually cost $800,000 to build, not $1 million) opened in 1918 and the Egyptian Theater opened in 1922. Hollywood quickly caught on to Grauman's movie theater vision and started booking his establishments for high-profile events. In fact, the first-ever film premiere, for an adaptation of Robin Hood starring Douglas Fairbanks, was held at the Egyptian the same year it opened. Grauman built the first two to appeal to the public, and once they were successful, he was able to build a theater in the style that he personally really wanted to see, and that ended up being the Chinese Theatre.
2. IT GOT ITS FIRST NAME CHANGE IN 1973.
If you're sitting there thinking to yourself, "Wait, wasn't it Mann's Chinese Theatre?" Well, you're right—it was. Ted Mann purchased the theater in 1973 (nearly 25 years after Sid Grauman's death) and renamed the historic landmark. He even had a wax likeness of his wife, actress Rhonda Fleming, created to sit in a chair in the middle of all the Chinese wax figures that stood in the lobby. They divorced in 2001, which was the year before Mann declared bankruptcy and sold the theater to Warner Bros. and Paramount Pictures. Though it reverted to its original name in 2001, that changed yet again in 2013, when the TCL Corporation, a Chinese television manufacturer, purchased the naming rights to the theater, which is now officially known as TCL Chinese Theatre (though no one will mind—or argue—if you still call it Grauman's).
3. THE FIRST FOOTPRINT WAS SUPPOSEDLY NORMA TALMADGE'S.
The story of how the idea to immortalize celebs in cement came about has been told in many a brochure about the place, though it may not necessarily be true. The story is that Norma Talmadge, a friend of Grauman's, stepped out of her car to check out Sid's new digs. The cement was still wet, and a light bulb went off in old Grauman's head. But the theater owner himself later said that yes, it was an accident—but that it was he, not Talmadge, was the one who stepped into the fresh sludge. The first "official" signature in the forecourt was Mary Pickford's. Mary and her then-husband Douglas Fairbanks were the theater's co-owners.
4. THE INSIDE OF THE THEATER IS DECORATED WITH PIECES HAND-SELECTED BY GRAUMAN HIMSELF.
The inside of the theater is decorated with authentic treasures hand-selected from China by Sid Grauman himself, but one of the things that draws the most attention is the Chinese wax figures. They were once considered to be so lifelike that people would actually try to talk to them, then turn away in embarrassment when their lack of response tipped the inquisitive conversationalist off to the fact that they were just wax. It used to be good luck for actors and film execs to come to the theater and touch the wax people for good luck before embarking upon a new project.
5. IF YOU EVER GET THE CHANCE TO PRESS YOUR PALMS INTO THE CEMENT AT GRAUMAN'S, DON'T BE AFRAID TO GET CREATIVE.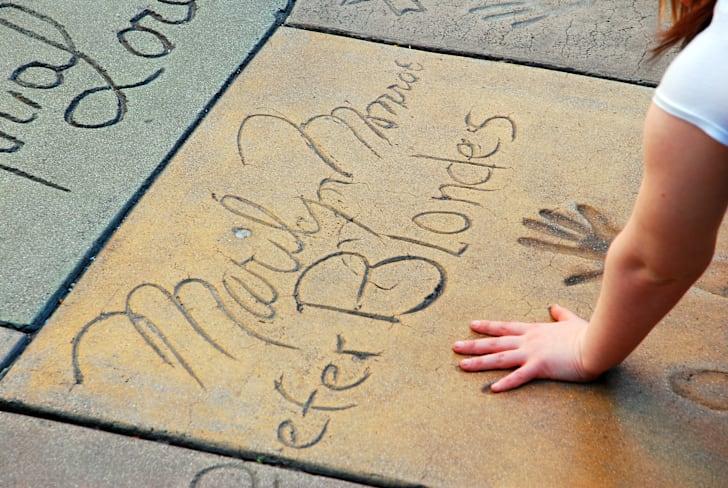 Should you ever get the chance to press your palms into cement at Grauman's, feel free to think outside of the box and include more than just your hands, feet, and signature. Whoopi Goldberg pressed a dreadlock into the cement; Betty Grable did an imprint of her leg; George Burns left his cigar print; and John Wayne left his fist. Marilyn Monroe dotted the "I" in her name with a rhinestone but some souvenir-hunter chipped it out of the cement.
6. NOT ALL OF THE IMMORTALIZED NAMES ARE FAMILIAR ONES (AT LEAST NOT TODAY).
You might find a few unfamiliar names in the cement: Charles Nelson, the Talent Quest winner, for one. But there's also former Yahoo! chairman and CEO Terry Semel; Clarence Nash, the voice of Donald Duck; and opera singers Lauritz Melchior and Ezio Pinza. Any of the other unfamiliar names are probably older actors. Rosa Grauman is the only person in the forecourt with her own square who has nothing to do with the entertainment industry except for the fact that she gave birth to Sid. Also vying for the best son title: actor Donald O'Connor, who had his mom write her name in his square right next to his.
7. ONCE A SLAB OF CEMENT HAS BEEN SIGNED, IT STAYS IN THE FORECOURT FOREVER.
Once a slab of cement has been signed, it stays there. Yes, even the guy who won Talent Quest in 1949; though he ended up more like Ruben Studdard than Carrie Underwood, and could probably be removed without anyone protesting too much, he's still there today.
8. IT'S BEEN THE SITE OF A NUMBER OF MAJOR MOVIE PREMIERES.
Movies that premiered at Grauman's include A Farewell to Arms, The King and I, Shane, Giant, West Side Story, Breakfast at Tiffany's, Mary Poppins, A Funny Thing Happened on the Way to the Forum, Hello Dolly, Jungle Book, Butch Cassidy and the Sundance Kid, and Star Wars—and the hits keep coming. More recent premieres have included Solo: A Star Wars Story, Avengers: Infinity War, Call Me By Your Name, and It.
9. IT'S ALSO HOSTED THE OSCARS.
The theater has been home to Hollywood's biggest night on a few occasions; from 1944 to 1946, Grauman's Chinese Theatre was home to the Academy Awards.
10. THE EXTERIOR ARCHITECTURE HAS CHANGED A BIT OVER THE YEARS.
Right now, it's simply the theater and the forecourt. But there used to be marquees on either side of the pagoda-esque building announcing what movie was playing and who was starring in it. And at one point, a Cinemascope sign stood directly in the view of the pagoda. There also used to be a small ticket booth right in the middle, because the theater was (and still is) a real, working theater—not just a showcase for premieres and galas. The booth's gone now as well.