12 Places That Rarely See Snow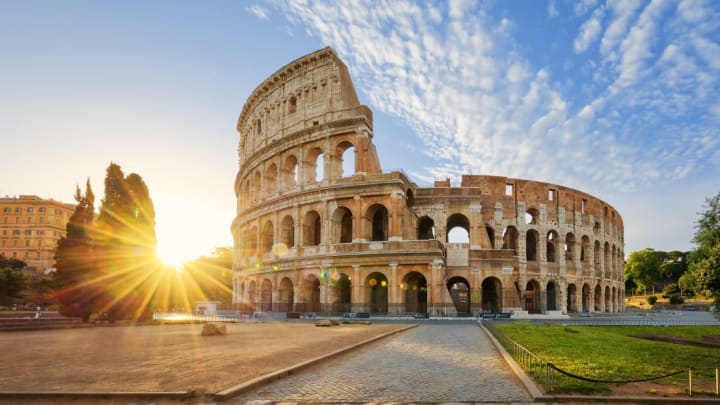 iStock / iStock
Snowbirds, take note: If a winter season completely devoid of snow sounds like your idea of heaven, these 12 places are calling your name. Though they do get the occasional dusting, once every few decades is definitely more novelty than nuisance.
1. ROME, ITALY
Rome gets a dusting every few years, but heavy snow that sticks happens only once every 25 years or so. When it happened in 2012, the snow did some damage to the Colosseum, forcing officials to close the historic monument for inspection.
2. MIAMI, FLORIDA
In 1977, a cold wave swept through Florida, causing snow flurries for the first and time in the recorded history of many towns, including Miami. The only time it had happened before was in 1899, and that was in Fort Pierce—130 miles north. While Miamians were charmed by the snow, workers in the state's citrus and vegetable industry weren't so thrilled; the snow and cold weather wiped them out, costing at least 150,000 people their jobs.
3. THE SAHARA DESERT
The Sahara isn't always dry—the desert experiences snow storms on extremely rare occasions, including December 19, 2016, when snow stuck to the sand dunes in Ain Sefra, Algeria, for about a day.
The white stuff ended a 37-year snowless spell for the region; the last time the Sahara saw snow that stuck was February 1979, and it only lasted for 30 minutes.
4. SYDNEY, AUSTRALIA
Though the only recorded snowfall in Sydney's history happened close to 200 years ago, there was a close call in 2007. However, the tiny white precipitation turned out to be "soft hail," not snow. In fact, some historians think the 1836 event may also have been hail. "Two hundred years ago they may not have been that well trained and it was probably small hail," said Peter Zmijewsk, senior forecaster at the Bureau of Meteorology.
5. BAGHDAD, IRAQ
Although it's not uncommon to see snow in northern Iraq, snow took a 100-year hiatus from Baghdad before deciding to show itself again in 2008. Most of it melted as soon as it hit the ground, but citizens were still pleasantly surprised.
6. LISBON, PORTUGAL
Prior to January 2006, it had been more than a half-century since Lisbon had last seen snowfall. Many highways and roads were closed in central and south Portugal during the storm of 2006; one town even lost power.
7. MALIBU, CALIFORNIA
Snow in the mountains of California is expected, but snow in Malibu is pretty rare. The last measurable amount was during a cold snap at the end of 2008 that also hit Las Vegas.
8. LAS VEGAS, NEVADA
It used to be a rarity to see snow falling on the Palms or the Bellagio, but it seems to be happening about once a year now. The snow is brief and often melts as fast as it falls, but in December 2008, enough stuck around to make it a pretty newsworthy event.
9. BUENOS AIRES, ARGENTINA
If you could happily go 89 years without seeing snow, Buenos Aires might be the place for you; Snow was a stranger to the city from June 22, 1918, through July 9, 2007.
10. SAN DIEGO, CALIFORNIA
The mountains in San Diego County see snow every year, but San Diego proper hasn't had measurable snowfall since 1967. Flakes have floated through the air on occasion, even on a memorable Christmas Eve in 1987—but nothing like the amount they got in '67. It was so much, one resident reported, that some kids managed to go sledding.
11. HAWAII
It snows pretty much annually in Hawaii—even enough to go skiing. To see the rare event, however, you'll have to go up: The white stuff only sticks around at the top of Mauna Loa, Mauna Kea, and Haleakala. In fact, Mauna Kea was blanketed in snow in December 2016.
12. NEW ORLEANS, LOUISIANA
Just 17 "snow events" have been recorded in NOLA from 1853 to 2008. Nothing compares to the snow of 1895; residents were flummoxed to find themselves snowed in with more than 8 inches of snow on the ground.