How Austrian Soldiers Saved the 1964 Olympics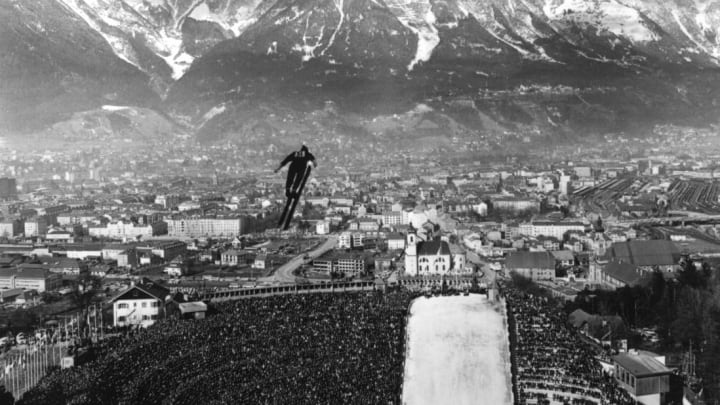 Allsport Hulton/Archive / Allsport Hulton/Archive
Although the Austrian city of Innsbruck has a well-deserved reputation as a winter sports mecca, it was dangerously low on snow and ice in the weeks leading up the 1964 Winter Olympics. So the organizers called in the troops.
Austrian soldiers went to work carving 20,000 blocks of ice away from the top of the mountain and then toting them down to make luge and bobsled tracks. In order to salvage the skiing events, the soldiers had to lug 40,000 cubic meters of snow from the tops of mountains down to the slopes that had been chosen for the various races. On top of that, they brought down an extra 20,000 cubic meters just in case anything bad happened to the first batch of snow.
And oh, how something bad did happen! Ten days before the opening ceremony, it started raining. As you probably know, rain and snow aren't the closest of chums, so much of the work that had already been done on the courses melted. The Austrian army again came to the rescue, though, taking to the slopes and tamping down the remaining snow by hand and foot. Thanks to this bit of resourcefulness, the games went on as planned.
Things aren't quite that tricky today, though. Artificially produced snow made its debut at the 1980 Winter Olympics, but the old "bring in some outside snow" tactic isn't totally dead. When the snow forecast for the Vancouver freestyle skiing and snowboarding venue Cypress Mountain looked grim in 2010, the organizers started trucking in loads of snow from other locations. Engineers then spread the snow on top of carefully situated bales of hay to give the slopes their desired shape. (How do you get bales of hay on a ski slope? You drop them from a helicopter.)
Of course, there's such a thing as too much winter weather for the Olympics, too. Snow and rain plagued the 1998 Nagano Games and led to lengthy delays and postponements for some events.
This post originally appeared in 2010.