Where is Old Jersey? (and 6 other "New" location origins)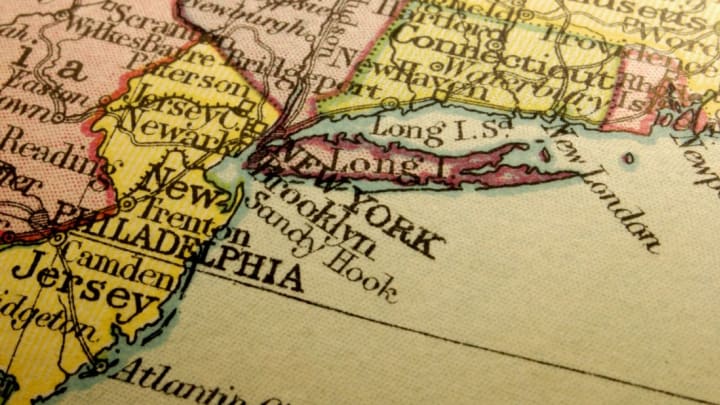 iStock / Kalulu / iStock / Kalulu
I grew up in New Jersey... exit 4, to be more precise. But it wasn't until I left home that I actually started to think about the original Jersey, off the coast of France. Technically, the original Jersey is a bailiwick composed of an island and two groups of small islands, which, along with another bailiwick called Guernsey, make up the Channel Islands. Jersey isn't part of the U.K., nor is it a full-member state of the EU, but is a separate possession of The Crown in Right of the United Kingdom.
So why is New Jersey named after Jersey? Well, When Charles II of England was exiled in Jersey, a man named Sir George Carteret, a royalist statesman in Jersey, often came to the monarch's assistance. To repay the favor, later Charless II gave Carteret a huge tract of land over in the American colonies where Sir Bruce Springsteen would later grow up, which Carteret promptly named New Jersey. This also answers the question: why is there a borough in Middlesex County, NJ called Carteret? Glad we cleared that one up, aren't you?
Okay, but what about New Brunswick, NJ?
Well, in 1714, the area originally inhabited by the Lenape Native Americans was named New Brunswick after the city of Braunschweig, in state of Lower Saxony, in Germany. Bruno II, a Saxon count who lived during the 11th century, settled the original area in Germany and the town is named after him (Bruno + wik).
Leaving New Jersey and traveling into New York, which, of course, was New Amsterdam, we come to the awfully quaint village of New Paltz, NY. Founded in 1678 by French Huguenots, including Louis DuBois, who lived in Mannheim, Germany, for a brief period of time before sailing on to the New Land, New Paltz is probably most famous for being the place Penny got an abortion in the Dirty Dancing.
But what about the name? Well, Mannheim, Germany was a major town of the Rhenish Palatinate or, in German, the Rheinpfalz (try saying that with a saltine in your mouth!). Take away the Rhein and you're left with pfalz, which the good people of Mannheim pronounced Paltz! When they made their way to New York, it was a no-brainer to call the land New Paltz.
New Rochelle, located in Westchester County, New York, was originally settled by refugee Huguenots in 1688 who were on the run from Catholic-instigated massacres back in France. As history would have it, many of the pioneers hailed from the city of La Rochelle, France, which is in south-western France on the Bay of Biscay.
Moving north to Connecticut, we come to one of the most affluent communities in the US, New Canaan, which takes its name first from the parish established in 1731 called Canaan. When the parish finally became a town in 1801, they called it New Canaan. Of course, the original Canaan was a tract of land defined in the Bible as the "Land of Canaan," which, according to the Canaanites, extended from Lebanon southward across Gaza to the "Brook of Egypt" and eastward to the Jordan River Valley.
Our last stop on this Old/New tour is New Hampshire.
The original Hampshire is on the southern coast of England Hampshire, sometimes historically referred to as Southamptonshire, Hamptonshire, and the County of Southampton, which may answer all sort of questions about those precious Hamptons on Long Island. Since Hampshire was on the coast, it made for easy access back in the 17th century for those leaving England and settling in the region they then called New Hampshire.
New Durham, NH was named after Durham, NH, which got its name from England, as well. New Durham is probably best known as the place where Reverend Benjamin Randall founded the then-new religious denomination in 1780 called the Free Will Baptists, later known as Free Baptists. The original Durahm is located in north east of England and is home to Durham University, England's third oldest educational institute after Oxford and Cambridge. It's located not too far from Durham's city center, er, rather centre.