11 Famous Men Who Used to Be Cheerleaders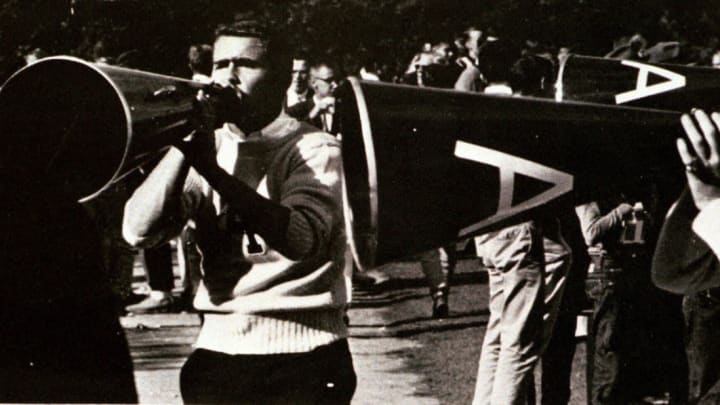 Darren McCollester/Newsmakers/Hulton Archive/Getty Images / Darren McCollester/Newsmakers/Hulton Archive/Getty Images
When cheerleading was "born" on November 2, 1898, it looked a lot different than it does today. There were no tiny outfits, no wild stunts and—surprise!—no women. University of Minnesota student Johnny Campbell rallied a football crowd with the ad-libbed cheer, "Rah, Rah, Rah! Ski-u-mah, Hoo-Rah! Hoo-Rah! Varsity! Varsity! Varsity, Minn-e-So-Tah!" and unwittingly became the father of cheerleading. (The school, by the way, still uses Campbell's original cheer to this day.)
Soon after Campbell's performance, the University of Minnesota organized a six-man "yell squad" and other colleges followed suit. Women didn't really enter the picture until 1923. Although male cheerleaders are the minority today, there was a time when they were the vast—and loud—majority. Here are 11 famous examples of them.
1. GEORGE W. BUSH
Future president George W. Bush wasn't just a cheerleader at Phillips Academy in Andover, Massachusetts in the 1960s: he was head cheerleader. And he's in good company ...
2. AARON SPELLING
Aaron Spelling may have made his name behind the scenes as one of television's most prolific—and successful—producers, but he was front and center when he was head cheerleader at Southern Methodist University.
3. JIMMY STEWART
Getty Images
Iconic actor Jimmy Stewart was also head cheerleader during his tenure at Princeton.
4. DWIGHT D. EISENHOWER
When he was no longer able to play football at West Point, Eisenhower decided to continue supporting his team by cheerleading instead.
5. FRANKLIN D. ROOSEVELT
FDR cheered for Harvard football in 1904, notably rallying the crowd for a particularly heated game against Brown.
6. SAMUEL L. JACKSON
Samuel L. Jackson lent his legendary voice to the squad at Riverside High in Chattanooga, Tennessee.
7. STEVE MARTIN
NBC Television/Courtesy of Getty Images
Steve Martin tried to write cheers for the squad he was on, but has said "Die, you gravy-sucking pigs" didn't go over too well.
8. TRENT LOTT
Former Mississippi senator Trent Lott was a cheerleader at Ole Miss.
9. RONALD REAGAN
Ronald Reagan cheered on his basketball team at Eureka College in Illinois.
10. AND 11. KIRK DOUGLAS AND MICHAEL DOUGLAS
Before he was an actor, Kirk Douglas honed his performance skills as a cheerleader at Amsterdam High School in Amsterdam, New York. As with acting, Kirk's son Michael also followed in his dad's footsteps in cheerleading; he was on the squad at Choate.