The Origins of 20 Mall Staples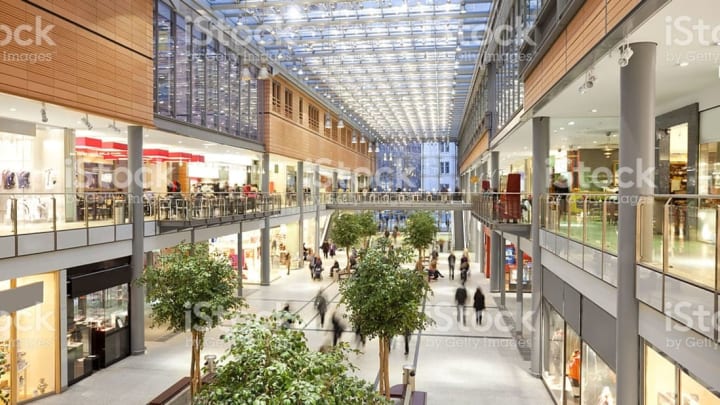 Shopping malls like these are home to a variety of popular staples. / iStock
If you've been to a mall recently, chances are at least a few of these stores were listed in the directory. From Abercrombie & Fitch to Williams-Sonoma, here are the stories behind 20 mall staples.
1. Abercrombie & Fitch
Abercrombie & Fitch was founded in 1892 as Abercrombie Co., an outdoor and sporting equipment shop, in Manhattan by topographer David T. Abercrombie. In 1904, Abercrombie partnered with one of his regular customers, Ezra H. Fitch, a lawyer, and renamed the company Abercrombie & Fitch. The unlikely business partners marketed their equipment to the sporting elite and outfitted the likes of Teddy Roosevelt and Amelia Earhart. The retailer's flagship store closed in 1977 and the company name and mailing list were purchased by Oshman's Sporting Goods. Ten years later, Oshman's sold A&F to The Limited, Inc., which changed the focus of the brand from sporting equipment to apparel. Today, Abercrombie & Fitch operates about 1000 stores nationwide.
2. American Eagle Outfitters
American Eagle Outfitters originated as part of Silvermans Menswear, which was founded in 1904 in McKees Rocks, Pennsylvania. The first American Eagle Outfitters, which sold men's and women's leisure apparel, was opened in 1977 as part of the effort to grow the Silvermans portfolio. The offshoot developed into the company's most profitable chain of stores, with more than 900 stores worldwide. In 2010, the company opened its first store in Dubai.
3. Ann Taylor
Ann Taylor founder Richard Liebeskind opened his first store in New Haven, Connecticut, in 1954. According to the company's website, Ann Taylor was the name of one of the best-selling dresses at Liebeskind's father's store. Liebeskind told the New York Times that he chose the name for his shops because it "evoked the kind of clean, casual clothes" that he first offered. After the chain spread throughout New England, Ann Taylor opened its first branch in New York City in 1973. Today, Ann Taylor runs over 1000 stores in 47 states.
4. Banana Republic
Mel and Patricia Ziegler opened the first Banana Republic Travel and Safari Clothing Company store in Mill Valley, California, in 1978. The couple had worked together at the San Francisco Chronicle—Mel as a reporter and Patricia as an illustrator—and came up with the idea for the specialty store after Mel returned from an assignment wearing a World War II British army jacket from Burma (now Myanmar). Banana Republic benefited from the popularity of films such as Indiana Jones: Raiders of the Lost Ark and Out of Africa, both of which featured products from the store. The company's unique catalogs featured illustrations and narratives of safari scenes. Banana Republic became a subsidiary of Gap in 1983 and had 110 stores by the time the Zieglers resigned, citing "fundamental creative and cultural differences," in 1988.
5. Barnes & Noble
In 1873, Charles Barnes founded a book-printing business in Wheaton, Illinois. In 1917, Charles's son, William, and G. Clifford Noble opened their first bookstore in Manhattan. In 1971, the company was purchased by Leonard Riggio, who founded the first of his successful chain of campus bookstores, the Student Book Exchange, while he was a student at New York University during the mid-1960s. Barnes & Noble took off under the leadership of Riggio, who transformed the company's fledgling flagship store at 18th Street and Fifth Avenue into a success. Barnes & Noble became the first American bookseller to advertise on television, offered discounts on New York Times bestsellers, and introduced the book superstore. Barnes & Noble is currently the country's largest physical book retailer with more than 600 stores.
6. Brooks Brothers
Henry Sands Brooks founded the oldest men's clothier chain in the United States in 1818 on the corner of Cherry and Catharine streets in New York City. Brooks died in 1833 after having brought two of his sons, Henry and Daniel H., into business with him. The store would do a booming business under the name H. & D.H. Brooks & Co., and after three other sons came aboard, the firm officially changed its name to Brooks Brothers. In 1918, Brooks Brothers issued a booklet containing the illustrated history of its first 100 years. It also included the company's maxim: "Be not the first by whom the new is tried nor yet the last to lay the old aside."
7. Brookstone
Brookstone was founded with a classified ad in Popular Science and a mail-order catalog in 1965 by Pierre de Beaumont and his wife Mary. Brookstone's first retail store, where patrons were encouraged to handle hard-to-find products, opened in Peterborough, New Hampshire, in 1973. The interactive shopping environment was a hit with consumers, leading Brookstone to expand its retail business. According to a New York Times article, Brookstone's best-selling items in 1977 were a jar opener for $2.25 and its "For Man or Beast" Bag Balm, a hand cream originally intended to be used on cows' udders. There are now about 300 Brookstone stores throughout the United States.
8. Crate and Barrel
After returning from their honeymoon in Europe, Gordon and Carole Segal were inspired to open a store that offered affordable, contemporary housewares. The result was Crate and Barrel. The Segals opened their first store in an old elevator factory on Chicago's Wells Street in 1962 and stocked it with product directly from European factories. To save money, the Segals used the shipping crates as shelves and filled empty barrels with other merchandise, giving the store its name. The first Crate and Barrel catalog was printed in 1967.
9. Eddie Bauer
Outdoorsman Eddie Bauer opened his first store in Seattle in 1920. Twenty years later, Bauer patented the first quilted down jacket. The U.S. Army commissioned Bauer to provide its Air Corps with more than 50,000 parkas during World War II, providing great exposure for the brand. The war took a toll on another aspect of the Eddie Bauer business, however. The company produced shuttlecocks and the war shut off the source of supply of strong, tough wing tail feathers from Greece. In 1963, Eddie Bauer outfitted James Whittaker, who became the first American to summit Mount Everest. More than 30 years later, the company enlisted the help of Whittaker's nephew and fellow climber, Peter, to help revive the brand. There are about 350 Eddie Bauer locations throughout North America.
10. Gap
The Gap was founded by Donald and Doris Fisher on Ocean Avenue in San Francisco in 1969. Donald Fisher, a successful real estate developer, hoped to capitalize on the growing popularity of denim, particularly among the baby boomers. The store's name was a reference to the generation gap between the consumers in his target market and their parents. The Fishers sold Levi's jeans, as well as tapes and records, in their first stores, but it wasn't until they abandoned their idea to sell music and focused the public's attention on their wide selection of denim in a series of local ads that the business took off. In 1983, Millard Drexler was hired as president and helped build the company into one of the country's most popular brands.
11. GNC
GNC traces its origins to Pittsburgh, where David Shakarian opened a health food store called Lackzoom in 1935. When Shakarian expanded his small chain outside of the Pittsburgh area in the 1960s, he changed the name to General Nutrition Center. The company began producing its own vitamin and mineral supplements, and by the time Shakarian died in 1984, GNC had more than 1000 stores. Today, the company is the largest specialty retailer of nutrition products and boasts almost 5000 stores in the United States.
12. J. Crew
The first J. Crew catalog was mailed in 1983 and was well received, leading Popular Merchandise, Inc. to change its name to J. Crew and to open the clothing retailer's first store in 1989 at New York's South Street Seaport. The company, which hired former Gap CEO Millard Drexler in 2003, now boasts more than 300 retail stores nationwide.
13. Kay Jewelers
Brothers Sol and Edmond Kaufmann opened the first Kay Jewelers in the corner of their father's furniture store in Reading, Pennsylvania, in 1916. According to the company's website, the original store sold eyeglasses and electric razors in addition to jewelry. By 1930, 33 additional Kay Jewelers stores had opened, and thanks in part to a liberal credit policy, the company continued to enjoy steady growth. Sterling Jewelers purchased Kay in 1990, and in 2003, they became the largest specialty jewelry store in the United States.
14. The Limited
In 1961, Lex Wexner dropped out of law school to work in his father's women's clothing store in Columbus, Ohio. Two years later, Wexner launched his own clothing retailer in Columbus. The store specialized in women's sportswear and Wexner named it The Limited because of the limited line of merchandise it carried relative to most other clothing stores at the time. Wexner's parents joined his business in 1965 and The Limited grew into one of the most successful women's clothing retailers in the country. The Limited currently has 200 mall locations throughout the United States.
15. L.L. Bean
Outdoorsman Leon Leonwood Bean enlisted the help of a local cobbler to stitch leather uppers to waterproof rubber boots after returning from a hunting trip with wet feet in 1911. The innovative Maine Hunting Shoe became the foundation for one of the most successful family-run businesses in the country. Ninety of Bean's first 100 pairs of boots, which sold for $3.50 by direct mail order, were returned because the rubber and leather separated. Bean refunded the money and perfected the boot with help from the U.S. Rubber Company in Boston. "We will thank anyone to return goods that are not perfectly satisfactory," Bean promised as part of subsequent advertisements for the boots. The company's flagship store, which opened in Freeport, Maine, in 1917, is open 24 hours a day, 365 days a year.
16. Payless ShoeSource
Cousins Louis and Shaol Pozez founded Payless ShoeSource as Pay-Less National in Topeka, Kansas, in 1956. The cousins kept prices down by limiting overhead, opting for a self-service format and using simple, wooden shelving in their first three Topeka-area stores. Maintaining that model, the company expanded outside of Kansas, and Louis and Shaol stayed on as CEO and president when Payless was bought by May Department stores in 1979. Payless currently has more than 4,500 stores worldwide.
17. RadioShack
The first RadioShack was opened in downtown Boston by two brothers in 1921. The original store, named for the wooden structure that housed a ship's radio equipment, supplied parts to radio operators aboard ships and amateur radio operators. In its infancy, the company survived as one of the leading mail-order distributors to radio hobbyists. In the 1950s, RadioSahck began selling its own product line and, by the early 1960s, the company had expanded to nine retail stores. Poor operating practices undermined RadioShack's success and the company was teetering toward bankruptcy when Charles Tandy, the owner of a leather manufacturing company, acquired it for $300,000 in 1963. Buoyed by the introduction of one of the first mass-produced personal computers in 1977, Tandy turned RadioShack into an electronics giant. Today, the company boasts more than 4000 locations.
18. Talbots
Rudolf and Nancy Talbot inherited the Johnny Appleseed clothing store that Rudolf's father had opened in Hingham, Massachusetts, in 1945. Dissatisfied with the franchise's clothing, the couple decided to open their own store in Hingham in 1947. The first Talbots store was an antique clapboard house with a red door, which remains a staple of the stores today. The first store was also next to a bar, as Nancy recalled in a 2002 interview with the Boston Globe. "All these drunks would come staggering in," she said. Rudolf and Nancy eventually dropped their children's and men's clothing lines to focus on women's apparel. In 1973, they sold their four stores to General Mills, but Nancy continued to shape the brand as vice president. There are now nearly 500 Talbots stores nationwide.
19. Victoria's Secret
In 1977, Stanford Graduate School of Business alumnus Roy Raymond used a $40,000 bank loan and an additional $40,000 from his relatives to open the first Victoria's Secret in the Stanford Shopping Center. Raymond's goal was to offer a store where men would feel comfortable buying lingerie for their loved ones. The store's first-year sales totaled $500,000 and Raymond followed up that success with a mail-order catalog. Raymond sold the company to the The Limited, Inc. for a reported $4 million in 1982. While Victoria's Secret would go on to flourish, Raymond's next business venture, a retail store for young professionals called My Child's Destiny, went bankrupt. Raymond committed suicide by jumping off the Golden Gate Bridge in 1993.
20. Williams-Sonoma
Former aircraft mechanic Chuck Williams, who learned to cook from his grandmother, took his first trip to France in 1953 and fell in love with the gourmet cookware he found throughout Paris. With the goal of making quality European cookware more accessible to American chefs and home cooks alike, Williams bought a small hardware store in Sonoma, California, in 1956 and began converting the inventory. Hammers and nails were replaced with pots and pans. Williams' niche operation was a success, and two years later he moved his store to San Francisco. In 1973, a second store opened in Beverly Hills and the company produced its first mail-order catalog. The company now boasts more than 250 stores nationwide.
All images courtesy of Getty Images