From Sonic Youth's Guitars to LA Tubas: 4 Famous Stolen Instruments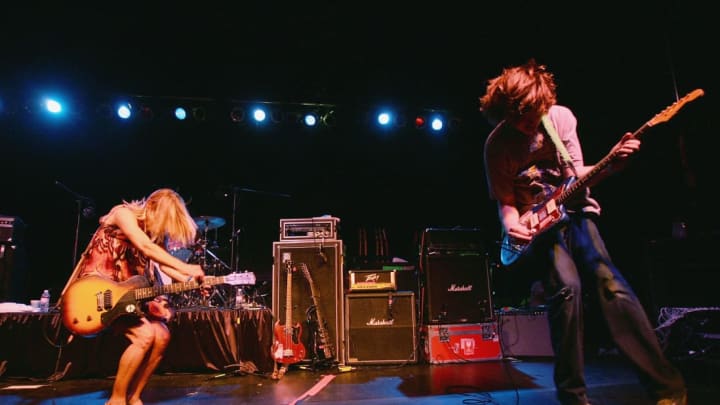 Karl Walter / Getty Images / Karl Walter / Getty Images
1. Sonic Youth's Guitars
Fans of the rock band Sonic Youth were shocked to see an online letter from guitarist Lee Ranaldo in July 1999 complaining that a thief had broken into the band's truck and stolen its equipment before a gig (warning: some NSFW language). The stolen goods included everything from guitars to amps to drums, although Ranaldo warned that some of it was "mostly older and either very modified and/or f***ed up/beat up." Still, the band was forced to purchase all new equipment for the rest of their shows and recording sessions.
Slowly, some of the equipment has been coming back. In 2005, two guitars were returned to the band by a man claiming to be the nephew of one of the original thieves. And in 2009, a Sonic Youth fan in the Netherlands saw a red and orange guitar on eBay that looked like one of the stolen instruments. He outbid the competition and posted the news on a message board with the title "The OH MY GOD! I BOUGHT ONE OF SONIC YOUTH'S STOLEN GUITARS thread." He contacted the band and returned the guitar, which was confirmed to be Ranaldo's. There's still plenty of equipment missing, so fans should be advised to keep an eye out on eBay.
2. The Tubas of Los Angeles
Band teachers and school officials are baffled by a string of thefts in the Los Angeles area. The loot? Not computers or money, but tubas. In the past year, there have been 23 tubas reported stolen from L.A. schools. Security footage has even shown thieves breaking in and specifically targeting tubas and sousaphones, bypassing anything more valuable or easier to carry.
Police haven't been able to figure out what's behind the crime spree. Some think the instruments are being sold for scrap metal. But others say there's a booming black market for the instruments due to the growing craze of banda music. Banda, a dance music similar to polka, uses the tuba as its strong bass, putting the instrument in high demand. According to the Los Angeles Times a high-end tuba sells for $5,000, but a beat-up one stolen from a school could bring in as much as $2,000.
3. Stradivarius Violins
With just some 450 Stradivarius violins still around today, it's incredible to note how many have been stolen. For example, one violin, worth about $2 million, was nabbed in 2010 from a London sandwich shop right under the nose of violinist Min-Jin Kym. The thieves were nabbed less than a month later after trying to sell the instrument to a stranger for around $150 (they were seen in an Internet café looking up "Stradivarius"). But the violin has not been found and investigators fear it is no longer in Britain.
Another missing Strad remained MIA for nearly 50 years after being stolen from the Carnegie Hall dressing room of Bronislaw Huberman in 1936. It was only recovered in 1985, when violinist Julian Altman made a death bed confession to his wife that the violin he had been playing for years was the same one that had been snatched. Whether Altman actually took it is still unclear (he claimed he bought it on the night of the theft). It actually marked the second time that violin had been stolen – the first time, the instrument was recovered a few days later. That violin now belongs to classical superstar Joshua Bell.
One of the more famous stolen violins may actually have never been stolen, but the $800,000 Duke of Alcantara violin did fall into a sensational ownership struggle. The instrument was being watched by UCLA musician David Margetts in 1967 when it went missing while he was running errands. He says it may have been stolen or he may have left it on the roof of his car and driven away, but either way the violin somehow ended up on the side of the highway. The instrument was found and later passed down to a number of unsuspecting owners until it ended up in the hands of musician Teresa Salvato. When a music repair shop realized what she had, she and the university got in a lengthy court battle over the instrument before it was finally returned. For more details, the Los Angeles Times tracked the instrument's fascinating path, although the story came before the final settlement.
4. Rosanne Cash's Guitar
To anyone, a guitar signed by Johnny Cash would be valuable. But to Johnny's daughter, Rosanne, the guitar given to her with a note from her father was priceless. So she was heartbroken when she got off a plane in 1979 and found out the guitar had not arrived with her. The guitar has not yet turned up, but Cash hasn't given up hope that it will be returned, especially since it's inscribed to her and can't be mistaken for another.