15 Fast Facts About the London Tube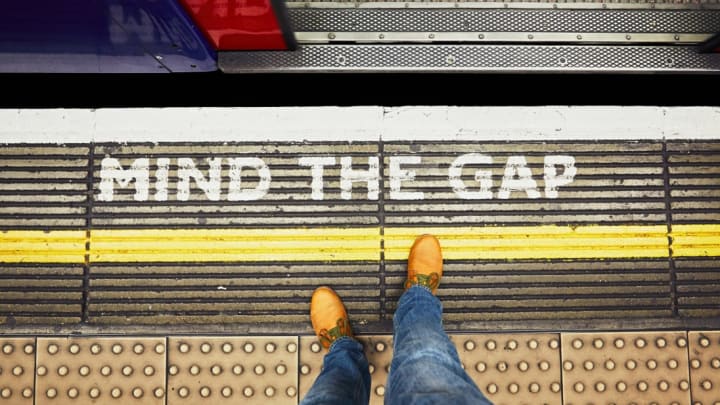 iStock / iStock
I spend probably 40 minutes a day crammed cheek to sweaty jowl with other London commuters—some of them drunks, farters, and shovers—in a swiftly moving cylinder hundreds of feet underground. It's usually hot, and despite the fact that we are Tetrised in there, all of us are trying desperately to pretend that we are completely alone. Rarely do I give thanks for the experience, but this year marks the 155th anniversary of the London Underground, that efficient marvel of public transport.
On January 9, 1863, the world's first-ever underground railway train, steam-operated, pulled out of Paddington Station, and rumbled 3.5 miles down the tubular tunnel to Farringdon Station. The line, which was financed by Metropolitan Railway, was an instant success: Approximately 40,000 people lined up for the novelty of riding a train underground. Within six months, 26,000 people were riding the train each day.
By 1884, there were more than 800 trains in operation in what was called the Inner Circle, a circular line that enclosed central London and that is now just the Circle Line. And now, with more than five times that number of trains operating and millions of people safely and swiftly reaching their destinations every day, the London Underground is truly a modern miracle of efficient transport. Here are 15 impressive facts and figures you might not have known about the London Tube.
1. THE MAJORITY OF THE LONDON UNDERGROUND IS NOT UNDERGROUND.
iStock
The entire London Underground network is approximately 249 miles long, employing more than 4100 trains, and linking 270 stations. But only about 45 percent of those miles are underground.
2. EACH TRAIN TRAVELS ABOUT 114,500 MILES A YEAR.
Each Tube train travels an average of 114,500 miles a year, or 4.6 times around the world. The longest distance between adjacent stations is approximately 3.9 miles, from Chesham to Chalfont & Latimer. The shortest distance is about 984 feet, between Leicester Square and Covent Garden on the Picadilly Line (and since Covent Garden is usually mobbed, you're better off getting off at Leicester Square and walking).
3. MORE THAN 1 BILLION JOURNEYS ARE MADE EACH YEAR.
Each year, about 1.3 billion journeys are made on the London Underground. The busiest station in the network is Waterloo, which sees about 100.3 million passengers per year; the least used is Roding Valley.
4. HALF A MILLION MICE CALL THE UNDERGROUND HOME.
An estimated 500,000 mice live in the tunnels, but they're not the only pests—the mosquitoes that live in the Tube are of a different and somewhat more vicious species than their aboveground cousins. Called Culex pipiens molestus, they're supposedly known for their voracious appetites.
5. THERE ARE SOME GHOSTS REPORTEDLY LIVING DOWN THERE, TOO.
The London Underground is also supposedly home to a group of subterranean Londoners, who, just like the Mole People of New York's Subway, took to the tunnels and mutated. The Tube is also reportedly home to a host of ghostly apparitions, including the Faceless Woman of Beacontree Station, the Toothy Man of Channelsea Depot, and the Screaming Spectre of Farringdon Station.
6. THE AVERAGE LONDONER SPENDS 11.5 DAYS OF EACH YEAR ON THE TUBE.
iStock
The average Londoner spends an average of about 11.5 days each year on the Underground—5.2 of those days in the Underground's underground tunnels. (What's unknown is how many hours of those days are spent stopped underground, waiting for a signal failure to be resolved, for another train to move along, or for whatever bit of rubbish that has been thrown on the tracks at the station ahead of you to be cleared.)
7. THE FASTEST TRAINS TRAVEL AT SPEEDS OF OVER 60 MILES PER HOUR.
The fastest line is the Metropolitan, where trains can reach speeds of more than 60 miles per hour, but the average speed of a London Underground train is only around 20.5 miles per hour.
8. THE DEEPEST STATION IS NEARLY 200 FEET BELOW STREET LEVEL.
The deepest Underground station is Hampstead, on the Northern Line, which is located about 192 feet below street level. There's an elevator, of course, but also an emergency spiral staircase featuring more than 320 steps, in case of emergency (or a fit of exercise mania).
9. IN 1969, QUEEN ELIZABETH TOOK CONTROL OF THE VICTORIA LINE.
In 1969, Queen Elizabeth II commemorated the opening of the Victoria Line by driving one of the new trains from Green Park to Oxford Circus. It was her second ride ever on a London Underground train, the first being when she was 13 and accompanied by her sister and governess. Presumably her stint as Tube driver was without incident, as eight years later, the Queen was again allowed in the cab of a Picadilly Line train when she presided over the opening of the line's extension.
10. THE FIRST ESCALATOR WAS A MISERABLE FAILURE.
The Underground's first real escalator was built in 1911 at Earl's Court, but four years before that, a spiral escalator was installed at Holloway Road Station. It didn't last very long—in fact, it only lasted for a day of testing and never actually saw public use. Its remains are held at the London Transport Museum's Depot, which is only open to the public a few times per year.
11. THE LONGEST ESCALATOR IS NEARLY 200 FEET LONG.
Dan Kitwood, Getty Images
The longest escalator at any Underground station is the 197-foot-long moving stair at Angel, in Islington, on the Northern line.
12. PEOPLE HAVE LEFT A LOT OF WEIRD THINGS ON THE TRAINS.
Among the strangest things left on the Underground and collected by the Lost Property Office: a jar of bull semen; an outboard motor; three dead bats in a container; a vasectomy kit; a harpoon gun, which may have gone with the 14-foot-long boat; a stuffed eagle; breast implants; false teeth and a surprising number of prosthetic limbs; a four-foot-tall Mickey Mouse; six full-sized mannequins; and an urn containing a dead man's ashes, which was reunited with his brother five years after it was lost.
13. JERRY SPRINGER WAS BORN AT HIGHGATE STATION.
Politician-turned-trash talk show host Jerry Springer was born at Highgate Station on the Northern Line on February 13, 1944, when his mother sought shelter during a Luftwaffe raid during World War II.
14. MANY PEOPLE USED TUBE STATIONS AS AIR RAID SHELTERS DURING WORLD WAR II, EVEN THOUGH THE GOVERNMENT BANNED THE PRACTICE.
Speaking of air raids: At the start of the London Blitz, Germany's nightly bombing raids on the British capital in September 1939, the government banned people from using the Tube stations as air raid shelters, claiming that the stations should be reserved only for transport. People got around the ban by simply buying a ticket and refusing to leave the platform. A month later, the government realized that the ban was unenforceable at best and cruel at worst, and gave the go-ahead for stations to be used as shelters.
By the end of the war, sheltering in the Underground had became so regular that a ticketing scheme was introduced to keep people from panicking at the queues, and more than 22,000 bunk beds were installed in stations across the system to provide places for them to sleep.
15. ITS ICONIC MAP WAS INSPIRED BY A CIRCUIT BOARD.
iStock
The London Underground's iconic map, which bears no relationship to actual topographical or geographical features, was designed in 1933 by Harry Beck. Beck, an engineering draftsman who worked in the London Underground's signals office, was supposedly inspired by electronic circuit boards, and saw ways of tidying up the lines. But the department rejected the initial proposal, claiming it was too radical, and Beck was paid a paltry sum, less than $15, for his work. Two years and some modifications later, however, the Underground adopted the map and has used it ever since.