This Snake's Venomous Powers Morph as It Grows Up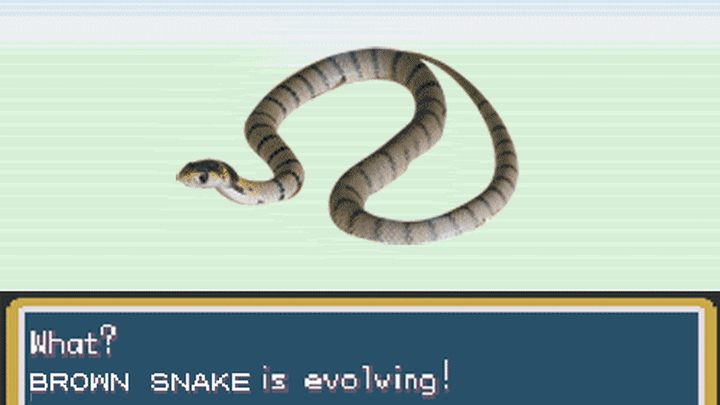 Snakes: Ian Macdonald / Art: Rebecca O'Connell / Snakes: Ian Macdonald / Art: Rebecca O'Connell
Our relationship to food changes as we age. Our metabolisms slow. We start carrying antacids when going out to dinner. Sometimes we'll even intentionally eat vegetables. But our transformation has nothing on the brown snake, whose venom gradually morphs to accommodate its new eating habits. Researchers described the snake's enviable aging process in the journal Comparative Biochemistry and Physiology, Part C: Toxicology & Pharmacology.
Australian brown snakes (genus Pseudonaja) pack some of the most deadly venom in the world. As the authors of the new paper note, brown snakes are also "responsible for the majority of medically important human envenomations in Australia." And that's saying something.
To better understand how that venom works, researchers collected samples from adult and juvenile snakes from nine known Pseudonaja species. Then they tested each venom's effect on blood and other substances.
Eight out of the nine species showed a distinct change in venom action between the snake's youth and adulthood. Brown snake venom is known for its anticoagulant, or blood clot–preventing, properties, which can lead to deadly strokes in small animals and internal bleeding in humans. But only the grown-ups' venom contained anticoagulants. The babies' toxic spit had its own power: attacking the nervous system, causing paralysis.
Juvenile (L) and adult (R) brown snakes. / Snakes: Stewart Macdonald / Art: Rebecca O'Connell
The venom's transformation over time is not random, lead author Bryan Fry, of the University of Queensland, says, but a brilliant adaptation to the snake's preferred diet at different stages in its life. Baby brown snakes eat tiny lizards, while adults prefer meatier—but scrappier—mammalian fare like rodents. They need a venom that knocks out their opponents fast.
"Young brown snakes may produce clinical symptoms like that of a death adder, as they seek out and paralyze sleeping lizards," Fry said in a statement. "Once older, their venom contains toxins that cause devastating interference with blood clotting, causing rodent prey to become immobilized by stroke."
Within the adult snakes' venom lay another surprise. Scientists knew that brown snake venom worked by converting one blood protein into another, but other snakes do that, too, and their venom isn't as fast-acting. Some other, hidden process, was going on, and Fry and his colleagues found it.
"Our team discovered brown snakes are potent in activating Factor VII, another blood-clotting enzyme, which is the missing (dark matter) element of brown snake envenomations," he said. "The feedback loop created by this enzyme would become a venomous vortex and dramatically accelerate the effects upon the blood."
Reminder: It's not that brown snakes want to be responsible for medically important human envenomations. Like sharks and bears, they'd much rather be left to go about their business. So the best thing for you, and them, is to leave them alone.