12 Fascinating Pet Cemeteries Around the World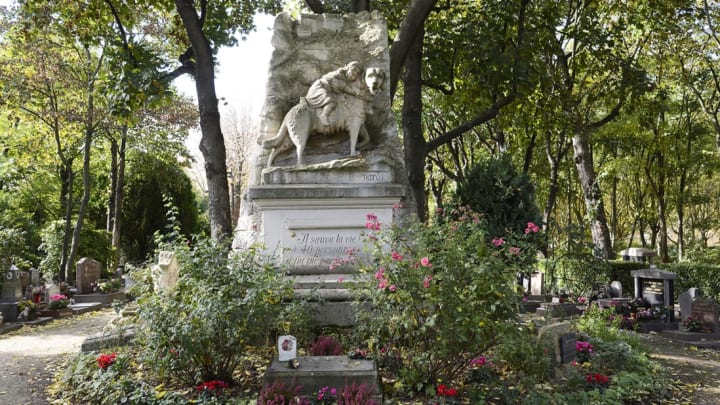 Bertrand Guay/Getty Images / Bertrand Guay/Getty Images
There are hundreds of pet cemeteries all over the world dedicated to honoring deceased cats, dogs, and other beloved animals. Some even allow humans to be buried with their furry (or feathered) friends. Here, we're taking a look at a dozen fascinating pet cemeteries across the globe, from one that only buries coon dogs to another that celebrates military canines.
1. CEMETERY OF DOGS AND OTHER DOMESTIC ANIMALS // ASNIÈRES-SUR-SEINE, FRANCE
Opened in 1899, the Cimetière des Chiens et Autres Animaux Domestiques is one of the world's oldest pet cemeteries. Located in a Paris suburb, the Art Nouveau cemetery has stylish arches on its front gate, stone animal sculptures above some pets' tombstones, and a monument honoring Barry, a heroic Saint Bernard who fought in World War I (pictured above). Among the 40,000 pets buried there are royal pets, award-winning show dogs, and Rin Tin Tin, the WWI canine hero turned Hollywood actor. Don't be alarmed if you see (living) cats perched on top of the headstones—stray felines regularly wander the cemetery, where they have access to food and water.
2. HARTSDALE PET CEMETERY // HARTSDALE, NEW YORK
Spencer Platt/Getty Images
Hartsdale Pet Cemetery, the first pet cemetery in the U.S., houses over 100,000 animals on its five acres. Established in 1896, the cemetery (nickname: The Peaceable Kingdom) morphed from a Manhattan veterinarian's apple orchard into a burial ground for dogs and cats, as well as reptiles, gerbils, turtles, birds, and a lion cub. The cemetery features a War Dog Memorial, a mausoleum for two spaniels, and ornate granite slabs and marble grave markers. Pet owners can arrange viewings, funerals, and cremation through the cemetery, and humans can even be buried with their beloved pets.
3. LOS ANGELES PET MEMORIAL PARK // CALABASAS, CALIFORNIA
In 1928, a Hollywood veterinarian named Dr. Eugene Jones founded the L.A. Pet Park to help his clients honor their dead pets. Later renamed the Los Angeles Pet Memorial Park, the 10-acre cemetery is the final resting place for 42,000 deceased animals. Visitors can leave flowers at the gravestones of celebrity pets such as Charlie Chaplin's cat, Rudolph Valentino's Doberman, fictional cowboy Hopalong Cassidy's horse, and Steven Spielberg's Jack Russell Terrier. The cemetery also performs cremations and helps pet owners choose the perfect urn, casket, or headstone for their beloved animals.
4. NATIONAL WAR DOG CEMETERY // APRA HARBOR, GUAM
At a U.S. naval base on Guam's Apra Harbor, the National War Dog Cemetery honors the 25 military dogs that died in the 1944 Second Battle of Guam. In the battle, the dogs helped members of the U.S. Marine Corps by serving as guards, carrying medical supplies, and finding bombs and enemy combatants. Dedicated 50 years to the day after Americans recaptured Guam from Japanese control, the cemetery features dozens of graves and a granite sculpture of Kurt, a Doberman Pinscher who alerted troops of an imminent attack, thereby saving the lives of around 250 Marines.
5. KEY UNDERWOOD COON DOG MEMORIAL GRAVEYARD // CHEROKEE, ALABAMA
Also called coonhounds, coon dogs are a type of hound bred to hunt raccoons. The Key Underwood Coon Dog Memorial Graveyard, established in rural northwest Alabama in 1937, is the final resting place for approximately 200 beloved coon dogs. The graveyard is named after Key Underwood, a hunter who chose to bury Troop, his canine companion of more than 15 years, in the dog's favorite hunting camp. You won't find any coon dog wannabes or mixed breed dogs buried here. To qualify for burial, the owner must declare that his pet is an authentic coon dog, and a witness and graveyard employee must back up the claim. In 1985, Underwood explained the graveyard's elitist stance to a reporter: "You must not know much about coon hunters and their dogs, if you think we would contaminate this burial place with poodles and lap dogs." Because Underwood buried Troop on Labor Day of 1937, the cemetery hosts a celebration each Labor Day.
6. JINDAIJI PET CEMETERY // TOKYO, JAPAN
One of Japan's many pet cemeteries, Jindaiji Pet Cemetery is located in Jindaiji Temple, a place of worship in Chofu City, a suburb of Tokyo known for its famous soba noodles and botanical garden. Although the temple was built way back in 733, the cemetery component of the temple has only existed for the past half-century. Inside the cemetery are corridors of shelves spanning from the floor to ceiling. After paying a monthly fee to the temple, pet owners adorn their shelf with photos of their pet, small vases of artificial flowers, Buddhist prayer plaques, urns, and even cans of cat and dog food for the afterlife. Outside is a more typical cemetery, featuring engraved stones and plenty of flowers.
7. PATH TO ETERNITY // CHIHUAHUA, MEXICO
Path To Eternity (Spanish name: Senda a la Eternidad, Cementerio y Crematorio) is a pet cemetery located 250 miles south of El Paso, Texas. To fulfill its goal of honoring departed pets and consoling their grieving owners, the cemetery offers funeral ceremonies, burial in an individual or common grave, and cremation services. Heartbroken owners can take comfort in the cemetery's unique mural, which depicts the rainbow bridge, a fabled bridge that connects Earth to heaven.
8. PET CEMETERY AT THE STANLEY HOTEL // ESTES PARK, COLORADO
A hotel might sound like an odd place for a pet cemetery. But a cemetery at The Stanley Hotel, the famously "haunted" hotel that inspired Stephen King to write The Shining, probably makes more sense. Just a few miles from Rocky Mountain National Park, the hotel houses a small pet cemetery that includes a dozen graves for the deceased pets of former hotel staff. (King also wrote a novel called Pet Sematary, but claims it was inspired by a pet cemetery in Maine rather than the Stanley Hotel's.) In 2013, the cemetery was dug up and moved to a different part of the hotel grounds. In its place? A new wedding and corporate retreat spot, of course!
9. HYDE PARK'S PET CEMETERY // LONDON, ENGLAND
Oli Scarff/Getty Images
Hyde Park's 350 acres house a Princess Diana memorial fountain, tennis courts, and yes, a pet cemetery. In 1881, a gatekeeper buried his friends' Maltese Terrier, Cherry, in a garden behind Victoria Lodge, a building in the northeastern part of the park. Over the next two decades, 300 more Victorian pets (mostly dogs, but also cats and birds) were buried in the cemetery. Although not easily accessible and rarely open to the public, the Royal Parks charity occasionally offers tours, granting lucky visitors the chance to stroll through the cemetery and pay their respects.
10. RODEO ANIMAL CEMETERY // OKLAHOMA CITY, OKLAHOMA
No visit to Oklahoma City's National Cowboy and Western Heritage Museum is complete without seeing the graves of departed rodeo animals. Situated in the museum's outdoor garden, this small cemetery has an old-time feel to it, with wooden signposts and granite tombstones dedicated to cowboys' best friends. The graves pay tribute to a handful of horses and bucking bulls with names like Poker Chip, Tornado, and Baby Doll Combs. A memorable tombstone for a horse named Midnight, who lived from 1907 to 1936, displays an image of a horseshoe and an epitaph that implores God to let his soul rest. The museum's mascot, a Texas Longhorn named Abilene, is also buried there.
11. THE ANIMAL MEMORIAL CEMETERY AND CREMATORIUM // NEW SOUTH WALES, AUSTRALIA
Berkshire Park's Animal Memorial Cemetery and Crematorium has been comforting grieving Australian pet parents since 1967. Owners Shane and Katrina McGraw live on the grounds, keeping a watchful eye and caring for the land. The cemetery offers pet owners a service to pick up their deceased pet from the veterinarian's office and arranges final farewells in their chapel. The cemetery also performs cremations and offers a selection of urns and coffins. The peaceful setting includes plenty of grass, trees, flowers, and benches to sit and reflect on your pet's life.
12. ILFORD ANIMAL CEMETERY // LONDON, ENGLAND
Cate Gillon/Getty Images
Also called the PDSA (People's Dispensary for Sick Animals) Animal Cemetery, Ilford Animal Cemetery in northeast London is home to more than 3000 deceased animals. Since the 1920s, pet owners have buried their beloved pets in the cemetery, which underwent an extensive renovation in 2007. Ilford Animal Cemetery also houses the remains of about a dozen animals, from carrier pigeons to search and rescue dogs, that received the PDSA Dickin Medal for their actions during World War II. The animal version of the Victoria Cross, this medal recognizes animals that displayed outstanding bravery during battle.