Find Your Next Job With Google's Career Search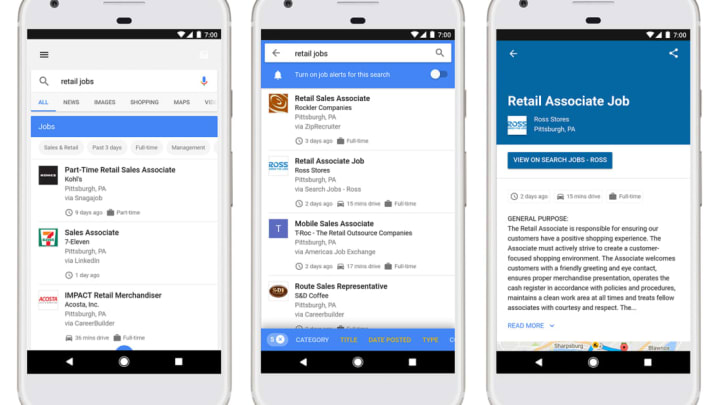 Google / Google
Google was probably already a main staple of your job search, but now the search engine is becoming even more conducive to landing a great gig. Google for Careers, the company's wide-ranging project to help connect employers and job-seekers, has launched a dedicated search feature for job listings, as Business Today reports. It went live today (June 20) for U.S.-based searches on desktop and mobile.
The function lives within Google's normal search tab. All you need to do is search for "jobs near me" or "sales jobs" or something similar and you'll see a widget with available job postings in your results. Google is working with LinkedIn, Glassdoor, Monster, CareerBuilder, and other job-hunting websites to make sure their listings show up in Google immediately after they're posted. The company has also released tips for employers looking to make their postings visible in the jobs search bar.
When searching through the listings, you can filter by industry, date posted, location, company type, employer, or job title. You can also turn on alerts so that you'll get a daily email with new jobs that meet your criteria.
The latter feature may make Google's job listings more useful than Facebook's jobs page, which launched in February 2017 (alhough Google says they're working with Facebook to integrate job listings posted to the social networking site). Another thing Google has going for it: You don't have to show your future employers your embarrassing Facebook profile.
[h/t Business Today]