The Smallest Town in Each of the 50 States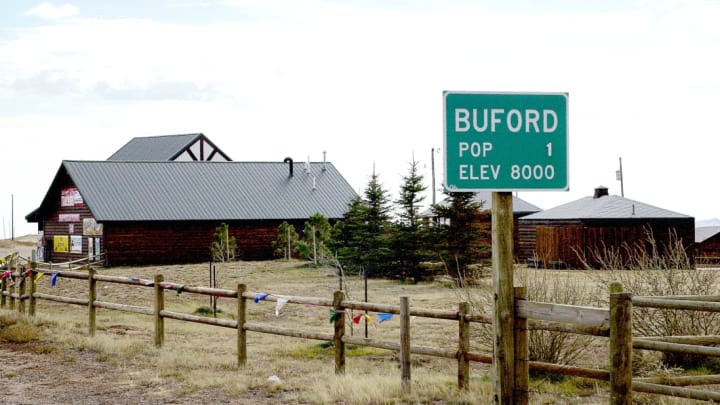 dschreiber29/iStock / dschreiber29/iStock
From a central Florida enclave where the mermaids outnumber the residents to the town that changed its name to Joe, Montana, there's a lot of quirky history in America's least populated places. We've combed the country to find the most interesting tiny town in each state—ranging in population from one to more than 1000. Some entries describe the state's smallest incorporated town, while others highlight the smallest census-designated place. We picked the one with the wackiest, cutest, or most surprising story.
1. MCMULLEN, ALABAMA // POPULATION: 9
In 2000, McMullen was one of the only all-black towns in America, with a population of 66. But a series of recent natural disasters has pushed residents away, from Hurricane Katrina in 2005 to an EF2 tornado that destroyed 13 homes in February 2016. Now only nine people remain in the rural western Alabama town, according to a 2016 population estimate from the Census Bureau.
2. HOBART BAY, ALASKA // POPULATION: 1
David Jorgensen has Hobart Bay all to himself. The 62-year-old has been the sole caretaker for the abandoned logging camp, accessible only via floatplane or boat, for nearly a decade. He used to live in Hobart Bay with scores of neighbors before the logging dried up in the late '90s. The population plummeted from 187 in 1990 to just David Jorgensen by 2010. Now Goldbelt, Inc., a former logging company which owns 30,000 acres in and around Hobart Bay, wants to turn the place into a cruise ship destination and clam farm.
3. JEROME, ARIZONA // POPULATION: 455
Jerome holds simultaneous claims as the smallest incorporated municipality in Arizona and the largest ghost town in America. Founded in 1876, the city grew out of a copper mining camp into the fourth largest city in Arizona Territory. Workers poured in to climb down the town's mine shafts and extract as many as 3 million pounds of copper each month. The vast number of saloons and brothels that cropped up to cater to the miners in their off-work hours led the New York Sun to dub Jerome "the wickedest town in the west" in 1903. Today, Jerome's small population of artists, shopkeepers, and hospitality workers bring the ghosts of its past to life for visiting tourists.
4. MAGNET COVE, ARKANSAS // POPULATION: 5
Magnet Cove was named for the abundance of magnetite (lodestone) in its soil, which early settlers discovered when they felt their plows and other tools strangely attracted to the ground. It remains a popular site for rockhounding thanks to its unusually rich [PDF] diversity of minerals. Today, the only businesses in Magnet Cove are a gas station and two novaculite quarries. (Novaculite is a mineral used to make whetstones, and Magnet Cove produces some of the purest novaculite in the world.)
5. VERNON, CALIFORNIA // POPULATION: 209
Vernon was founded in 1905 as an "exclusively industrial" city just south of downtown Los Angeles. Until 2015, Vernon housed about 1800 businesses employing roughly 55,000 workers —but was home to only 100 residents. The city kept its population low on purpose. All residences were owned by the city government, which evicted its political rivals and tore down houses to prevent newcomers from moving in. This enabled a ruling family to control the electorate, run the city "like a fiefdom," and pay one city administrator a salary of $1.65 million one year. In 2015, under threat of dissolution from the state, Vernon agreed to adopt a series of reforms, including the construction of a new privately-owned apartment building that doubled the city's population.
6. BONANZA, COLORADO // POPULATION: 1
Bonanza got its name in 1880 from silver miners who thought they'd struck it big. Over the next few decades, Bonanza grew into a copper, zinc, and silver mining boomtown, home to thousands of miners, two hotels, seven dance halls, a newspaper, a candy store, and even a baseball team. Today the town is mainly a summer vacation getaway. Although as many as 200 people own property in Bonanza today, only one man lives in town year-round: Mark Perkovich, a retired hotshot firefighter who moved in 22 years ago seeking solitude.
7. UNION, CONNECTICUT // POPULATION: 843
Founded on rough terrain with poor soil, Union was the last town settled east of the Connecticut River. James McNall, the town's first settler, arrived from Ireland in 1727, and Union was officially incorporated in 1734. Legend has it that the town got its name because it was formed from the "union" of leftover plots of land that surrounding towns hadn't incorporated. Today Union is a quiet residential community that prides itself on its scenic hills, trees, and wildlife.
8. HARTLY, DELAWARE // POPULATION: 71
After 280 years of townhood, Hartly faced an existential crisis in 2014. The town had no functioning government. It hadn't collected taxes in two years. And it was somewhere between $20,000 and $36,000 in debt—no one knew exactly how much the town owed because Hartly had stopped paying for the P.O. box where it received its bills. To make matters worse, a former treasurer, convicted in 2004 of embezzling $89,000 from Hartly's coffers, still hadn't repaid the town for his theft. Then in December, more than 100 people, mostly out-of-towners, assembled at the local fire station to come up with a plan to save Hartly. They formed a new council and got to work reviving the town, inspiring the 2016 documentary A Hope for Hartly.
9. WEEKI WACHEE, FLORIDA // POPULATION: 5
Weeki Wachee is home to a state-estimated five human beings—and roughly 28 mermaids. More than 250,000 visitors drive each year to the small central Florida town, an hour north of Tampa, to see the Weeki Wachee Mermaids perform 30-minute live shows in Weeki Wachee Springs State Park. The show began in 1947, when a navy veteran named Newton Perry figured out a way to breathe underwater using an air hose and a compressor. He built an underwater theater into the springs' limestone and sought out "pretty girls" to train as mermaids. Today, the mermaids swim and dance alongside manatees, otters, turtles, and even alligators, stopping only occasionally to catch a breath through tubes at the bottom of their tank. The mayor of Weeki Wachee, Robyn Anderson, is a former mermaid.
10. TATE CITY, GEORGIA // POPULATION: 16
Tate City, according to the Atlanta Journal-Constitution, "isn't really a city, more an assortment of fancy, second-home homes owned by Atlantans and Floridians and more utilitarian houses for residents working in Clayton or Dillard." The town sprang up around a ruby mine that once attracted more than 1000 residents, and later switched to logging. (A man named Tate owned the biggest logging camp, hence the name.) After the loggers stripped Tate City of its forests, they moved on and left little behind. The sleepy town didn't get electricity until the early 1970s.
11. MANELE, HAWAII // POPULATION: 29
Manele is the site of the Four Seasons Resort Lanai, on Hawaii's sixth largest island. Through most of the 20th century, Lanai was the site of the Dole pineapple plantation, once the most productive in the world. But today, 97 percent of the island belongs to Larry Ellison, founder of the software firm Oracle and the fifth-richest person in the world. Ellison bought the land, along with a third of Lanai's housing, the water utility, two resort hotels, the cemetery, and most other businesses in a single real estate deal in 2012. He plans to turn the island into a luxury resort destination for the super-rich, prompting concerns for the future of the island's residents.
12. WARM RIVER, IDAHO // POPULATION: 3
Warm River became a city thanks to a quirk in Idaho's 1947 liquor laws that restricted liquor licenses to establishments within municipal borders. That year, Fred Lewies, an Estonian immigrant who owned and operated the Warm River Inn and Rendezvous Dance Hall, incorporated the city so that he could legally serve drinks at his bar. The town has had three mayors: Fred's wife Berta, their daughter Lillian, and their granddaughter Lonnie. Today, Warm River still has its dance hall, but it's also a fishing destination and a stop for tourists on their way into Yellowstone National Park.
13. MOONSHINE, ILLINOIS // POPULATION: 1
There's one business, one house, and one person in Moonshine, and they're all under one green tin roof. Helen Tuttle owns the Moonshine Store, a country store and restaurant she operates out of a century-old building in the middle of Eastern Illinois farmland. Each day, Tuttle serves 140 Moonburgers to customers visiting from surrounding farms (and sometimes ranging from the far flung corners of 50 states and 45 countries). The burgers aren't very elaborate. Tuttle serves a gas-grilled beef patty on run-of-the-mill buns. But guests are invited to jazz them up themselves from a condiment table featuring mustard, mayonnaise, onions, hot pickle relish and horseradish. For years, Moonshine had a second resident: Roy Lee, Helen's husband. But Roy died in 2015, and now Helen lives alone in the six rooms above the Moonshine Store.
14. NEW AMSTERDAM, INDIANA // POPULATION: 27
New Amsterdam was born and nearly destroyed on the banks of the Ohio River. Until 1937, the town thrived on the riverbank. It had two general stores, its churches' pews were packed, and the houses along the river held upwards of 400 people. Then a 1937 flood wiped out most of the city and drove many of its residents away for good, but the remaining folks didn't give up. In 2015, New Amsterdam celebrated its bicentennial.
15. BEACONSFIELD, IOWA // POPULATION: 15
Beaconsfield may be tiny, but it punches above its weight class in terms of bragging rights. The Iowa town was the birthplace of the Hy-Vee grocery store chain, which operates more than 240 stores in the Midwest. The founders Charles Hyde and David Vredenburg (Hy-Vee, get it?) opened their first store in Beaconsfield, right at the onset of the Great Depression in 1930. Beaconsfield is also astronaut Peggy Whitson's hometown [PDF]. In April 2017, Whitson broke the NASA record for most total days in space (at the time, 534). She's also the first woman ever to command the International Space Station twice. 
16. FREEPORT, KANSAS // POPULATION: 5
Freeport is a dwindling town that refuses to go softly into the night. For years, the town boasted in its motto that it was "the smallest incorporated city in the United States having a bank." But the bank left in 2009. Two years later, the post office tried to leave, too, but Freeport residents put up a fight. They petitioned the U.S. Postal Service to review its decision and hung a sign in city hall, housed in the abandoned bank building, urging visitors to "Help Keep Our Post Office—Buy Stamps." Ultimately, the USPS was no match for Freeport's residents. The post office remains, along with a grain elevator, a church, and five stubborn Kansans.
17. SOUTH PARK VIEW, KENTUCKY // POPULATION: 7
South Park View is quickly disappearing beneath the air traffic of Bowman Field. Since 1994, the Louisville Regional Airport Authority has been buying up homes and relocating residents under the path—and wall-to-wall noise—of arriving and departing planes. Over two decades, the program bought out more than 2000 homes at a cost of more than $260 million. But seven holdouts in South Park View have refused to accept the voluntary buy-outs.
18. MOUND, LOUISIANA // POPULATION: 18
Mound got its name because its founders built the town on top of a Native American burial mound. A century ago, Mound was a collection of cotton plantations owned by a few landed families. In those days, a planter named George S. Yerger controlled 50,000 acres and paid his workers in a made-up currency they could only spend at his company store. He also acted as town sheriff and kept prisoners in a subterranean jail buried under his store. Today, corn and soybeans grow in the fields, but the same families still live in their ancestral homes and own much of the land. Margaret Yerger, who is married to George Yerger's grandson, is mayor.
19. HIBBERTS GORE, MAINE // POPULATION: 1
A gore is an unincorporated area, usually created when land surveyors make mistakes that leave irregularly shaped hunks of unaccounted land between town boundaries. In Maine, Hibberts Gore is home to one resident, Karen Keller, who lives 100 yards from the nearby town of Palermo. Curious reporters have been seeking her out for stories since the Boston Globe ran a profile on her in 2001, but Keller doesn't like the attention. "These people from these big papers come. Why? What have I done? It's a bunch of lines on a map. Nothing else." Keller told Sunday Salon in 2013. "What have I accomplished? What have I ever done to make anyone's life better? What good for the planet? What good for people? What good for anybody? Why? It's hogwash."
20. PORT TOBACCO, MARYLAND // POPULATION: 13
In the 18th and 19th centuries, Port Tobacco was Maryland's second largest port and the seat of Charles County. Historians say it rivaled Williamsburg and Philadelphia among colonial ports, and that George Washington used to pass through town regularly on his way to see his doctor. Today, Port Tobacco still operates under an 1888 charter that bars women from holding office, imposes a $1 tax on every dog and prohibits any resident from allowing "his swine to run at large within said village." Mayor John Hyde, a mortician by trade, told the Washington Post in 2006 that the town never got around to changing those laws, but it doesn't enforce them anymore.
21. GOSNOLD, MASSACHUSETTS // POPULATION: 75
Gosnold comprises the Elizabeth Islands off the southern coast of Massachusetts. Most residents live on the island of Cuttyhunk, the town seat. According to news reports, in the summer Cuttyhunk's population can swell up to 400, but in the winter, the island's 150 golf carts far outnumber its 20 year-round residents. Cuttyhunk is home to a one-room schoolhouse with one teacher and two students. It is only accessible by a ferry which in the winter runs twice a week across Buzzards Bay, carrying food, fuel, mail, and people.
22. POINTE AUX BARQUES, MICHIGAN // POPULATION: 10
Pointe Aux Barques is a resort town on the tip of the thumb of Michigan's mitten. It got its name in 1665 from French priest Claude Alouez, who thought the rocky coast resembled the prow of a ship. From 300 BCE to 600 CE, the land Pointe aux Barques would occupy was a sacred place for an ancient indigenous culture. After its disappearance, the land went unoccupied for a millennium until European colonists showed up and began logging the forest in the 17th century. In 1896, railroad baron Stanford Crapo built a resort, connecting Pointe aux Barques to wealthy Detroit families who fled to the rural township in the summer.
23. FUNKLEY, MINNESOTA // POPULATION: 10
Funkley mayor Emil Erickson will serve anyone who visits his town a drink—provided that they go to the Funkley Bar and Lounge, which he owns, and pay using Funkley Bucks, a made-up currency with his face on it that he prints and doles out to tourists. Erickson presides over the bar with his dog Chopper, who likes to sit on a stool next to the patrons. In the fall, big crowds of hunters visit. In the summer, Funkley gets bikers. Otherwise, there aren't many new faces in Funkley. The city's population recently doubled to its current 10 residents after a five-person family moved in.
24. SATARTIA, MISSISSIPPI // POPULATION: 53
Satartia's main claim to fame is the Satartia Bridge over the Yazoo River in the Mississippi Delta. Its concrete, steel, and rust aesthetic has landed it on a website that catalogues ugly bridges. But most infamously, a team of paranormal investigators has claimed the Satartia Bridge is haunted: They saw mysterious floating flights, heard phantom moans, and smelled rotting flesh coming from the water in 2003. They suggested the source could be the indigenous Yazoo people, who according to legend were marched into the river to their deaths after refusing to surrender to the conquering French. Another theory claims the river is haunted by the crew of one of the 29 ships sunk here during the Civil War.
25. BAKER, MISSOURI // POPULATION: 3
Baker is tiny— less than a quarter-square-mile of land. But the town's only family farms 3,300 acres of rice, soybeans, and wheat in fields that extend beyond Baker's boundaries. Mark Rinehart took the land over from his father, Max, and now works it with his son, Eric. Mark told the Missouri News Scene his proposal for boosting the U.S. rice market in 2014: "Drink more beer, eat more rice, or both."
26. ISMAY, MONTANA // POPULATION: 21
Ismay wasn't always named Ismay. Until the 1910s, the town was called Burt. Then a railroad division superintendent renamed the place Ismay, a mashup of his two daughters' names, Isabella and Maybelle. Then, in 1993, as part of a Kansas City radio station's publicity stunt, the town agreed to change its name to Joe, Montana, in honor of the NFL quarterback who had just been traded to the Chiefs. Sports Illustrated picked up the story, and soon the town was selling hundreds of "Joe, Montana" t-shirts, coffee mugs, and golf balls. More than 2000 visitors descended on the town the first time it hosted "Joe Day." And the Kansas City Chiefs flew the entire town down to see a game and hang out with Joe Montana. When Ismay ended the stunt eight years later, the town had enough money to buy itself a new fire truck and build a community center—named for Joe Montana.
27. MONOWI, NEBRASKA // POPULATION: 1
Elsie Eiler is all that's left of Monowi, the only incorporated town in America with one inhabitant. She is the mayor and the owner of the Monowi Tavern, the only business in town. She lives half a mile away from the bar in a mobile home. Each year, she taxes herself to raise the money to keep Monowi's four streetlights on. For decades, there was another resident in Monowi: Eiler's husband Rudy, an avid reader. He died in 2004. The next year, Elsie built a library behind the tavern and stocked it with 5000 books. The library was her husband's lifelong dream, and Elsie dedicated the building to Rudy.
28. CALIENTE, NEVADA // POPULATION: 1108
The land that would become Caliente was first settled in the early 1860s by Ike and Dow Barton, two escaped slaves from Arkansas. For a while the place was called Culverwell, after Charles and William Culverwell, who owned a ranch on the land. In 1901, when Union Pacific and another railroad got into a territory dispute over who could lay down track in a narrow canyon near the ranch, William Culverwell ended the land battle "with his shotgun." He gave Union Pacific the right to build a railroad grade through his property and the rival company dropped its claim. The town quickly grew to more than 5000 residents thanks to the train depot. It was renamed Caliente after the discovery of nearby hot springs.
29. DIXVILLE NOTCH, NEW HAMPSHIRE // POPULATION: 8
The residents of Dixville Notch have cast the first votes in every U.S. presidential election and primary since 1960. Thanks to an obscure New Hampshire law, voting precincts with fewer than 100 voters can open their polls at midnight on election day and close them as soon as everyone has cast their vote. A local hotelier started driving his employees to the polls at midnight in 1960 as a publicity stunt for his resort. The polls closed at 12:07 a.m., and the town became the first precinct to report election results. It wasn't long before presidential candidates began visiting Dixville Notch every four years.
30. TAVISTOCK, NEW JERSEY // POPULATION: 5
A group of golfers founded Tavistock in 1921 to evade blue laws in nearby Haddonfield that banned sports on Sundays. When 19 former members of the Haddonfield Country Club got fed up with the restrictive rules, they incorporated Tavistock, a quarter-mile splinter of Haddonfield. There they created a new country club with a new golf course, which stays open seven days a week. The Tavistock government also lets its country club sell liquor, which is illegal in Haddonfield.
31. WHITES CITY, NEW MEXICO // POPULATION: 7
Kentucky teacher Charlie White founded this town near the entrance of Carlsbad Caverns National Park in the 1920s. White built tourist accommodations on the only road in or out of the park. "White's Cavern Camp," a collection of 13 visitor rooms, a gas station, and a house for his family, grew into Whites City. White's children and grandchildren eventually added a theater, a saloon, and a museum of curios including a stuffed two-headed snake. In 2008, the White family auctioned off the entire city for $1.55 million. (Before the final auction, the family listed it on eBay for $5 million.) The new owners sold Whites City again in April for an undisclosed sum.
32. OIL SPRING RESERVATION, NEW YORK // POPULATION: 1
A Franciscan missionary named Joseph DeLa Roch D'Allion made the first recorded mention of oil in North America here in 1627. The Seneca and earlier indigenous peoples knew about the oil long before, and used the spring's petroleum-laden waters for medicinal purposes. The U.S. federal government officially recognized Oil Spring as a Seneca reservation at the end of the 18th century, but by the 1850s white squatters, including future New York governor Horatio Seymour, had taken up residence. The Seneca waged a legal battle to evict the squatters and have retained control of the land ever since [PDF].
33. DELLVIEW, NORTH CAROLINA // POPULATION: 13
In 1925, the Dellinger family had a problem: stray dogs kept raiding their chicken coops and killing their poultry, but local laws prevented them from shooting the mongrels on sight. Luckily, they had a cousin in the state assembly. That year, state representative David R. Dellinger proposed a bill to incorporate the town of Dellview, populated almost exclusively by Dellingers. The town never collected taxes, provided a police force, or offered water or sewer services. But it did pass a local ordinance that made it legal to shoot stray dogs. In 1978, no one in Dellview responded to a Census Mapping Survey and the state declared the town inactive.
34. RUSO, NORTH DAKOTA // POPULATION: 4
Ruso was founded in the early 20th century by protestants from Ukraine who wanted to escape the influence of the Russian Orthodox church. Many took homesteads for farming and ranching in North Dakota. By 1910, 71 percent of the state's population was first- or second-generation immigrants. The new arrivals named Ruso nostalgically, either after a Russian word meaning "south of us" or a combination of the first letters in SOuth RUssia.
35. RENDVILLE, OHIO // POPULATION: 36
Rendville is a former coal mining town with an outsized influence on the history of labor and civil rights in the U.S. Founded in 1879 by William P. Rend, the town quickly gained notoriety as a place where black men could get work as coal miners. Rend hired black and white workers in large numbers, despite violent threats from white miners in neighboring towns. Rendville produced the first black man and woman to serve as mayors in Ohio—Isaiah Tuppins and Sophia Mitchell—along with the country's first black woman postmaster general, Roberta Preston. Adam Clayton Powell Sr., pastor and cofounder of the National Urban League, and Richard L. Davis, cofounder of the United Mine Workers of America, both worked in Rendville.
36. LOTSEE, OKLAHOMA // POPULATION: 2
George Campbell had been letting Boy Scouts and church groups camp on his ranch for years. But in 1963, the nearby cities of Tulsa and Sand Springs were racing to annex as much surrounding land as possible, and Campbell worried that if either city gobbled up his ranch, he would have to follow local ordinances prohibiting the campers. So he filed to incorporate a new town and named it after his daughter, Lotsee. Today, Lotsee Spradling and her husband Mike are the only two residents in town and their ranch takes up nearly all of its area.
37. GREENHORN, OREGON // POPULATION: 2
With an elevation of 6306 feet, Greenhorn is Oregon's highest city. Founded during an 1860s gold rush, Greenhorn now serves as a vacation retreat and hunting outpost for a handful of part-time residents. Two people, Joyce Pappel and Ron Bergstrom, account for the town's entire permanent population. Greenhorn collects no taxes and has no sewers, power lines, or police.
38. CENTRALIA, PENNSYLVANIA // POPULATION: 5
In 1962, a trash fire in Centralia's dump spread into an underground coal seam and wouldn't stop burning for the next two decades. In 1981, a 12-year-old boy was nearly sucked into the subterranean inferno when the ground gave out beneath him. Two years later, Congress set aside $42 million to buy out the town's 1100 residents, but nine holdouts refused. After another two decades, they won the right to stay in their homes. Those that remain alive are Centralia's last residents.
39. WATCH HILL, RHODE ISLAND // POPULATION: 154
Watch Hill is a blue-blooded beachside village—home to the Ocean House, a grand hotel built here just after the Civil War—where wealthy families have spent their summers for more than a century and resisted letting newcomers into their enclave. But in 2013, nouveau-riche pop star Taylor Swift plunked down $17.75 million in cash for a 16-room waterfront mansion. For the rest of us, one of two Watch Hill beaches is open to nonresidents.
40. JENKINSVILLE, SOUTH CAROLINA // POPULATION: 43
Jenkinsville successfully installed sidewalks, curbs, and streetlights through federal grants. But Jenkinsville is also the site of a slightly larger construction project: two nuclear reactors. Joining its existing 30-year-old reactor is a pair of new 1117-megawatt reactors, the first such structures built in the U.S. in three decades. They're scheduled to start running by 2021, and each will provide enough electricity to power 640,000 homes.
41. HILLSVIEW, SOUTH DAKOTA // POPULATION: 2
It might be hard to find Hillsview, a half-square-mile patch of territory near South Dakota's northern border. There used to be two signs that pointed toward the town from the highway, but vandals stole one of them, and the county took down the other down, reasoning that they couldn't direct drivers to a place with no services to speak of. Now Hillsview's two residents, a mother and son named Helen and Cletus Imberi, use the town's only revenue—a small transportation allotment—to keep the Hillsview's eight streetlights on, which illuminate their home, an abandoned school, and a hardware store.
42. SAULSBURY, TENNESSEE // POPULATION: 112
Saulsbury used to be renowned for its valuable sand. In the 1870s, the sand mining industry took off and the town shipped 47 different kinds of sand to nearly every state in the country.
43. LOS YBANEZ, TEXAS // POPULATION: 19
In 1980, Israel Ybanez snapped up an auctioned parcel of government land in western Texas with one goal: open dry Dawson County's only liquor store. He incorporated the town in 1983, installed his wife as mayor, got his liquor license, and opened a take-out beer store. For three decades, Ybanez did brisk business as the only booze merchant for miles, eventually expanding to also sell wine and spirits. Ybanez died in 2014, but there are three liquor stores in Los Ybanez today.
44. BONANZA, UTAH // POPULATION: 1
Bonanza is a company town, owned by the American Gilsonite Co., at the center of the only commercial gilsonite mining operation in the world. You may not have heard of gilsonite, but this shiny black subspecies of asphalt is the stuff that shades the ink in your printer and seals your car to keep dust from drifting in from the road. Most of the company's 225 workers live 48 miles away in Vernal, but Bonanza still encompasses 26 houses, processing plants and administrative buildings.
45. NEWFANE VILLAGE, VERMONT // POPULATION: 113
Newfane Village is a small incorporated enclave within the larger town of Newfane—a cluster of old, historic homes and small stores surrounded by forest. The settlement dates back to 1825 and its "village" status is a holdover from an archaic local government structure that Vermont abandoned by the 1930s. With its idiosyncratic government and its 60 white-clapboard, black-shuttered homes, Newfane Village has been described as a "microcosm of Vermont" and the "epitome of small-town New England."
46. CLINCHPORT, VIRGINIA // POPULATION: 66
Clinchport started as a port for loggers transporting logs down the Clinch River to Chattanooga. The loggers rode the logs downstream, guided them into port at Chattanooga, and then hitched a ride back to Clinchport to chop down another tree. The town grew until 1977, when the Clinch River flooded and washed away many of its homes and businesses. Clinchport was never rebuilt. Today the Clinch River is renowned for its biodiversity. With over 130 species of fish and 40 species of mussels—many of them threatened or endangered—it is the most biodiverse river in the country.
47. KRUPP, WASHINGTON // POPULATION: 49
The town of Krupp was incorporated in 1911 and still officially bears that name—but everybody calls the place Marlin, because of a grudge against the Germans that dates back to World War I. During that conflict, the German Krupp gun factory manufactured much of the artillery the Axis powers fired on Allied soldiers. Queasy about this association, the town started calling itself Marlin, after John Marlin, the town's first white settler.
48. THURMOND, WEST VIRGINIA // POPULATION: 6
William D. Thurmond, a former captain in the Confederate army, got 73 acres of land along the New River Gorge in 1873 as payment for his work as a surveyor. With rich coal fields and access to a nearby railroad junction, Thurmond's property quickly attracted miners and merchants from across West Virginia. Saloons and gambling houses quickly followed. The town of Thurmond came to be known as the "Dodge City of the East" and was described as "hell with a river through it." As the coal industry dried up, so did the town, until only five residents remained by 2015. That year, Thurmond became the smallest town in America to unanimously ban housing and employment discrimination against LGBT people.
49. ODANAH, WISCONSIN // POPULATION: 13
Odanah is the seat of government of the Lake Superior Tribe of Chippewa Indians on the Bad River Reservation. During the 1850 Sandy Lake Tragedy, 400 Chippewa died of disease, starvation, and cold when the federal government tried to force them to relocate west of the Mississippi. In 1854, the government granted the tribe permanent reservations in Wisconsin. Today, the Bad River Band has more than 7000 members, most living on the roughly 125,000 acres of undeveloped land in the reservation.
50. (PHINDELI TOWN) BUFORD, WYOMING // POPULATION: 1
All of Buford belongs to Pham Dinh Nguyen, a Vietnamese businessman who bought the place solely to promote his brand of gourmet coffee. He even unofficially renamed it PhinDeli Town Buford after the coffee. Nguyen, who reportedly walks around his native Ho Chi Minh City wearing a cowboy hat and calling himself "the mayor," paid $900,000 in an online auction to buy Buford's five buildings in 2013. He leases the town to a caretaker named Jason Hirsch, who runs a convenience store and gas station called the Buford Trading Post. It is the town's sole business and the only place in America where you can buy PhinDeli coffee. Hirsch, however, doesn't live in town. Buford's one resident is Brandon Hoover, who lives in a modest house behind the gas station. Hoover shares Buford with a horse named Sugar, Buford's unofficial mascot.