10 Myths About Tornadoes Debunked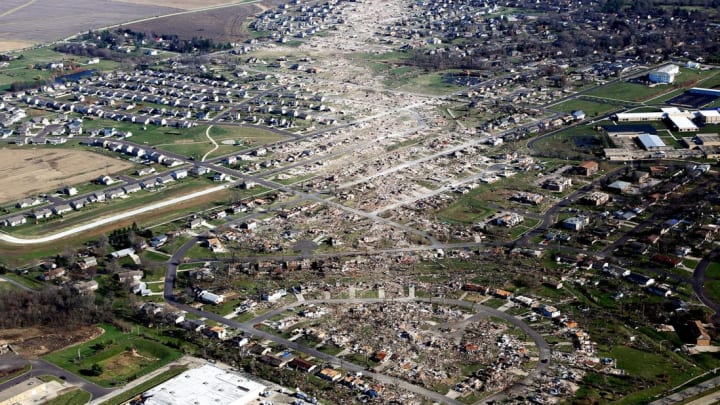 Tasos Katopodis/Getty Images / Tasos Katopodis/Getty Images
Lots of the myths we have today are relics of a time when we didn't understand how the world worked. Weather is a topic that is rife with legends and sayings that purport to explain how storms form and behave. But even though we now have a greater understanding of the science behind weather, these misguided beliefs are still pervasive. (After all, if our grandparents said it; it's got to be true.) While most weather myths are harmless and quirky, the misconceptions surrounding tornadoes in particular can be a dire threat to your safety in an emergency.
1. MYTH: TORNADOES ARE ALWAYS VISIBLE.
It's understandable that we often try to see danger before taking someone else's word for it, but when it comes to tornadoes, that's not a great idea. You can't always see a tornado before it hits. Many tornadoes are wrapped in heavy rain that makes them impossible to see until they're right on top of you. Some twisters that are very small, or form in drier climates, never develop the condensation funnel that gives them their unmistakable look, presenting themselves only as a swirling debris cloud at the ground.
2. MYTH: YOU HEAR TORNADOES BEFORE THEY HIT.
One of the biggest clichés in weather is that a tornado sounds like a freight train when it hits. It's dangerous to wait until you can see a tornado to run for cover, but it's just silly to wait until you can hear one. The wind often picks up before a tornado arrives, but you won't hear that signature roaring sound until it's so close that it's too late to seek shelter.
3. MYTH: YOU SHOULD OPEN THE WINDOWS.
We've all probably seen a movie or a television show where a character runs around the house frantically opening the windows before a tornado strikes. This is one of the most well-known tornado myths—and it's completely bogus. This comes from a day when people thought that buildings exploded from extreme pressure differences rather than being torn apart by the wind. Opening windows and doors just makes it easier for the wind and debris to get inside and cause more damage.
4. MYTH: TORNADOES CAN'T HIT CITIES.
Some people who live in cities comfort themselves during thunderstorms by repeating the myth that tornadoes can't hit cities … except they can and do. Tall buildings don't stop a thunderstorm from spawning a tornado. A tornado hit downtown Atlanta in 2008, shattering windows at CNN's headquarters and damaging the roof of the Georgia Dome during a basketball game. Tornadoes in the past two decades have also hit New York City, Washington D.C., Dallas, Texas, and many other major metropolitan areas in the United States.
5. MYTH: THEY CAN'T CROSS MOUNTAINS.
Folks who live in mountains or hilly terrain generally see fewer severe thunderstorms than their lower-lying counterparts, but the rough land doesn't provide blanket immunity from bad storms or even some tornadoes. Tornadoes can and do hit mountainous areas. They're not the monstrous walls of black you'd see in Oklahoma, but even a small tornado can do damage.
6. MYTH: BODIES OF WATER ARE A BARRIER TO TORNADOES.
Have you ever heard someone say not to worry about a tornado because it can't cross a river, lake, or bay? It's not true. Cooler air near bodies of water can disrupt thunderstorms, which could in turn disrupt tornadoes, but the water itself has no deterring effect on a tornado. Tornadoes easily cross rivers and lakes just as they would over land. In fact, the lower friction over the water might actually help a tornado's winds increase a little bit.
7. MYTH: DURING A TORNADO, YOU'RE SAFER UNDER A BRIDGE.
The kind of carnage a tornado can do to a vehicle is no joke. Tornadoes can twist cars and trucks into unrecognizable hunks of metal. This unfortunate reality causes countless motorists to take shelter under a bridge or overpass when threatened by a tornado. This is a terrible idea. Bridges and overpasses offer no protection from tornadoes and can actually make their winds even worse. Not only that, but taking shelter under a bridge can cause traffic jams that turn people into sitting ducks in an approaching storm.
8. MYTH: ALL TORNADOES MOVE SOUTHWEST TO NORTHEAST.
Many of us grew up hearing that you should hide in the southwest corner of a basement when a tornado strikes, because doing so will expose you to the least debris if the worst happens. Most tornadoes do move from southwest to northeast, but a tornado can come from any direction—and swirling debris will go where it may. Don't worry about looking at a compass during a tornado warning. You'll want to get as far underground as possible, and if you can't do that, go to the most interior room of a house. The goal is to put as many barriers between you and flying debris as possible.
9. MYTH: THEY OCCUR ONLY IN THE SPRING.
Tornadoes aren't just a springtime event. While tornado activity peaks between April and June, they're possible at any time of year. Ugly tornado outbreaks are a regular occurrence in the southern United States during the winter months. Tornadoes that occur in the "off-months," so to speak, can be especially dangerous, because people aren't paying attention to severe weather when they're sitting by their Christmas tree enjoying a movie.
10. MYTH: ONLY SOME STATES HAVE TORNADOES.
Despite their reputations for occurring in places that are dry or bitter cold or have perpetually sunny skies, no state is immune from tornadoes. All 50 states have reported tornadoes at some point since the early 1950s. Tornadoes are most common from Alabama through Texas and north from Texas through Nebraska, but if the conditions are right, they can form anywhere from the woods of Maine to the beach towns of southern California. There have even been four reported tornadoes in Alaska, though the actual number in the country's largest state might be higher due to the lack of people around to report tornadoes.