Melting Glacier Reveals Bodies of Swiss Couple Missing Since 1942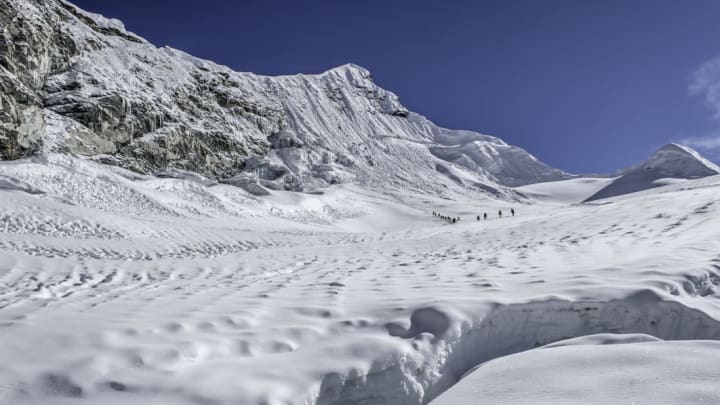 iStock / iStock
On August 15, 1942, Marcelin and Francine Dumoulin ventured to the meadow above their house in the Swiss Alps to milk their cows. What should have been business as usual turned into a harrowing missing-persons case when the married couple never returned. Now, nearly 75 years later, two frozen bodies that likely belonged to Marcelin and Francine have been found in the dwindling Tsanfleuron glacier near their former home, Reuters reports.
An employee at the Les Diablerets resort in Switzerland's Valais canton saw the remains near a ski lift earlier in July. The bodies, one male and female, were perfectly preserved down to their belongings and 1940s attire. Experts believe the couple perished after falling into a crevasse. Like other Alpine glaciers, the Tsanfleuron glacier has been hit hard by rising temperatures associated with climate change. The glacier finally revealed the missing bodies this summer after years of receding.
When Marcelin and Francine vanished, they left behind seven children who never gave up hope of finding them. Seventy-nine-year-old Marceline Udry-Dumoulin, the couple's youngest child, told a local newspaper the discovery brings her a "deep sense of calm."
The bodies will now undergo DNA testing to verify their identities. Once that's taken care of, Udry-Dumoulin plans to give her parents "the funeral they deserved."
[h/t Reuters]