6 Surprising State Weather Records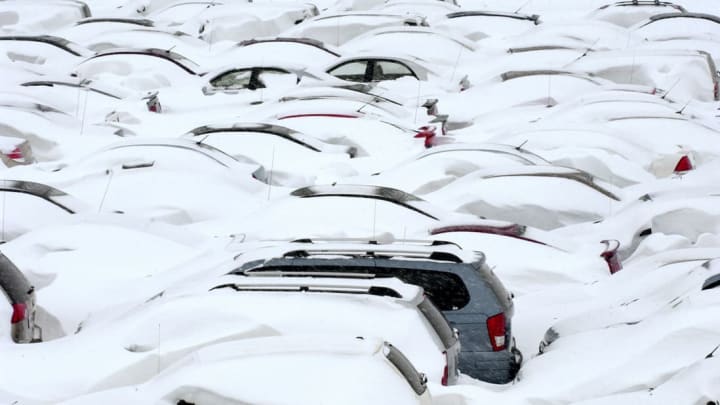 Thomas Cooper/Getty Images / Thomas Cooper/Getty Images
Something that truly unites all Americans is the belief that their home town lays claim to some of the worst weather in the country. Residents of nearly every state often repeat the joke that if you don't like the weather there, just wait five minutes and it'll change. Most of our exciting weather is rather ordinary, if not short-lived, but some events really are so extreme that they wind up in the record books. Here are some states where the weather was anything but ordinary.
1. MAINE: A RECORD NUMBER OF TORNADOES
Maine is pretty close to the bottom of the list when you think of states that are prone to tornadoes. Just like every other state, though, Maine's rugged landscape isn't immune to torrents that can produce wicked damage. A powerful outbreak of thunderstorms on July 5, 2017, produced five separate tornadoes across Maine, setting a new record for the most tornadoes to ever touch down in one day in this northeastern state.
While this was a relatively bad day in Maine, it pales in comparison to the most tornadoes to ever touch down in one day. More than 200 tornadoes touched down on April 27, 2011, mainly across Mississippi and Alabama, in what became one of the worst tornado outbreaks in recorded history.
2. NEW HAMPSHIRE: THE TOP WINDS ON A MOUNTAINTOP
New Hampshire's Mount Washington is famous for the extreme weather that tests the resolve of hardy scientists who work at its peak. The observatory at the top of Mount Washington has seen some of the worst weather imaginable, including the strongest wind gust ever directly recorded in the United States. (This was the global record as well until 1996, when a wind gust hit 253 mph in Australia during Typhoon Olivia.)
Scientists measured a 231 mph wind gust on the afternoon of April 12, 1934, as a storm system roared its way across New England. The observatory's intense winds are attributable to the fact that it lies more than 6000 feet above sea level, exposing it to the powerful atmospheric winds that make intense storm systems possible.
3. TEXAS: THE RAINIEST DAY EVER
Hurricanes are a fearsome weather catastrophe, but weaker tropical cyclones—tropical depressions and tropical storms—can cause just as much damage through the sheer amount of water they can bring ashore. No one understands this more than the residents of the small town of Alvin, Texas, which set the record for the most rain ever recorded in a 24-hour period. A weather observer in Alvin measured 42 inches of rain between the mornings of July 25 and July 26, 1979, as Tropical Storm Claudette swirled ashore. Records show that there may have been even more rainfall in Alvin as the rain gauge began overflowing at one point.
4. ALABAMA: THE WETTEST MAJOR CITY
The Pacific Northwest has a deserved reputation when it comes to constant rainfall. Seattle, Washington, sees rain on more than 150 days each year, but when it does rain there, the precipitation is on the lighter side; it's often an annoying drizzle.
But if you want real rainfall in a cityscape, head down to Mobile, Alabama, which is the rainiest major city in the contiguous United States in terms of yearly average rainfall. This city on the northern Gulf Coast typically sees more than five feet of rain every year. There are plenty of places that see more rain annually; Maple Valley, Washington, for instance, gets more than seven feet of rain a year. On the other hand, only 22,000 people live there. For the biggest rainy impact on the largest number of people, Mobile—home to just under 200,000—takes the cake.
5. MISSOURI: THE COSTLIEST HAILSTORM IN HISTORY
A pang of fear strikes through the stomachs of every car- and homeowner when a barrage of hail begins falling from the sky. It doesn't take much hail to cause a lot of damage, and the damage gets exponentially worse as the hailstones tick up in size. Parts of central Missouri and Illinois saw the costliest hailstorm ever recorded [PDF] back in April 2001, when a supercell thunderstorm dropped hail up to the size of baseballs over a path more than 240 miles long.
The hail damaged hundreds of thousands of buildings, tens of thousands of vehicles, and even caused substantial damage to more than two dozen airplanes at the airport in St. Louis. Once the skies cleared and residents tallied the damage, they found that the storm caused more than $1.5 billion in insured losses.
6. COLORADO: THE BIGGEST ONE-DAY SNOWFALL ON RECORD
If you love the cold and just can't get enough snow in the winter, there are few places you want to be more than the Rocky Mountains. The bitter cold, constant stream of storms, and jagged terrain create the perfect conditions for gobs of snow to fall all at once. A weather reporting station at Silver Lake, Colorado, nestled in the mountains west of Boulder, caught the jackpot one day nearly a hundred years ago. The town recorded more than six feet of snow—75.8 inches, to be precise—in the 24-hour period between April 14 and April 15, 1921. That's some deep powder.