7 Engaging Facts About Goofus and Gallant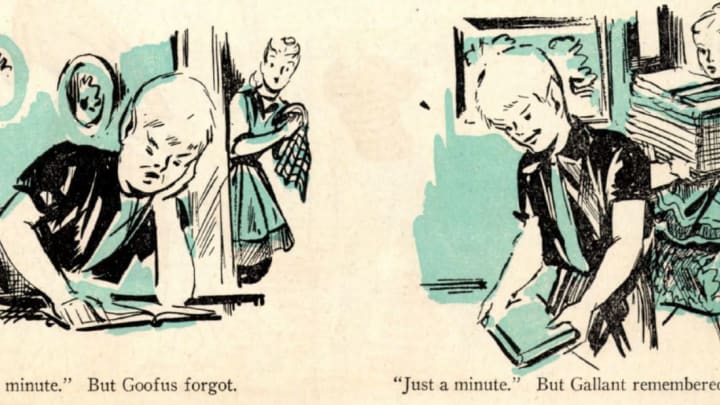 Courtesy of Highlights for Children / Courtesy of Highlights for Children
For well over 60 years, the preadolescent readers of Highlights for Children magazine have gotten regular lessons in morality from Goofus and Gallant, a pair of kids of indeterminate age and relation who offer sharp contrasts in behavior. Gallant is prone to exhibiting perfect manners; Goofus is selfish, thoughtless, and has even been seen torturing small animals. (Honest: He has stoned birds and once subjected a frog to some disturbing cruelty.)
The two-panel strip has become so ubiquitous that warring ideologies are often described as "Goofus and Gallant" types. If you've ever wondered whether there's more to Gallant than being a goody two-shoes or whether Goofus is flirting with juvenile delinquency, check out our round-up of the pair's storied history.
1. THEY USED TO BE ELVES.
Goofus and Gallant were the creation of Garry Cleveland Myers, a child psychologist and popular syndicated parental advice columnist. Myers debuted the strip, then known as the The G-Twins, in Children's Activities magazine in 1938. While the twosome were already displaying their radically different approaches to life, Myers depicted them as fanciful creatures with pointed ears and curly-toed shoes. No one is quite sure why Myers opted for the fairy tale aesthetic, although one theory is that he wanted to depict bad behavior rather than bad children.
After Myers and wife Caroline started Highlights for six- to 12-year-old readers in 1946, they were eventually able to acquire the rights to the strip. Goofus and Gallant debuted in their magazine in 1948; by 1952, they had morphed into two regular kids. Their parents lost the elf ears, too.
2. THEY MAY HAVE BEEN BASED ON REAL KIDS.
Highlights turned into a family enterprise, with the Myers's children and grandchildren having a hand in its publication. In 1995, Kent Brown Jr., the Myers's grandson, told the Los Angeles Times that he was the inspiration for Goofus and that his cousin, Garry Myers III, was the model for Gallant. Myers III denied the accusation. "Kent gets great glee out of claiming to be Goofus," he said. Brown later stated that all of Myers's 13 grandchildren helped inform the characters.
3. ONE ARTIST DREW THE STRIP FOR 32 YEARS.
Once Myers secured the rights to the two characters for Highlights, he enlisted illustrator Marion Hull Hammel to draw their adventures (and misadventures), taking them from the elfin creatures of the early days to the human boys of the 1950s and beyond. Hammel wound up drawing it for 32 years; Sidney Quinn took over when she retired and worked on it through 1995. Current artist Leslie Harrington has been on the strip since 2006. 
4. GALLANT GETS HATE MAIL.
While the recurring theme of Goofus and Gallant is to exercise the Golden Rule, not all juvenile readers are on board with Gallant's impeccable manners. "I got a letter from an attorney who'd grown up with the feature," Rich Wallace, the magazine's then-coordinating editor, told the Los Angeles Times in 1995. "He had something he wanted to get off his chest: 'Gallant was a wussy.'" Other readers have expressed similar disdain for Gallant, observing that they identify more with Goofus.
5. GOOFUS IS NOT A SOCIOPATH.
In the absence of any in-panel clinical diagnosis of Goofus's reckless behavior—including but not limited to playing with fire, being unkind to peers, and vandalizing school books—we're left with the editorial directives of Highlights. In a 1993 interview with the Chicago Tribune, magazine publicist Tom White admitted that Goofus is a "surly, uncooperative, ill-mannered child" but that "he is not a sociopath." Good to know!
6. THEY'VE BEEN FEATURED IN ROUGHLY A BILLION ISSUES.
Discounting the two years they were absent from Highlights from 1946 to 1948, the antics of Goofus and Gallant have appeared without fail in every subsequent issue. In 2006, the magazine celebrated its 60th anniversary by shipping its one billionth copy. The magazine went from selling 20,000 copies of its first issue to averaging 2.6 million readers a month in the 1990s.
7. ONE EDITOR'S THEORY WILL BLOW YOUR MIND.
When Goofus and Gallant began their broadly-drawn moral plays in the 1950s, they were depicted as identical twins. Later on, editors for Highlights indicated the two were brothers, but not twins. By 1995, they were simply two unrelated boys. But according to former coordinating editor Rich Wallace, the two might actually be part of a Fight Club-style twist. "I've theorized they're two sides of the same kid," he said.
We were so awed by this possibility that we asked Highlights editor Judy Burke if it held any water. "We show the boys with different parents in the panels and they look slightly different from each other," she says. More recently, the two have seemed to become aware of the other's existence. "In April 2016, we had them breaking through their respective art panels and pranking each other for April Fools' Day, which they couldn't have done if they were the same child."
That doesn't mean that readers can't have an existential crisis of their own. "Each time we run Goofus and Gallant, we include the line, 'There's some of Goofus and Gallant in us all,'" Burke says. "When the Gallant shines through, we show our best self.  We also include a few 'Goofus and Gallant Moments' from kids, where they tell us about times when they felt like either Goofus or Gallant. These two aspects of the feature support the theory that both characters reside within the same individual, and it's up to that person to choose how to behave."
All images courtesy of Highlights for Children and used with permission.