8 Surprising Facts About the Presidential Yacht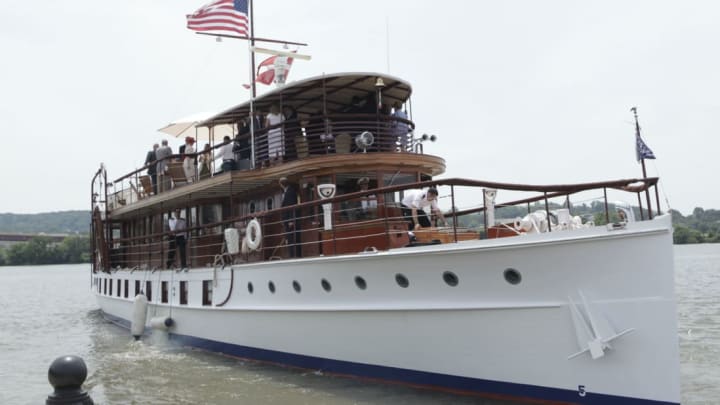 Yuri Gripas/AFP/Getty Images / Yuri Gripas/AFP/Getty Images
If you consider a boat to be a suboptimal way of ferrying the President of the United States, you're not alone. No sitting president has used one for official travel purposes since 1977, when the USS Sequoia was decommissioned. But for a good chunk of the 20th century, the POTUS was able to jump on a yacht and set sail for both recreational and government business, getting a change of scenery without having to hop on a plane. Take a look at a few things you might not have known about this unique—and extinct—political retreat.
1. THE SEQUOIA WASN'T THE FIRST PRESIDENTIAL YACHT.
The idea of toting presidents in a floating White House for social engagements dates back to 1893, when the USS Dolphin flew the presidential flag for Grover Cleveland and William McKinley. In 1905, Theodore Roosevelt anointed the USS Mayflower, a luxury steam yacht, that was occupied by three successive presidents until it was decommissioned in 1929. Two other ships were in service before the Sequoia was selected in 1933.
2. IT WAS ORIGINALLY A DECOY SHIP DURING PROHIBITION.
The Sequoia wasn't custom-built for presidential purposes. Constructed in 1925, the 104-foot-long vessel was originally owned by a Texas oilman and purchased by the U.S. government in 1931. It was used as a decoy ship to intercede rum runners during Prohibition before being rehomed with the U.S. Navy. Herbert Hoover and Franklin Roosevelt enjoyed fishing off the ship—in Hoover's case, so much so that he put a picture of it on the White House's official 1932 Christmas card. Hoover soon declared it the official presidential yacht in 1933.
3. EACH PRESIDENT CUSTOMIZED IT.
The Sequoia underwent several minor facelifts as each new sitting president decided they wanted a custom yacht experience. Lyndon B. Johnson was so tall that he had to have the shower on board extended so he could bathe comfortably; John F. Kennedy had a king-sized bed installed. An elevator was added to make it wheelchair-accessible for Franklin Roosevelt; Johnson later ripped out the lift and used the space for a wet bar.
4. NIXON LOVED THE BOAT.
Of all the presidents to board the Sequoia, Richard Nixon did so with the greatest frequency and zeal. He reportedly stepped on the ship at least 88 times, sailing to Mount Vernon and insisting staff salute Washington's tomb. Later, when Watergate began to consume most of his final days in office, he insisted an anti-bug electronic shield be installed in case the ship was being tapped for sound. Nixon also made the decision to resign while on board, mournfully playing "God Bless America" on the piano that Truman had installed.
5. JFK HAD HIS LAST BIRTHDAY PARTY THERE.
On what turned out to be his last birthday, John F. Kennedy devoted the night of May 29, 1963 to a celebration on the Sequoia. Just 24 guests were invited, and only three Secret Service members were on board—the rest populated security boats trailing behind.
6. ELVIS BOUGHT ONE.
For Franklin D. Roosevelt, the USS Potomac was his ship of choice: The 165-foot-long ship was big enough to accommodate more Secret Service staff and was in use from 1936 to 1945. After passing through other hands, Elvis Presley decided he wanted to make sure the ship was preserved and bought it at auction in 1964 for $55,000. The King immediately donated it to Saint Jude Children's Research Hospital in Memphis, where it continued to change hands until being designated a National Historical Landmark in 1987.
7. JIMMY CARTER SOLD IT OFF.
By 1977, the Sequoia had been in service for over four decades, and the cost to maintain it was significant: $800,000 a year. Because Jimmy Carter had made campaign promises to cut extraneous expenses, he had little choice but to trim the fat by decommissioning the yacht. The Sequoia was sold off for $236,000. In 1999, a collector of presidential memorabilia bought it for nearly $2 million and began renting it out to visitors for $10,000.
8. IT BECAME FULL OF RACCOON POOP.
Once the Sequoia entered the private sector, its seaworthiness became a very costly pursuit. In 2016, a judge ruled that FE Partners, which restores historic ships, could have the vessel free of charge after it was declared to be rotting and infested with raccoons while idling in a Virginia shipyard: The animals reportedly pooped on presidential carpets. The group hopes to restore the Sequoia and have it back on the water sometime in the next few years.