11 Buoyant Facts About Humpback Whales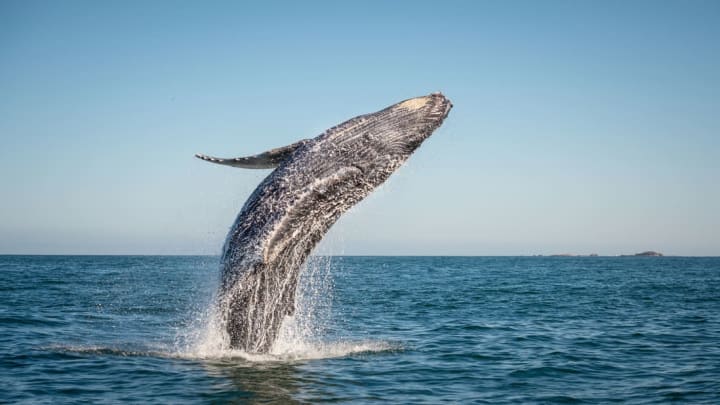 iStock / iStock
Humpback whales are some of the most intelligent animals on the planet. Hunted almost to extinction during the 19th and early 20th centuries, their populations are slowly recovering, and now they're a favorite sight for whale-watchers. Here are 11 facts you might not have known about the mysterious marine giants, who are known for their acrobatics and for sidling right up alongside boats to get a good look at their human observers.
1. THEY'RE LONGER THAN A SCHOOL BUS.
North American school buses max out at about 45 feet long. Female humpback whales—which are larger than males—can be up to 60 feet long, and their pectoral fins alone can be 15 feet long. At birth, humpbacks weigh around 1 ton, doubling in size during their first year of life and eventually reaching up to 40 tons.
2. THEY HAVE HUGE MOUTHS.
In keeping with the rest of their bodies, their mouths are huge—their tongue alone is the size of a small car. But the opening to their throat is only about the size of a grapefruit, according to the Hawaiian Islands Humpback Whale National Marine Sanctuary, so they can't swallow large prey. Instead, they eat krill, small fish, and plankton. They can eat up to a ton of food per day, according to the 2015 documentary Humpback Whales.
3. THOSE BUMPS ARE HAIR FOLLICLES.
Each of the distinctive bumps along a humpback's head holds a single hair that the whale uses to sense the environment around it. These hairs help the whale glean information about water temperature and quality.
4. THEIR FLUKES ARE LIKE FINGERPRINTS.
Like human fingerprints, humpback tails can be used to identify individuals. The pigmentation and scarring on their flukes is unique, and scientists document these markings to keep track of certain whales that they see repeatedly during their research trips.
5. THEY LIVE A LONG TIME, BUT NOT AS LONG AS MANY OTHER WHALES.
Most humpback whales make it into their 60s, but scientists estimate that they may live up to 80 years. Still, that's nothing compared to bowhead whales, a species whose oldest known individuals have lived to be 200 years old.
6. THEY HAVE THE LONGEST MIGRATIONS OF ANY MAMMAL.
Each year, humpbacks migrate from their feeding grounds in cold waters toward warm breeding areas—Alaskan whales head to Hawaii, while Californian whales head to Mexico and Costa Rica, and Australian whales migrate to the Southern Ocean. These biannual journeys can involve distances of up to 5000 miles, which is officially the longest known migration of any mammal on earth.
The fastest documented migration of a humpback whale was observed in 1988, when a humpback traveled from Sitka, Alaska to to Hawaii in just 39 days—or possibly less, depending on how soon it left Alaskan waters after the researchers sighted it the first time [PDF]. That's a journey of about 2750 miles point to point.
7. THEY HAVE BEEN KNOWN TO DEFEND OTHER SPECIES FROM ORCAS.
In 2009, marine ecologist Robert Pitman watched two humpback whales rescue a seal from a group of orcas that were pursuing it. The seal ended up on one of the humpbacks' chests, and when it began to fall off, the whale even nudged it back on with a flipper, indicating that it was an intentional act of altruism. Though it's not entirely clear why they would do so, it appears to be an offensive response on the part of the humpbacks, who may intervene whenever they hear killer whales fighting, whether one of their own is involved or not.
8. ONLY THE MALES SING.
Their songs may have made the species famous, but not every humpback sings. It's strictly a male behavior, and plays an important part in courtship displays. There's plenty of mystery that still surrounds the science of whale songs, but in 2013, researchers discovered that it's a group activity that involves even sexually immature males. Both young and mature whales sing in chorus, giving the immature whales a lesson in singing and courtship behavior, and helping older whales amplify their songs to draw females to the area from afar. Other research has found that these songs change over times, and whales learn them much like a human learns a new song, bit by bit.
9. BREACHING IS LIKE YELLING
Though humpbacks are famous for their songs, that's not the only way they communicate. Scientists only recently discovered that breaching—when whales jump up into the air, crashing back down into the water—is a way to keep in touch with far-away friends. Humpbacks leap higher and more often than other whales, and while spectacular to witness, the moves come at a cost: It takes a lot of energy, especially when the whales are fasting. But after 200 hours observing humpbacks migrating past the Australian coast, a team from the University of Queensland found that the whales were more likely to breach when the nearest group of other humpbacks was more than two and a half miles away, and that they were more likely to do so when it was windy out. It appears that breaching is a way to communicate over long distances when there is a lot of competing noise.
10. THEIR SONGS ARE INCREDIBLY COMPLEX …
Humpback songs aren't just showy. They have their own grammar, and their songs are hierarchical, like sentences. In human language, this means that the meaning of sentences depends on the clauses within them and the words within them. In 2006, mathematical analysis found that humpbacks use phrases, too. And they remix their tunes, too, tweaking them and changing them over time, often combining new and old melodies. Humpback songs have even been visualized as sheet music.
11. … AND HELPED END WHALING.
Researchers estimate [PDF] that prior to the whaling boom of the 19th and 20th centuries, there were around 112,000 humpbacks in the North Atlantic alone, but that by the time commercial whaling was banned in the region in 1955, there were less than 1000 individuals left. Between 1947 and the 1970s, the USSR alone killed an estimated 338,000 humpbacks, falsifying data it was required to submit to the International Convention for the Regulation of Whaling to disguise the illegal magnitude of its hunting operation. It has been called "one of the greatest environmental crimes of the 20th century."
While the populations have grown and humpbacks have been taken off the endangered species list, some estimates put the worldwide humpback population at only 40 percent of what it was before the whaling era. Whaling was banned throughout the rest of the world in 1966, though Norway, Iceland, and Japan still practice it.
Roger Payne, one of the scientists who first discovered that humpbacks sing songs, later became instrumental in pushing to protect the species in the 1960s. In 1970, he released his recording of humpback songs as a record, which remains the best-selling nature recording in history. In 1972, the songs were played at a Greenpeace meeting, and ended up galvanizing a new movement: Save the Whales. "It certainly was a huge factor in convincing us that the whales were an intelligent species here on planet Earth and actually made music, made art, created an aesthetic," as former Greenpeace director Rex Weyler told NPR in 2014. The campaign gained traction with other organizations, too, and helped lead to the International Whaling Commission's 1982 whaling ban.