10 Pirate Landmarks You Can Visit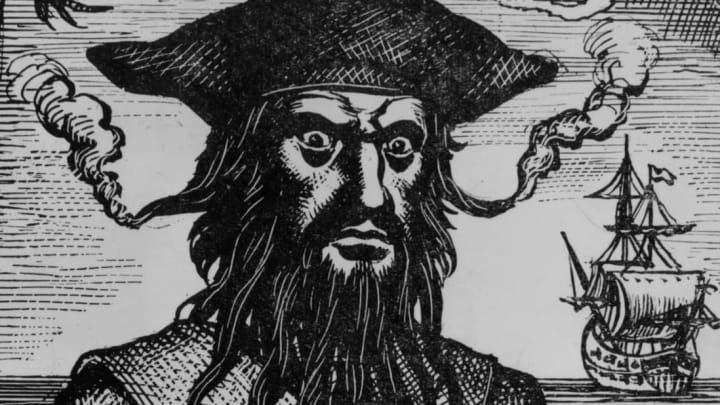 Hulton Archive/Getty Images / Hulton Archive/Getty Images
Hungering for a scurvy-ridden romp across the seven seas? We've mapped out an international journey that will take you through 10 historic places with maritime yarns to unravel. From a rediscovered wreck to the site of real buried treasure, these locales will set your timbers a-shivering.
1. THE QUEDAGH MERCHANT, CATALINA ISLAND, DOMINICAN REPUBLIC
Hulton Archive/Getty Images
In 1695, Scottish privateer William Kidd was hired by an English governor to fight pirates in the Indian Ocean. But he made one critical mistake. On January 30, 1698, he captured the Quedagh Merchant, a treasure-laden ship flying a French flag. Since England was at war with France, Kidd believed he had a legal right to seize this ship. However, a nobleman who stood to lose his riches on board complained to the British East India Company, which put out a call for Kidd's arrest. Unable to prove his innocence, Kidd was convicted and hung by an English court in 1701.
As for the Quedagh Merchant, Kidd had abandoned the vessel and its final resting place remained unknown for centuries. Marine archaeologists discovered the wreck off the coast of Catalina Island in 2007. The site is now a protected marine area where divers can read about its history on underwater plaques.
2. FOX POINT, ST. GEORGE ISLAND, FLORIDA
Born in Maryland, William Augustus Bowles was a British loyalist during the Revolutionary War. While stationed in Pensacola, Florida, he married into the Muscogee (Creek) Nation and, later, fought on behalf of both nations against Spain in the Gulf of Mexico. Bowles would later establish himself as a pirate and self-appointed representative of the Muscogee Nation, and secured Great Britain's support for establishing an independent Muscogee Republic. In those roles, he attacked numerous Spanish ships and was arrested by the Spanish authorities. He escaped from prison and was on his way back to Florida in the British schooner HMS Fox when it went aground on St. George Island at a site now called Fox Point. A historical marker commemorates the Fox's wreck.
3. A REAL BURIED TREASURE SITE, GARDINER'S ISLAND, NEW YORK
Howard Pyle, Wikimedia Commons // Public Domain
Contrary to popular belief, most pirates did not bury treasure. (People who steal loot generally want to spend it right away.) In fact, the only pirate known to have stored booty underground was William Kidd. Prior his arrest by the British authorities in 1699, Kidd paid a visit to Gardiner's Island, a spot between the forks of Long Island. Its owner, John Gardiner, agreed to let Kidd bury some valuables there. Accounts differ about what happened next. Some sources say that Gardiner decided to come clean and tell the colonial governor, Lord Bellomont, about the treasure. Others say that Bellomont learned of its whereabouts directly from Kidd. Either way, the loot was exhumed and taken to Boston. The gold, silver, and other valuable items were worth more than $1 million in today's U.S. dollars. Today, a stone plaque marks the spot.
4. DUNGEON ROCK, LYNN, MASSACHUSETTS
In 1658, a group of buccaneers landed in Lynn, Massachusetts. Most were arrested, but a pirate named Thomas Veal escaped into the forest. Legend has it that a huge geologic formation now called Dungeon Rock became his hideout. Once a spacious cave, it was reduced to a pile of boulders by an earthquake, entombing Veal and his treasure within.
Almost a century later, a spiritualist named Hiram Marble, who believed Veal's ghost had contacted him from the afterlife, bought Dungeon Rock. He and his son, Edwin, spent their lives digging for the treasure but found nothing. Since then, the site has been incorporated into the Lynn Woods Reservation. A door bars the entryway to the rock's interior, which is open to visitors during certain times of the year. Nearby, you can pay your respects to Edwin Marble at his modestly marked grave.
5. LAFITTE'S BLACKSMITH SHOP, NEW ORLEANS, LOUISIANA
Carol M. Highsmith, Library of Congress // Public Domain
Lafitte's origins are shrouded in mystery, but he arrived in New Orleans around 1806 with his (alleged) brother, Pierre. They organized a fleet of smuggling vessels and conspired with potential business partners at a colleague's blacksmith shop on Bourbon Street. Now a popular bar, the building was recognized as a National Historic Landmark in 1970.
During the War of 1812, Lafitte offered his ample supplies, experienced sailors, and local knowledge to the American forces under General Andrew Jackson, in exchange for the release of some of Lafitte's men then in prison. At the Battle of New Orleans in 1814-15, Jackson's and Lafitte's forces helped repel the British attack, and the two Lafitte brothers both received federal pardons.
6. LAFITTE'S FORMER STOMPING GROUNDS, GALVESTON, TEXAS
DHuss/iStock
Soon after the Battle of New Orleans, the city's elites grew tired of tolerating the Lafittes. In 1817, Jean Lafitte decamped to Galveston, Texas, with seven ships and a few dozen followers. They established a town called Campeche with its own boarding house, taverns, and courts, while continuing to prey on Spanish ships in the gulf and operating a large slave market. In 1821, the U.S. government ordered them to clear out. Nothing can be said with certainty about Lafitte's post-Galveston exploits. Just like his origins, Jean Lafitte's fate remains the stuff of speculation.
A relic from his time in Galveston can be found at 1417 Avenue A, where Maison Rouge, Lafitte's home and fortress, once stood. The grounds are protected by a chain-link fence, which also surrounds the remnants of a second building that was built on top of Maison Rouge's foundation in 1870. Learn more at Pirates! Legends of the Gulf Coast, a local attraction which focuses on Lafitte's life and deeds.
7. PLUM POINT, BATH, NORTH CAROLINA
Blackbeard—whose real name was either Edward Teach, Edward Thatch, or some variant thereof—settled in Bath, North Carolina, for a brief period of quasi-retirement beginning in 1718. His place of residence was reportedly somewhere on Plum Point, an outcropping which cuts into Bath Creek. Despite his track record of plundering and theft, he was constantly getting dinner invitations from curious families. According to regional lore, he paid multiple visits to the Hammock House, an elegant white building thought to be the oldest surviving house in Beaufort, North Carolina. This city is also home to a gigantic Blackbeard statue on U.S. Highway 70. Beaufort's branch of the North Carolina Maritime Museum contains numerous Blackbeard artifacts.
8. A PIRATE-FILLED CEMETERY, ILE SAINTE-MARIE, MADAGASCAR
In the Age of Sail, pirates operated in nearly all of the world's oceans. Île Sainte-Marie, near Madagascar, was a magnet for pirates back in the 17th and 18th centuries. The island had plentiful fresh fruit to prevent scurvy and convenient natural harbors for safe anchorages. So many crews visited the island regularly that trading posts run by and for pirates became a vital part of the local economy. In its heyday, more than 1000 pirates lived on the island. A great many now lay buried in a cemetery near Ambodifotatra, Île Sainte-Marie's biggest city. The 30 on-site tombstones of pirates can be identified because they were given etched-in skulls, crossbones, or both.
9. BLACK BART'S MEMORIAL STONE, CASNEWYDD-BACH, WALES
Daniel Defoe, Wikimedia Commons // Public Domain
Typically cited as the most successful pirate of all time, Bartholomew "Black Bart" Roberts was born in the Welsh village of Casnewydd-Bach in 1682. In 1719, the crew of the slave ship he worked on elected Roberts, an experienced navigator and seafarer, as their new captain. Roberts really seemed to like the name Royal Fortune, which he gave to multiple ships. He also authored a pirate's code of conduct for his crew in 1721.
The dreaded "Black Bart" would seize more than 400 ships before he died in battle on February 10, 1722. His hometown acknowledges its native son with a memorial stone on the village green.
10. BLACKBEARD'S POINT, HAMPTON, VIRGINIA
Charles Ellms, Wikimedia Commons // Public Domain
Our adventure ends with a visit to a place that once displayed Blackbeard's severed head [PDF]. North Carolina's governor, Charles Eden, granted the pirate a pardon in exchange for a hefty share of his loot, which upset the colony's wealthy planters. The elites asked Virginia's governor, Alexander Spotswood, to get rid of Blackbeard permanently. Spotswood sent a naval force led by Lieutenant Robert Maynard to engage the pirate's crews in combat. Maynard caught Blackbeard by surprise in North Carolina's Ocracoke Inlet, and a great battle ensued, with Maynard coming out on top. Blackbeard was killed in the fight and Maynard mounted the pirate's head on the bowsprit of his ship on their way back to Virginia. Later it was suspended from a pole at Tindall's Point, at the confluence of the James and Hampton rivers, where it served for several years as a warning to anyone else with piratical designs. Tindall Point is now called Blackbeard's Point.