25 Brilliant Halloween Life Hacks
Halloween season is here, which means a lot of scrambling to find costumes, navigating fake spider webs, and cleaning pumpkin guts off of your kitchen table. If you find yourself getting a little stressed over the festivities, check out these 25 life hacks that promise to make your holiday prep a little less scary.
1. WHIP UP SOME CONVINCING FAKE BLOOD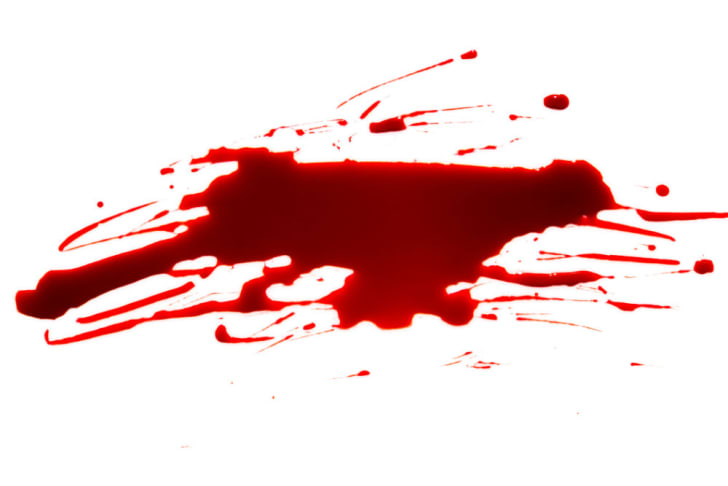 Need some faux-plasma to add to the atmosphere? Check your cupboards: a mixture of corn syrup, red food coloring, and corn flour not only looks like crime scene spatter, but it's edible, too.
2. MAKE A MUMMY MUG
Who needs expensive novelty cups, when you can conjure up a convincing mummy mug. Simply wrap a regular coffee mug in medical gauze and add googly eyes with a little Elmer's glue. Want to give a juice box the same treatment? Use some white masking tape and add another pair of eyes. It also works well on Mason jars.
3. SPOOKY WATER BOTTLES
To get bottled water in the holiday spirit, just grab some Halloween-themed decorative tape and wrap it around the regular label.
4. A SEVERED HAND IN THE PUNCH BOWL
Grab a rubber glove, fill it with water, and place it in the freezer. A few hours later, you'll have a solid block of hand-shaped ice to drop into the punch bowl for your party. (Just remember to cut the glove off first.)
5. GHOST LOLLIPOPS
Even the innocent lollipop can become a symbol of the undead. All you need are some coffee filters (or tissues) and string: Wrap the filter around the head of the lollipop, then tie it off with the string.
6. A HEALTHY SPOOKY TREAT
Halloween parties are usually overstuffed with cupcakes, candies, and other tooth-endangering treats. For a quick snack that's still seasonally appropriate, you can take a banana and stuff three chocolate chips in it to make a face. You can also make a deliberate peel so it resembles a flayed banana. (Just eat it quick, before it turns brown. Otherwise, it's just a rotting banana corpse.)
7. PEPPER DIP BOWLS
Hollow out a pepper and use it as a dipping station for your dressings. The orange tint will give off an appropriately Halloween vibe.
8. A CHEAP, EFFORTLESS COSTUME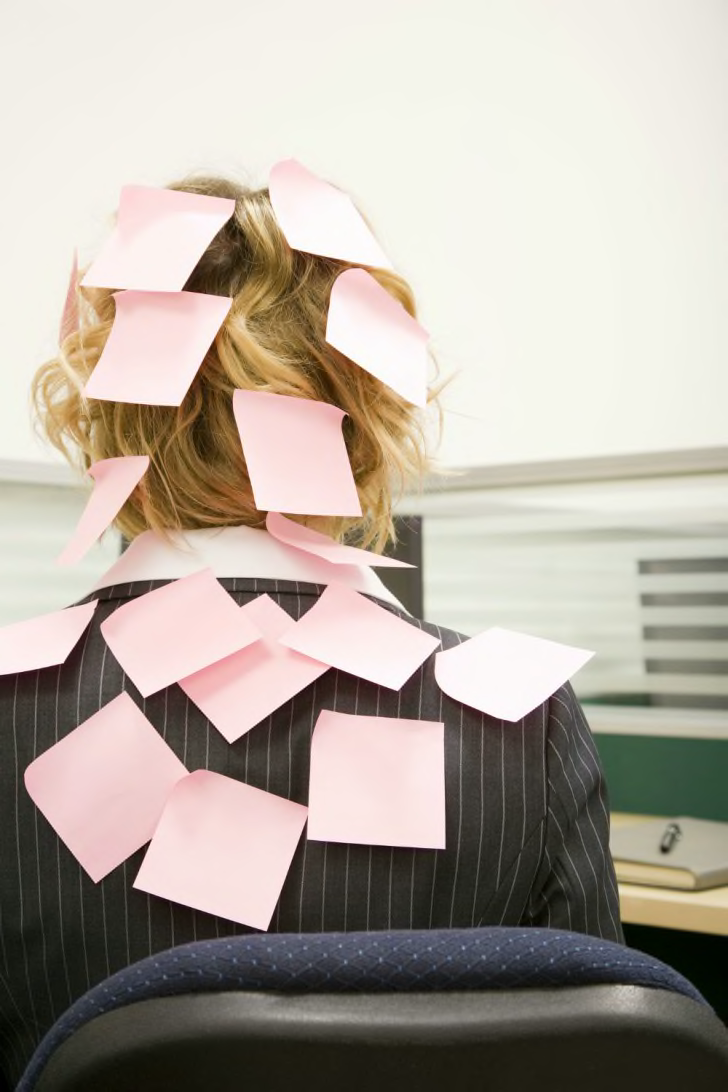 Nothing says "I can't be bothered" more than sticking some Post-It style notes to your shirt and declaring yourself a bulletin board. Still, it'll work if you're pressed for time. (And if you have a pair of costume bear ears laying around, go for the Bear Minimum.)
9. GROSS HAND SOAP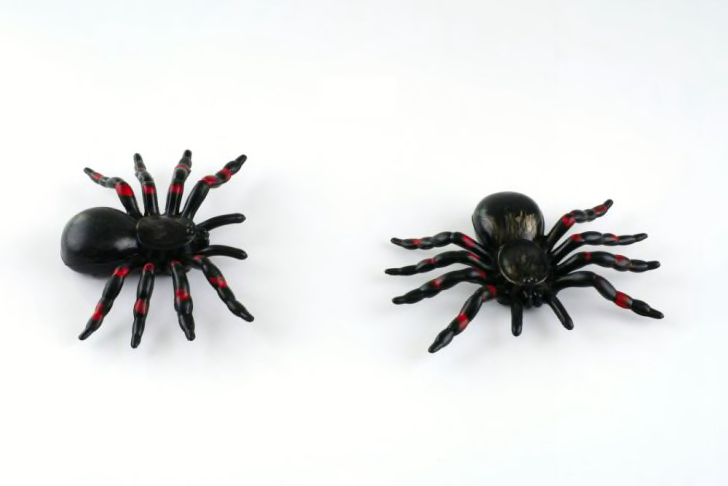 Want to creep out guests who are looking to wash up? Grab some toy spiders and put them inside a clear plastic hand soap dispenser.
10. A BLOODY CANDLE
A simple but effective trick: Take a white candle, then light a red candle over it and let the wax drip down to create a blood-dripping effect. Make sure to use caution when operating a lighter.
11. DRYER VENT PUMPKINS
Taking a metal dryer vent and creating a loop leads to a close replica to a pumpkin: You can paint them in any color you desire and add a fake stem using a cinnamon stick.
12. THE FLOATING CHEESECLOTH GHOST
Want to really spook guests with your apparent mastery of the dark crafting arts? Take a piece of cheesecloth and drape it over a solid object like a large soda bottle with some wires to support where the arms would be. Then, spray it with starch to make it stiff. When you remove the bottle, the cloth will look like it's hovering by itself.
13. SURGICAL GLOVE TREAT BAGS
Take a see-through surgical glove (available at most pharmacies) and stuff with treats. The disembodied hand effect is cooler than a standard treat sack and can be tied off at the top to prevent candy from spilling out.
14. SPOOKY SPAGHETTI
A little black food coloring added to boiling pasta water can transform dinner into a disgusting feast! The spaghetti will stain, but once cooked, it won't stain your mouth. And you and the kids can pretend to be eating worms.
15. VAMPIRE BATHROOM OCCUPANCY
Fill up a glass of water and use it to store toothbrushes—inside the glass, drop in a set of plastic vampire teeth. It'll look like you have an elderly bloodsucker lurking in your residence.
16. SEVERED FINGER APPETIZERS
Grab a Mason jar and fill it with hot soup of your choice—just make sure it's transparent. (Chicken broth is ideal.) Then, plop in some chicken sausages that have been cooked and perforated—the curled links will resemble severed fingers when submerged.
17. POOL NOODLE WITCH LEGS
Want to give off the impression that a wicked witch has met a crushing fate? Take a pool noodle, cover two halves with striped stockings, and add shoes. The prop will make it look like your nemesis has been squashed by a TV stand, potted plant, or sofa.
18. SCARY TOILET PAPER ROLLS
This cheap hack can make your guest bathroom into a veritable haunted location—and not because of the smell. Use construction paper to cut two eyes and a mouth and tape to your stacked toilet paper rolls for a ghost-like appearance.
19. SNACK-O-LANTERNS
Orange skin actually makes for a credible pumpkin carving substitute. After scooping out the insides, you can use a small carving knife to etch out a face and then fill the orange with small candy treats.
20. A PUMPKIN ICE BUCKET
Nothing says Halloween like a clean pumpkin, stripped free of its sticky guts. If you grab a spare and hollow it out, you can fill it up with ice and use it to keep refreshments cold.
21. DUCT TAPE YOUR PUMPKIN
There are endless alternatives to the mess of carving a pumpkin: One of them is to buy decorative duct tape and use it to tape over the surface of the fruit. No cutting, no gutting, and minimal rotting required.
22. SPIRITED MILK JUGS
Want a sprawling outdoor display without a lot of work? Take a bunch of galloon milk jugs, draw faces on them, then cut a hole in the bottom. Then, run a string of holiday lights on the ground and place the jug over one of the lights to create a line-up of spooky sentries.
23. DIY SPIDERS
Pick up some foam balls, run them through with pipe cleaners for legs, then use some black spray paint. You'll soon have an army of (somewhat adorable) spiders to do your bidding.
24. PICKLED HEAD IN A JAR
For the ultimate feat of surprise terror, follow Instructables user Mike Warren's directions on making your face into a pickled head in a jar. Take a panoramic shot of your face (front and sides), then print on a single sheet, laminate, and stuff into a clear jar. Add water with a light green tint and voila—it'll look like your melon is floating in preservatives.
25. A CLIP TO KEEP CANDY FRESH
If you're left with opened bags of treat-sized candy? Clip the open side of the wrapper with a paper binder to save it for a future binge.