25 Benefits of Adopting a Rescue Dog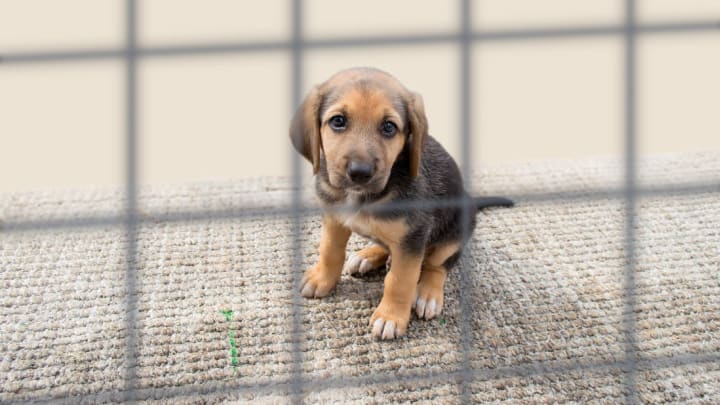 iStock.com/Manuel-F-O / iStock.com/Manuel-F-O
According to the ASPCA, 3.3 million dogs enter shelters each year in the United States. Although that number has gone down since 2011 (from 3.9 million) there are still millions of dogs waiting in shelters for a forever home. Here are 25 benefits of adopting a shelter dog.
1. Adopting a dog means you won't be supporting puppy mills.
A closeup of a dog's nose sticking out from between green bars. / iStock
If you go to a pet store or to a disreputable breeder to buy that adorable puppy, it's entirely possible that it's from a puppy mill, where dogs are kept in terrible conditions. By adopting a rescue, you can help lower the demand for puppies from puppy mills.
2. You can find almost any breed you want.
A beagle puppy standing on a stone walkway. / iStock
Is your heart set on a specific breed? There's a wide network of breed-specific rescues out there. Just spend a little time online and you can get the dog of your dreams without resorting to buying from puppy mills.
3. Shelter dogs are eager to follow your lead.
A woman holding up her finger to a dog. / iStock
A 2016 study that appeared in Journal of Veterinary Behavior: Clinical Applications and Research analyzed problem solving in dogs in homes (what they called "pet dogs") versus shelter dogs. The researchers found that although pet dogs are better at following human pointing, shelter dogs "seem to be more socially driven to gaze and interact with humans" when compared with pet dogs, which they say is likely due to the shelter dogs' "generally limited and poor-quality contact with humans." But the researchers also pointed out that with increased human exposure, the shelter dogs were trainable.
4. A rescue dog might help you get a date.
Two people from the knees down standing close together with a black and white dog between them. / iStock
According to Slate, one survey found that "82 percent of people [felt] more confident approaching an attractive person if they had their dog with them." Another study cited by Slate found that in the modern world of dating apps, people with dogs look more approachable and happy than those who are dogless.
5. You can share your audiobook collection with them.
A young girl reads a book to her Pomeranian. / iStock
There have been several studies on the best ways to calm dogs in kennels [PDF]. Classical music seems to work well, but a 2016 study found that compared to other "auditory conditions," kenneled dogs were more relaxed while audiobooks were playing. Cesar Milan then did his own tests and found that 76 percent of his volunteer dogs were more relaxed at home while listening to audiobooks—and teamed up with Audible to create a specialized audiobook service. Just be careful: soon your rescue pup will be better read than you.
6. Rescue dogs can transform in dramatic ways in a forever home.
A happy dog with his tongue out sitting in a field of flowers. / iStock
Thanks to those heart-wrenching ASPCA/Sarah McLachlan commercials, everyone is familiar with how sad a dog can appear in a shelter. But once adopted, dogs' attitudes can change dramatically. In 2008, Italian researchers published a paper about a shelter dog named Daisy that they placed into a facility for people suffering from Alzheimer's disease. Although in the shelter Daisy had groomed so much that she developed a skin lesion, in the six months that she lived at the facility, her over-grooming lessened, she was healthy, and she "displayed no aggressive or sexual behavior, even when in heat." And the calming effect seemed to go both ways: the researchers reported, the people in the facility experienced "many positive effects of Daisy's presence."
7. Shelter pets come with benefits.
A dog running through the grass with an orange ball in its mouth. / iStock
Whether you get your pet at a breed-specific rescue or from a normal shelter, you'll often have access to resources about your fuzzy new family member, and maybe even classes on how best to take care of them.
8. Shelter dogs are typically up-to-date on all their shots.
A vet giving a shot to a golden retriever puppy. / iStock
Depending on the shelter, shelter dogs may already be vaccinated and microchipped (or the shelter will perform these services for a small fee)—which means you can get straight to cuddling your new pet instead of making vet appointments.
9. Shelter dogs may also already be spayed or neutered.
A vet looking into a dog's ear. / iStock
More than half of states have laws requiring "releasing agencies" (a.k.a. shelters) to spay or neuter dogs they adopt out. While the pet sometimes isn't fixed until you adopt it, frequently it's already been spayed or neutered. Check with your local adoption center.
10. By adopting a dog, you're helping to keep the unwanted pet population down.
A lazy bulldog lying on a rug. / iStock
If you happen to adopt a dog that isn't fixed, you can still help prevent pet overpopulation (especially in the wild) by keeping it in the house and away from other unfixed dogs of the opposite sex. (But seriously, get your pets fixed!)
11. Rescue dogs may be easier to housetrain.
A small dog holding a leash in its mouth. / iStock
Many adult shelter dogs are already housebroken when you adopt them. But because the dog may have a history that prevented such training (such as never being allowed inside the house), you shouldn't go in expecting a house-trained pet. If your new pupper isn't house-trained, there are resources out there that can help you reach that goal; many say that adult dogs have an easier time getting the hang of it.
12. Adopt and older dog and you can skip the puppy stage.
A dachshund puppy plays with a shoe outside in grass. / iStock
Yes, puppies are adorable. They're also full of energy and require a lot of time, training, attention, and patience. It can be tough to fit an energetic puppy into a hectic life. Adopting an older dog from a shelter allows you to skip the puppy stage altogether, which can mean an easier transition from not having a pet to being a pet owner. It also (hopefully) means you may avoid having your slippers, running shoes, pillows, furniture, and doors gnawed on by sharp little puppy teeth.
13. If you adopt an older dog, you'll have a better idea of their temperament.
An older dog sitting in the grass with his tongue sticking out. / iStock
An analysis of many studies found that the "personality" of an adult dog is fairly consistent. Puppies, on the other hand, can change personality a fair amount, especially when it comes to "responsiveness to training, fearfulness, and sociability." So by getting an adult dog, you have a better idea of what the animal's personality is truly like.
14. A shelter can help match you with a dog that best reflects your personality.
A red haired woman holding a white dog, both laughing. / iStock
Because adult dogs are generally more fixed in their personalities, many adoption centers have matching programs that help the process of pairing dog and human. The ASPCA claims the programs have dramatically improved successful adoptions at some shelters.
15. You'll feel more involved in the community.
A businessman walking his dog and talking to another dog owner. / iStock
According to a 2013 study, dog owners over 50 who walked their dogs felt a higher sense of community. So adopting a dog can help you connect to your neighbors.
16. A dog can improve your health.
Woman working on her computer getting a kiss on the face from her dog. / iStock
A study of Mexican dog owners versus non-dog owners found that the dog owners felt that they were healthier: "Compared to non–dog owners, the dog owners' scores were significantly lower for psychosomatic symptoms and stress and were higher for general health, vitality, emotional role, absence of bodily pain, social functioning, and mental health."
17. Your kids will play more if you have a dog.
A group of kids petting a dog. / iStock
It's not just adults who experience health benefits from having a dog; another study found that child dog walkers played outside more and were more likely to walk in the neighborhood.
18. Adopting a pet helps small wild animals.
A dog looking for a squirrel up in a tree, but the squirrel is on the other side of the tree. / iStock
As one of the most common predators in human areas, dogs can easily do great harm to local wildlife. By keeping dogs out of the wild (whether that's the city or the countryside), you can help reduce the numbers of truly wild animals that are preyed upon by what are supposed to be pets.
19. Adopting a dog can limit the spread of disease.
A yellow lab staring up at the camera. / iStock
Feral dogs can also have disastrous effects on wild animals in regards to disease. For instance, the black-footed ferret was nearly driven to extinction by canine distemper. By keeping dogs out of the environment and up-to-date on all their necessary shots and vaccinations, adopters help many other animals, too.
20. You could have a movie star on your hands.
A dog wearing a bowtie, standing behind a slate for a movie. / iStock
A surprising number of actual canine movie stars came from shelters. The original Benji was adopted from a shelter; Rudy, one of the 22 dogs that played Marley in the film Marley and Me, was just 24 hours away from being put down before he was rescued; and Spike, the star of Old Yeller, was adopted from Van Nuys Animal Shelter, supposedly for $3.
21. A rescue dog might have experience living in a home, making the move from shelter to your home an easier transition.
A dog on its back on a carpet. / iStock
Some shelters have foster programs, where the dog is sent out to live with a volunteer in an actual house. Not only does this give the dog a chance to be away from the shelter, but it gives the humans looking after the pup a chance to see how the dog reacts in a less controlled environment—hopefully making the future forever home transition easier.
22. Even volunteering to foster has its benefits.
A woman walking a dog in the park. / iStock
If you're not quite ready to adopt, consider fostering, which has a number of benefits for you and for the dogs you're housing. According to one researcher, overweight participants in a "loaner" dog walking program lost an average of 14 pounds because they felt "the dogs need us to walk them." Other participants in a community dog walking program were inspired to increase their exercise even when they weren't walking dogs.
23. You can help shelters modernize.
A chihuahua sitting on a cushion in an animal shelter. / iStock
Shelters across the country are modernizing their facilities—which can sometimes be a very expensive prospect. The adoption fee you pay to the shelter to take your dog home will help the facility get the resources to give future dogs a better shelter experience.
24. By adopting a dog, you're saving at least one life.
A happy dog with its tongue sticking out lying on flowers. / iStock
By giving a dog in a shelter a second chance, you can make sure it has a great life.
25. In reality, you're probably saving more than one life.
A dog running with a stick in its mouth; all four feet are off the ground. / iStock
By adopting a dog, you open up a space in the shelter that can be filled by another future pet. And by supporting your local shelter, you help their mission to save many more.
But remember, a pet of any kind is a massive commitment. Some estimate that "more than 20 percent of people who leave dogs in shelters adopted them from a shelter." And studies have found that much of the problem is people not knowing what they're getting into. So make sure that you have the time and energy to devote to a pet, and do your research before adopting.
This story has been updated for 2019.