Winston Churchill's Final Painting Is Going to Auction for the First Time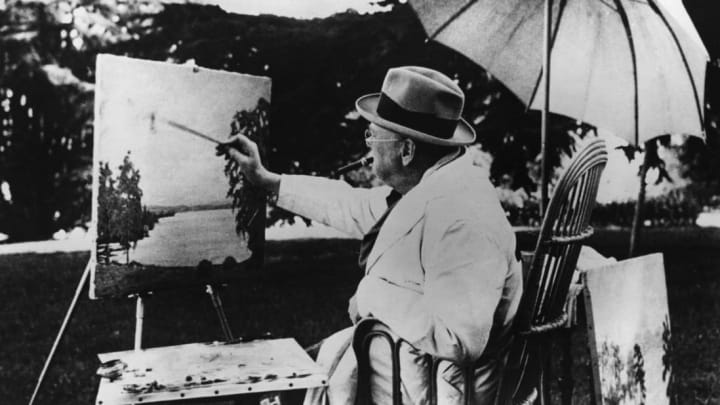 Fox Photos, Stringer, Getty Images / Fox Photos, Stringer, Getty Images
While serving as an influential statesman and writing Nobel Prize-winning histories, Winston Churchill also found time to paint. Now, The Telegraph reports that the final painting the former British prime minister ever committed to canvas is heading to the auction block.
The piece, titled The Goldfish Pool at Chartwell, depicts the pond at Churchill's home in Kent, England, which has been characterized as his "most special place in the world." A few years after the painting was finished, he passed away in 1965 and it fell into the possession of his former bodyguard, Sergeant Edmund Murray. Murray worked for Churchill for the 15 years leading up to the prime minister's death and often assisted with his painting by setting up his easel and brushes. After decades in the Murray family, Churchill's final painting will be offered to the public for the first time at Sotheby's Modern & Post-War British Art sale next month.
Sotheby's
Churchill took up painting in the 1920s and produced an estimated 544 artworks in his lifetime. He never sold any of his art, but The Goldfish Pool at Chartwell shows that the hobby was an essential part of his life right up until his last years.
When the never-before-exhibited piece goes up for sale on November 21, it's expected to attract bids up to $105,500. It won't mark the first time an original Winston Churchill painting has made waves at auction: In a 2014, a 1932 depiction of his same beloved goldfish pond sold for over $2.3 million.
[h/t The Telegraph]