12 Secrets of FedEx Delivery Drivers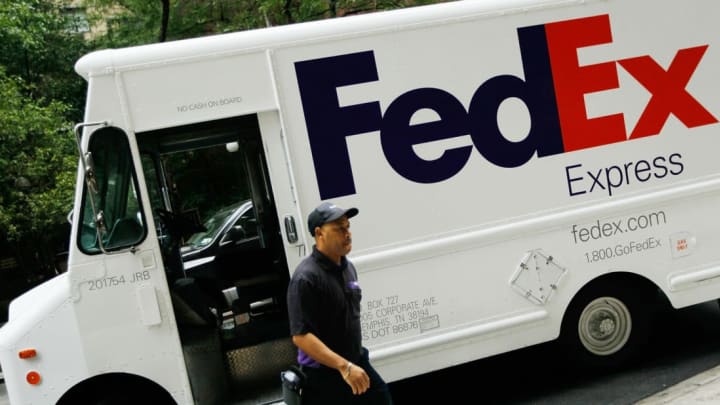 Chris Hondros/Getty Images / Chris Hondros/Getty Images
They carry little package scanners that look like Star Trek tricorders. They can deliver to literally any street address in the United States. And with an average of 13 million packages delivered daily—many of them containing consumer merchandise—they beat the brakes off Santa's productivity. They're FedEx drivers, a smart and efficient fleet of employees who represent the final step in getting your goods right to your doorstep.
With the company's 160,000 vehicles experiencing peak volume in time for the holidays, Mental Floss asked several drivers about some of the lesser-known facts surrounding their job. Read on to find out why they're sometimes followed, why they hide packages, and what happens when they have to pee while on the clock.
1. NOT ALL FEDEX DRIVERS ACTUALLY WORK FOR FEDEX.
iStock
Surprised? So were we. According to Ian, a former driver in Ohio, FedEx Express and FedEx Ground are actually two separate entities. "Most of the routes for Ground are contracted out to save money," he says. "People can purchase the routes [from FedEx] and then hire their own drivers." While that shouldn't affect the consumer all that much, Ian says that he sometimes encountered people who were upset that, as an Express employee, he couldn't pick up Ground packages. Ground drivers also tend to handle the larger, heavier items that aren't being sent overnight. "Express can be more business and paperwork," he says.
Another key difference: FedEx Express drivers often get sleek Mercedes Sprinter vans, while Ground has to settle for whatever their contractor wants them to use. Ian drove for both, but when he was a Ground driver, "I didn't have any heat or air conditioning. In winter, it was like driving a giant freezer."
2. THEY'RE NOT ALLOWED TO HAVE CELL PHONES IN THE TRUCK.
Although Express trucks are fancy, they're not loaded with GPS or other high-tech distractions. According to Tony, an Express driver based in Georgia, the company frowns on having electronic devices of any kind in the cab. "None of the trucks even have radios," he says. "You're supposed to leave your phone in the back with the packages." Headphones and earbuds are also prohibited, although Tony says some drivers use a wireless Bluetooth speaker up front to stream music from their phone in the back. For directions, drivers use map books—but most know their route well enough to not need the help.
3. THEY CAN EARN BONUSES FOR NOT SMASHING YOUR STUFF.
Justin Sullivan/Getty Images
Despite the occasional security camera footage of FedEx and UPS drivers tossing packages over fences or otherwise trying their best to use boxes as footballs, the reality is that drivers have no desire to mishandle your goods—just the opposite. "If a driver does throw packages [or] break stuff he'll be cut very quickly," says James, a Ground driver from Washington. "My contractor has a bonus every month. It's like $50 to $100 for doing good. It's an equation [based] on how many mis-deliveries and late pickups I have. If I come clean with nothing wrong for the month, I get the full bonus."
4. THEY CAN TELL WHEN YOU'RE SHIPPING SOMETHING VALUABLE.
People tend to try and cloak more valuable shipments by using a little misdirection: Ian says he's seen a number of packages sent along in diaper boxes to throw people off the value of their contents. "They can weigh something like 80 pounds, or as little as five ounces, but it's never actual diapers," he says. He can also tell if people are shipping ammo—it rattles—or blood, but the latter is a bit of a cheat: Biohazards are clearly marked (or should be). "And no one wants to spill them."
5. THEY MAY NOT LEAVE A PACKAGE BEHIND IF THE NEIGHBORHOOD SEEMS SKETCHY.
Justin Sullivan/Getty Images
For packages where the sender doesn't require a signature, FedEx employees are left to use their own discretion on whether to leave a package unattended or reserve delivery for another day. If the address or neighborhood seems run down or otherwise at a higher risk of theft, they may opt for the latter. If not, they'll do their best to make the delivery discreet. "I go out of my way to keep packages secure and out of sight from the public," James says. "For instance, many houses have pillars, so I try to conceal the package behind them so it's hard to see from the street."
6. THEY WISH YOU'D PUT UP A HOUSE NUMBER.
One of the top reasons your package might be delayed? Because the driver doesn't know which house is yours. "People are bad about not putting numbers on their house," Tony says. "I'll wind up driving up and down the road, trying to figure out which house I need or which entrance to use."
7. THEY CAN USUALLY TELL IF YOU'RE TRYING TO SHIP DRUGS.
iStock
While FedEx sorting facilities get visits from DEA agents and their drug-sniffing canines, Ian says that drivers can often tell when someone is trying to make them inadvertent drug couriers. "People will wrap packages of weed in tons of duct tape or use some kind of fragrance to mask the smell," he says. "It's all a giveaway." Sometimes, agents will let the drivers deliver the package so recipients can get delivered to a jail cell.
8. THE HOLIDAY SEASON MEANS A LOT OF PACKAGE FRAUD.
Package volume obviously goes up during the holidays, but Tony says that there's also an increase in items bought using someone's stolen identity. "People will order something, maybe thousands of dollars' worth of leather jackets, and then say they'll pick it up at the sorting facility," he says. "That way, they can avoid having it delivered to the address on file with the [stolen] card." But there's a wrinkle: FedEx is often so efficient during this time of the year that items they expect to arrive in three days might get there in two. "Then you get people calling up asking who ordered all these jackets."
9. DELIVERY NOT ON TIME? BLAME YOUR DOG.
iStock
Dogs and delivery people have a rich, occasionally bloody history. If you have a time-sensitive delivery coming, you may want to rethink letting your canine roam the front yard. "Some dog owners don't seem to understand that if your dog is roaming loose I won't try and get into your property," James says. "I know some drivers who know specific dogs and refuse to leave their trucks if the dog is there. If the dog walks up to me I'll pet him and leave the package. But if he gets hostile ... I'll try again the next day."
10. THEY SOMETIMES GET FOLLOWED.
When driving, Ian would sometimes notice a tail behind him. That's because some thieves have been known to follow delivery drivers and scoop up packages as they're being dropped off. "We were taught to keep an eye out for familiar vehicles following us," he says. "They knew people weren't at home during the day, would wait until we were around the corner, and then pick up the package." If you're ordering something expensive like a TV, this is a good reason to request a signature. "It blows my mind how many people wouldn't bother paying the extra $2.50 to make the signature required."
11. THEY WISH YOU'D STOP RE-USING BOXES.
iStock
When Tony sees packages arrive from freight trucks looking like they've been beaten with baseball bats, chances are it's due in part because the shipper has re-used a box too often. The weakened cardboard is giving out, forcing employees to label it damaged upon arrival and hope nothing is broken. "We never want to deliver something broken," he says. "Sometimes we'll repackage it."
12. WHEN THEY GOTTA GO, THEY GOTTA GO.
Drivers don't usually have set shifts. Instead, their day ends when all packages have been delivered, so being efficient with their time is important. When it comes to needing the bathroom, some drivers opt for a detour—others don't. "I'll take the five minutes and go to a gas station to [pee]," James says. "If I need to go number two I'll go in an apartment building that I know. But I've [gone riding] with drivers who have a big jug in their truck, that they [pee] in. Its gross but understandable."