4 Festive Holiday Road Trips To Take in December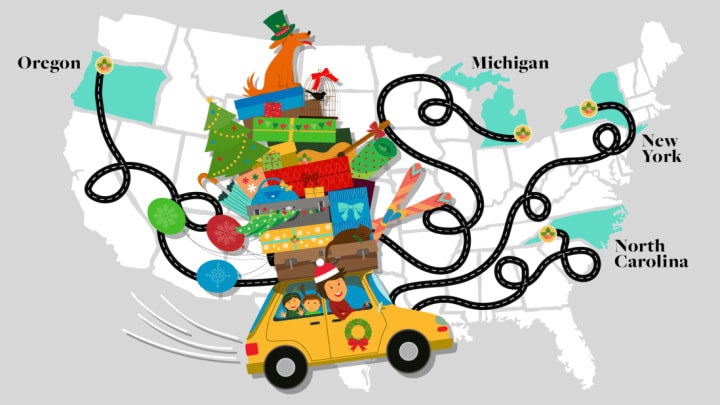 Composite by Lucy Quintanilla. Illustrations by iStock. / Composite by Lucy Quintanilla. Illustrations by iStock.
Road trips are often reserved for the freedom of summer vacation, but if you miss the open road, there's no reason you can't find holiday-inspired adventure along the highway during the winter. Work these festival stops into a trip back to grandmother's house, or follow the trail for a merry and bright day trip.
1. PORTLAND, OREGON TO SALEM, OREGON
Composite by Lucy Quintanilla. Illustrations by iStock.
Stop 1: Christmas Festival of Lights in Portland
If you can't get enough of belting out "Jingle Bells" and "Deck the Halls" with family and friends, take the music of the season one step further at Portland's Christmas Festival of Lights. This month-long festival runs through December 30 and features more than 160 indoor holiday concerts. The 2017 festival marks 30 years of holiday performances at what organizers consider to be the world's largest choral festival. And if your road trip companions aren't feeling the music, there's always a lighted pathway, puppet shows, and a petting zoo complete with baby camel cuddles.
Stop 2: Oregon Garden in Silverton
Heading one hour south from Portland, swing into Oregon Garden, an 80-acre botanical garden that becomes a German-inspired Christmas wonderland. Open most days in December, the Christmas in the Garden event has drawn in thousands of visitors (peaking at 35,000 attendees in 2016) thanks to its Christmas market, ice skating rink, biergarten, and never-ending glühwein—a spiced, mulled wine popular in Deutschland. There's also snowless tubing, two restaurants, and more than 600,000 Christmas lights hung throughout the botanical garden for a festive and glowing holiday adventure.
Stop 3: Christmas Tree Hunting Near Salem
The nearby Salem area is home to nearly 20 Christmas tree farms, making it a great stop for picking up the family tree before wrapping up a road trip. While that may seem like market saturation to non-Oregonians, the number of tree farms throughout the state isn't at all surprising, considering Oregon is the top Christmas tree-producing state in the nation, harvesting an estimated 5.2 million trees in 2016. Douglas and Noble firs are easiest to find, since the two varieties make up a combined 86 percent of the state's Christmas tree population. With 42,000 acres of tree farms throughout the state, it shouldn't take too long to find the perfect fir to take home.
2. ROCHESTER, NEW YORK TO ITHACA, NEW YORK
Composite by Lucy Quintanilla. Illustrations by iStock.
Stop 1: George Eastman Museum in Rochester
Even if you snap a selfie with a cell phone instead of using a point-and-shoot, it's worth swinging through Rochester to thank George Eastman, the founder of Eastman Kodak Company, for his impact on the photography industry. The George Eastman Museum is housed in Eastman's former residence, and has collected and preserved photography and cinema history since 1949. During the winter holidays, the museum is also host to Sweet Creations, a gingerbread house display that features more than 50 edible structures. Running through December 13, visitors can view the tiny homes among other exhibits. But unlike most of the museum's artifacts, these displays are auctioned mid-month with funds used towards museum restoration projects.
Stop 2: It's A Wonderful Life Festival in Seneca Falls
From December 8 through 10, the 9000 residents of Seneca Falls celebrate the Christmas classic, It's a Wonderful Life. The town claims to be the inspiration behind Bedford Falls, the fictional setting for the 1946 Christmas film, and even has the evidence: Director Frank Capra visited in the 1940s, exploring the town and getting a haircut. Now, Seneca Falls celebrates with a three-day festival featuring a gingerbread contest, soup cook-offs, and several panels about the meaning of life. But even if you miss the fest, Seneca Falls is a lovely drive down memory lane, thanks to its classic, 1940s style.
Stop 3: Ithaca Ice Festival in Ithaca
If you've ever wanted to see just how a giant ice luge or fancy ice sculpture is made, Ithaca's annual Ice Fest is the place to go. Ice carvers from around the country compete for the chance to win cash prizes in three rounds of carving competitions. From December 7 to 9, ice carvers compete based on how quickly and impressively they can transform blocks of ice into art, while crowds watch from the ice bar or sample more than 20 different kinds of chowder during the fest's adjacent annual chowder cook-off. If that seems too chilly, don't worry—there's also a litany of fire demonstrations and a silent disco to warm you up.
3. DEARBORN, MICHIGAN TO HOLLY, MICHIGAN
Composite by Lucy Quintanilla. Illustrations by iStock.
Stop 1: Holiday Nights in Greenfield Village, in Dearborn
Christmas past blends with Christmas present in Dearborn, Michigan, where weekends in December play host to the Holiday Nights in Greenfield Village festival. Throughout the month, Charles Dickens reigns supreme, with mid- to late-1800s carolers, reenactors, and performers milling about the town to spread history-based cheer. But, that's not the only era represented; visitors can take a spin on a 1913 carousel or visit a Civil War encampment. Model T rides are available, as well as ice skating, historic home tours, and live reindeer. It's almost too much Christmas history for any one town.
Stop 2: Christmas Markets in Detroit
Detroit is home to a variety of Christmas celebrations, but holiday market lovers will enjoy browsing through various local vendors at the city's Christmas Markets. Through Christmas Eve, the market spreads through eight spots in the city, including Cadillac Square and Capitol Park, and takes its German inspiration seriously with dance bands, glühwein, and accordion and polka performances. There are also heated tents, an ice rink, and the city's 60-foot Christmas tree to enjoy.
Stop 3: Holly Dickens Festival in Holly
If you haven't had enough Dickens adventures on this trip, stop into Holly, Michigan, where the town hosts the longest-running Dickens festival in the country. Running for 44 years, the three weekends after Thanksgiving (through Dec. 10 this year) are filled with performances of A Christmas Carol, horse-drawn carriage rides, vintage photos, museum tours, tea parties, and shopping. If that wasn't enough, couples can renew their vows with the help of Queen Victoria while attending the festival.
4. ASHEVILLE, NORTH CAROLINA TO BREVARD, NORTH CAROLINA
Composite by Lucy Quintanilla. Illustrations by iStock.
Stop 1: Christmas At The Biltmore in Asheville
Nestled in the Blue Ridge Mountains, Asheville is known for being a romantic getaway for couples and a perfect Christmas town. It's also home to The Biltmore, the largest private home in the U.S. The Vanderbilt mansion has historically accepted guests for Christmas since 1895, and it still opens for the holiday season each year. Visitors get an upper class taste of Christmas throughout December, which includes 55 decorated trees, more than 1000 poinsettias, "miles of ribbon," and other opulent décor. Christmas at the Biltmore also includes a gingerbread house tea, candlelight tours, carriage rides, and garden and grounds decorated for winter. Go on and pretend it's all yours.
Stop 2: Santa on the Chimney at Chimney Rock State Park
Chimney Rock State Park, about an hour's drive south of Asheville, is home to a 535-million-year-old rock face—aptly called Chimney Rock—that you can climb. But on December 9, you can also see how Santa takes on chimneys of all sizes. The big guy with the presents rappels the 315-foot rock as park-goers and Christmas enthusiasts watch. Visitors also get to snack on holiday treats and hang out with live critters that call the park home.
Stop 3: Aluminum Tree and Ornament Museum in Brevard
"Jingle Bell Rock" turns 60 years old this season (it debuted in 1957), and in Brevard, you can jump right back to that time. The Aluminum Tree and Ornament Museum (called ATOM) hosts the country's only known display of aluminum Christmas trees—most dating to the 1950s, when the tinsel-colored trees were mass produced by the millions. Decades-old ornaments bedazzle the restored trees (which are given pseudo-scientific names, like Silvercus pinii holidaeus), and retro-inspired musical guests perform original Christmas carols through December 23. This blast from the past might wrap up a road trip through North Carolina, but it is sure to create plenty of modern memories. And after all, isn't that the best part about holiday adventures?