8 Regional Alternatives to Christmas Trees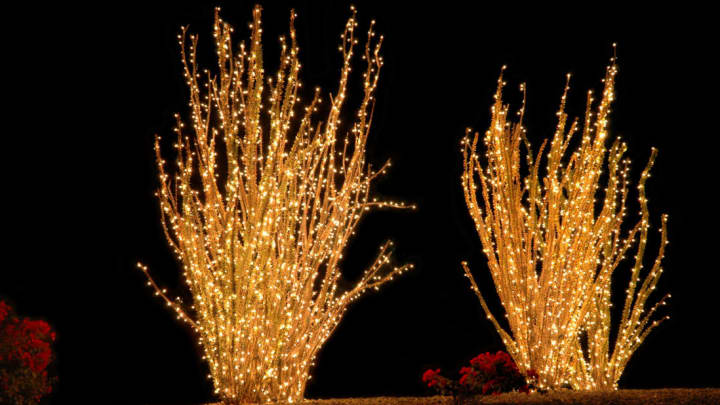 iStock / iStock
Christmas trees, along with mistletoe and festive wreaths, are an integral part of the December holiday season. Although conifers such as fir, pine, and spruce are the most popular Christmas trees, some people around the country switch it up and decorate with unconventional options. From trees made of cacti to whiskey barrels, set your sights on these eight regional alternatives to traditional Christmas trees.
1. CACTI // ARIZONA
Arizona's Sonoran Desert is known for many varieties of cacti, from the saguaro to the prickly pear. Some families in the southwest incorporate native cacti into their Christmas celebrations, but a hotel in Tuscon takes it to another level. Each Christmas since 1986, the Westin La Paloma Resort and Spa has displayed a Golden Barrel Cactus Christmas tree, made of 17 rows of 300 of the small, round cacti. The 24-foot tree is decorated with regal ribbons and lights.
2. SAND // FLORIDA
iStock
Given their state's year-round warm temperatures, Floridians are much more familiar with sand than snow. As a nod to the Sunshine State's warm weather, some Floridians celebrate Christmas by lighting a tree made of sand. Along the West Palm Beach Waterfront, sand sculptors create a 35-foot tall Christmas tree made entirely of sand. Nicknamed Sandi, the tree weighs a whopping 600 tons.
3. POINSETTIAS // SOUTHERN CALIFORNIA
Poinsettias are popular Christmas decorations everywhere, but Southern Californians show their love for the Mexican plant in a special way. Residents of San Diego gather in the Little Italy neighborhood to marvel at a poinsettia tree. One thousand local poinsettia plants are stacked to make a 25-foot Christmas tree that is then adorned with thousands of carefully placed LED lights.
4. LOBSTER TRAPS // NEW ENGLAND
iStock
Why decorate a conifer when you can build a Christmas tree out of hundreds of lobster traps? The crustacean is a big part of life in New England, and you can find lobster trap Christmas trees in towns such as Gloucester, Massachusetts and Rockland, Maine. The trees typically consist of wooden or metal lobster traps that are stacked upon one another, and then topped with a traditional star or, fittingly, a lobster figurine.
5. OLD SKIS // COLORADO
Rather than throw out their old skis, some Coloradans donate them for Telluride's Christmas ski tree. Since 2013, members of the ski town have created a tree made of colorful layers of skis, topped with a star made of ski poles. Locals even gather for a tree lighting ceremony and bonfire—they burn wood and cardboard skis to celebrate Ullr, the Norse god of skiing.
6. PALMETTOS // SOUTH CAROLINA
iStock
If you visit Charleston during Christmas, you'll see plenty of festive palmetto trees decorated with string lights. As the state tree of South Carolina (and Florida), the palmetto is all over the city, making it an ideal warm-weather alternative to the evergreen. Although most residents celebrate Christmas with traditional conifers, too, the prevalence of decorated palmettos is hard to ignore.
7. TUMBLEWEEDS // ARIZONA
Tumbleweeds are plentiful in the barren, desolate parts of the southwest. And in Chandler, Arizona, locals have used tumbleweeds to celebrate Christmas since 1957. To make the 30-foot-tall tumbleweed tree, Chandler Park Operations employees gather 1000 tumbleweeds, attach the plants to a tree-shaped wire frame, and spray the tree with white paint and glitter. They then decorate the tree with more than one thousand festive lights.
8. WHISKEY BARRELS // TENNESSEE
The Jack Daniel's Distillery is world-famous for making authentic Tennessee whiskey. Thanks to the alcohol company, members of the Lynchburg community can celebrate the holidays by marveling at the company's whiskey barrel tree. Made of 140 empty whiskey barrels, the tree stands at 26 feet and weighs 16,000 pounds.