10 Henry Ford Facts (That Have Almost Nothing to Do With Cars)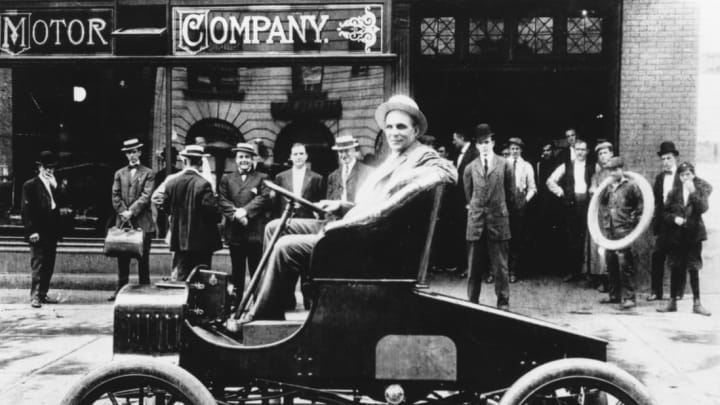 Getty Images / Getty Images
If Henry Ford were still around for his 154th birthday (July 30), he'd probably be exhausted of people talking about the Model T or his development of the assembly line. So here are some lesser-known facts about one of the most recognizable names in the automobile industry.
1. When he was a young man, Ford repaired watches for his friends and family—and he made his own tools to do it. He used a filed shingle nail as a screwdriver and a corset stay as tweezers.
2. Ford became Chief Engineer of the Edison Illuminating Company's main plant in 1893, and was on-call 24 hours a day to keep Detroit's electricity running. He left the position 6 years later, with Edison's encouragement, to work on his plans for a gasoline automobile.
3. In 1918, President Woodrow Wilson convinced Ford to run for a seat on the Senate as a Democrat. Ford obliged, sending a letter to the President saying, "If they want to elect me let them do so, but I won't make a penny's investment." He didn't spend a cent campaigning and still only lost by 4500 votes.
4. Long before Colonial Williamsburg, Ford tried to turn Sudbury, Massachusetts' Wayside Inn—where Longfellow penned Tales of a Wayside Inn—into a living museum of American history. He purchased the Inn, and 3000 surrounding acres, in 1923, and built eight buildings on it including a working grist mill.
5. In 1926, Henry Ford bought the Redstone School House in Sterling, Massachusetts. Ford claimed the school house was the one mentioned in the nursery rhyme "Mary Had a Little Lamb," and moved the building to his property in Sudbury.
6. Ford backed up his claims that the school house was the real deal by publishing a book: The Story of Mary and Her Little Lamb and Ford Ideals. Ford converted the building, which was being used for storage, back into a proper school: Classes were taught at the Redstone School House until 1951.
7. During a 1928 interview with the Detroit Times' George Sylvester Viereck, Ford expanded on his religious thoughts, owing his strokes of brilliance to a "Master Mind": "Somewhere is a Master Mind sending brain wave messages to us. There is a Great Spirit. I never did anything by my own volition. I was pushed by invisible forces within and without me."
8 Using wood scraps from his plants, Ford found he could make charcoal briquettes. When Ford's brother-in-law E.G. Kingsford brokered the site selection for Ford's charcoal manufacturing plant, Ford named the company Kingsford Charcoal in his honor.
9. During World War I, Ford tried his hand in the aviation business and started the Ford Airplane Company. The U.S. Centennial of Flight Commission recognized Ford as a pioneer of aviation in 2002, but the Ford Airplane Division shut down in 1933 due to lackluster sales.
10. In Aldous Huxley's dystopian society of Brave New World, the world dates its years as Annum Fordum, or "Year of Our Ford." Huxley's characters also use Henry's name as "Our Ford" instead of "Our Lord."