Ancient Poop Contains First Evidence of Parasites Described by Hippocrates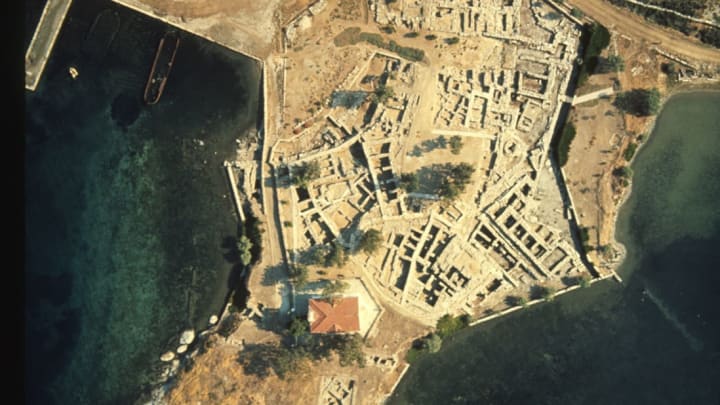 Department Of Classics, University Of Cincinnati / Department Of Classics, University Of Cincinnati
The long-held mystery of Hippocrates and the parasitic worms has finally been solved, and it's all thanks to a few samples of ancient poop.
Researchers don't know much about the parasites that plagued the Greeks thousands of years ago, and what they do know is largely from the Hippocratic Corpus, the medical texts that the father of medicine and his students put together between the 4th and 3rd centuries BCE. Modern historians have spent years trying to figure out which diseases and parasites Hippocrates and his followers were referring to in their writing, relying solely on their descriptions to guess at what ailments the ancient Greeks might have suffered from. Now, they finally have concrete evidence of the existence of some of the intestinal worms Hippocrates mentioned, Helmins strongyle and Ascaris.
As part of a study in the Journal of Archaeological Science: Reports, an international group of researchers analyzed the ancient remains of feces in 25 prehistoric burials on the Greek island of Kea to determine what parasites the people were carrying when they died. Using microscopes, they looked at the soil (formed by the decomposed poop) found on the pelvic bones of skeletons dating back to the Neolithic, Bronze, and Roman periods.
A roundworm egg / Elsevier
Around 16 percent of the burials they studied contained evidence of parasites. In these ancient fecal samples, they found the eggs of two different parasitic species. In the soil taken from the skeletons dating back to the Neolithic period, they found whipworm eggs, and in the soil taken from the Bronze Age skeletons, roundworm.
With this information, researchers deduced that what Hippocrates called the Helmins strongyle worm was probably what modern doctors would call roundworm. The Ascaris worm probably referred to two different parasites, they conclude, known today as pinworm (which was not found in this analysis) and whipworm (pictured below).
A whipworm egg / Elsevier
Though historians already hypothesized that Hippocrates's patients on Kea had roundworm, the Ascaris finding comes as a particular surprise. Previous research based solely on Hippocrates's writing rather than physical evidence suggested that what he called Ascaris was probably a pinworm, and another worm he mentioned, Helmins plateia, was probably a tapeworm. But the current research didn't turn up any evidence of either of those two worms. Instead of pinworm eggs, the researchers found whipworm, another worm that's similarly small and round. (Pinworms may very well have existed in ancient Greece, the researchers caution, since evidence of their fragile eggs could easily have been lost to time.) The soil analysis has already changed what we know about the intestinal woes of the ancient Greeks of Kea.
More importantly, this study provides the earliest evidence of ancient Greece's parasitic worm population, proving yet again that ancient poop is one of the world's most important scientific resources.