The 25 Best Movies to Stream Right Now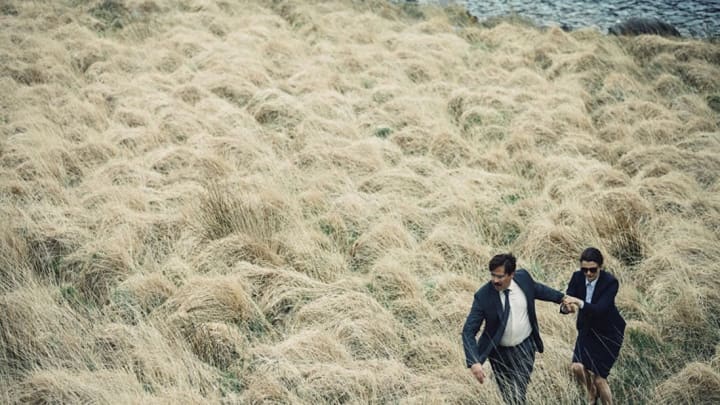 Colin Farrell and Rachel Weisz in The Lobster (2015). / A24
An incredible amount of entertainment is at our fingertips now, which causes an unfortunate conundrum: water everywhere and not a drop to drink. There's so much on offer that we end up scrolling endlessly through vast online libraries of enticing movies, plagued by the burden of choice until we give up and wash the dishes.
Instead of resorting to household chores, here's a tidy list of excellent films worth considering before you're blinded by the infinite streaming options on the main Netflix, Hulu, and Amazon Prime screens. Pick one from this concise list, and fear option paralysis no longer.
1. 13TH (2016)
Ava DuVernay's primal scream in documentary form chronicles the American prison system through the lens of historical racial inequality. It's as informative as it is enraging.
Where to watch it: Netflix
2. AIRPLANE! (1980)
A classic parody of disaster movies that places Julie Hagerty, Robert Hays, Peter Graves, and Leslie Nielsen into the cockpit. Surely, you can't pass up streaming this one.
Where to watch it: Netflix
3. A LEAGUE OF THEIR OWN (1992)
Hilarious, heartfelt, epic, and intimate, this story of an all-female baseball team during World War II is one of the best movies of the modern era. It also taught us that there's no crying in baseball.
Where to watch it: Hulu
4. THE BIG SICK (2017)
The breakout romantic comedy of 2017, Kumail Nanjiani stars as a wannabe stand-up comic who falls for a PhD student named Emily (Zoe Kazan) despite his parents wanting him to have a traditional Pakistani arranged marriage. It's a fantastic (and partly autobiographical) film that was written by Nanjiani and his wife, Emily V. Gordon. But there's no shame in watching it solely for Holly Hunter.
Where to watch it: Amazon Prime
5. A GHOST STORY (2017)
Another hit from last year's Sundance Film Festival, this meditation on grief will either completely entrance you or leave you ice cold. Starring Rooney Mara (eating pie for the first time in her life) and Casey Affleck (who spends most of the movie under a sheet), it's a divisive but profoundly rewarding experience.
Where to watch it: Amazon Prime
6. THE GIRL WITH ALL THE GIFTS (2016)
Inventive and incendiary, this novel adaptation breathes new life into the stumbling zombie genre. In a post-apocalyptic Britain, a group of hybrid children who salivate for human flesh but also have the ability to learn is held captive so that the military can workshop a cure and study their behavior. The brightest among them, Melanie (Sennia Nanua), plots her escape.
Where to watch it: Amazon Prime
7. THE GODFATHER (1972) AND THE GODFATHER II (1974)
Don't think of it as a double feature of two of the best movies of all time. Think of it as a singular, six-and-a-half-hour experience with a brief intermission. And if you've got an entire day to kill, let The Godfather III pull you back in.
Where to watch it: Netflix
8. THE INDIANA JONES QUADRILOGY (1981 - 2008)
All four Indy movies—from Raiders of the Lost Ark to Kingdom of the Crystal Skull—are available on Amazon, which means you can spend an entire day trying to retrieve mythic treasures before Gestapo officers get their mitts on them. Just watch out for snakes …
Where to watch it: Amazon Prime
9. INGLOURIOUS BASTERDS (2009)
Speaking of treks into the past, Quentin Tarantino's Nazi-hunting, scalp-retrieving mission is available to stream without the danger of highly flammable nitrate film reels. Our introduction to Christoph Waltz as a charming villain, who faces off against Brad Pitt's American GI and Mélanie Laurent's French Jewish cinema owner as everyone tries to kill Hitler.
Where to watch it: Netflix
10. THE LOBSTER (2015)
In the world of Yorgos Lanthimos's 2016 film, being single is illegal, which is why Colin Farrell's David must find a life mate in 45 days or be turned into an animal of his choosing. The comedy is as dry as a salt lick in the Sahara, and the dystopian vision is absurd, which allows this story to prove just how strange love can be.
Where to watch it: Amazon Prime
11. THE MEYEROWITZ STORIES (NEW AND SELECTED) (2017)
Noah Baumbach has earned a reputation for digging 10 feet deep into his characters and leaving their hearts exposed for us. In his latest, Adam Sandler stars as an unemployed divorcee who moves in with his father (Dustin Hoffman) and navigates relationships with his sister, half-brother, and daughter, while juggling a difficult diagnosis.
Where to watch it: Netflix
12. MOONLIGHT (2016)
A trailblazer and last year's Best Picture winner, Barry Jenkins's film chronicles the life of Chiron (Alex Hibbert, Ashton Sanders, Trevante Rhodes) as he grows up under the burden of his own and others' responses to his homosexuality. It's a stirring portrait anchored by phenomenal performances (including an Oscar-earning turn from Mahershala Ali).
Where to watch it: Amazon Prime
13. MUDBOUND (2017)
It's amazing that we can watch a few awards season favorites from our couch, but with Netflix and Amazon pushing for more original content, you can expect that to become the norm. One of the very best of 2017 (and certainly the best ensemble), Dee Rees's exceptional film weaves together the lives of one white family and one black family in WWII-era Mississippi to both joyous and tragic effect.
Where to watch it: Netflix
14. THE NIGHTMARE BEFORE CHRISTMAS (1993)
Invite your friends over and bet them all the money in your pocket that Tim Burton didn't direct this holiday classic, where Jack Skellington tries to take over Santa's job. You'll have a creepy fun sing-a-long, and you'll win your friends' money.
Where to watch it: Netflix
15. OKJA (2017)
If you didn't think the adventure of a young girl and her super pig could make you pump your fist in the air, it's time to check out this quirky firecracker from Bong Joon-ho. Thought-provoking and breathtaking? That'll do, super pig.
Where to watch it: Netflix
16. PADDINGTON (2014)
The sequel to this animated hit is in theaters now, offering fans even more uplifting, good-spirited thrills. The original sees the adorable bear on a slap-stick ride through London. Don't forget the marmalade!
Where to watch it: Netflix
17. THE PRESTIGE (2006)
Christopher Nolan's poetic and exciting exploration of the antique world of stage magic and Tesla-fueled wizardry hides its tricks in plain sight and still manages to confound. Christian Bale and Hugh Jackman star as dueling conjurers with a deadly serious rivalry.
Where to watch it: Netflix
18. SCREAM (1996)
Wes Craven riffing on Wes Craven, this is the ultra-rare horror film that manages to mock the genre while getting the blood pumping in terror. Come for the slasher brilliance, stay for the 1990s fashion and lack of cell phones.
Where to watch it: Hulu
19. SICARIO (2015)
In this gripping crime drama, Emily Blunt plays an FBI agent struggling with the abandonment of ethics apparently necessary in taking down a Mexican drug lord. It's a showcase of intense talent, from Blunt to director Denis Villeneuve (Blade Runner 2049) to cinematographer Roger Deakins (whose career is too long and impressive to condense).
Where to watch it: Amazon Prime
20. THE SILENCE OF THE LAMBS (1991)
Serial killer perfection. Jonathan Demme managed to create a incredible thriller, detective yarn, and horror film all in one. Of course, Jodie Foster's performance as Clarice Starling is a quiet tornado at the dark center of this murder mystery, even if Anthony Hopkins gets to chew more scenery. Did you know it was released on Valentine's Day?
Where to watch it: Hulu
21. SUNSET BLVD. (1950)
Perhaps the greatest film noir of all time, Billy Wilder's cinematic stick of dynamite features a formerly famous actress (who's ready for her close-up, Mr. DeMille) and a hack screenwriter whose relationship with her ultimately leads to him floating the wrong way up in her swimming pool.
Where to watch it: Netflix
22. SWISS ARMY MAN (2016)
Vibrant, effervescent, and deeply weird, Paul Dano stars in this musical collage as a depressed loner stranded on an island until he finds a talking, farting corpse played by a very post-Harry Potter Daniel Radcliffe. They save one another and, together, attempt to get back to civilization while singing the praises of Jurassic Park.
Where to watch it: Amazon Prime
23. THE TRUMAN SHOW (1998)
Unmistakably hopeful and humane, Peter Weir's sci-fi film stars Jim Carrey as a naïve man who has lived since birth as the only person on a reality show who isn't in on the reality. Blending philosophy and reality TV together is a feat on its own, but the movie is also fantastically entertaining.
Where to watch it: Netflix
24. THE WITCH (2015)
Delicately crafted with an eye toward historical accuracy, this existential horror film focuses on a New England farming family in the wilds of 1630 who believe a witch has cursed them. Anya Taylor-Joy's standout performance acts as a guide through the possessed-goat-filled insanity.
Where to watch it: Amazon Prime
25. ZODIAC (2007)
The product of David Fincher's notorious perfectionism, this deep dive into the unsolved case of a series of brutal crimes in the San Francisco Bay Area explores the depths of humanity's depravity as well as its capacity for seeking justice. It's a masterclass in filmmaking with powerful turns from Mark Ruffalo, Robert Downey, Jr., and Jake Gyllenhaal.
Where to watch it: Amazon Prime