25 Polite Compliments You Can Pay a Coworker
January 24 is National Compliment Day, and a great way to celebrate is by making a concerted effort to praise the people you work with. Be sure to consider when an appropriate time and place for a compliment would be (for instance, shy people would rather be commended on their stellar presentation in private rather than in front of a crowd), but know that whether a coworker is a longtime friend or more of an acquaintance, lauding their work performance and letting them know you appreciate their skills could really make their day.
1. "YOU HAVE A GREAT SENSE OF HUMOR."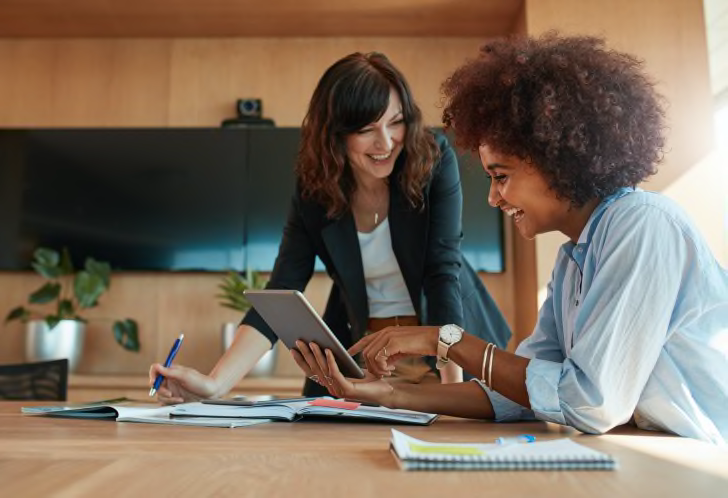 Every office has one person who knows how to ease tensions at work by cracking a quick joke or sharing a funny link. If this person's sense of humor makes your job a little more enjoyable, make sure to let them know.
2. "NICE JOB ON THAT PRESENTATION."
Public speaking is intimidating, especially to someone who's new to their job and not used to giving presentations. Notice your coworker is nervous before a big meeting? Seek them out afterwards. Letting them know you enjoyed and learned from what they said will hopefully make them feel more confident next time.
3. "YOU ALWAYS KNOW WHEN TO LEND A HAND."
You probably know someone who's always willing to help out with a project when you need it most, and odds are they rarely receive the recognition they deserve. Next time a coworker offers some relief when you're feeling overwhelmed, don't let it go unnoticed. Set aside time to tell them you see the great work they're doing and you appreciate it.
4. "YOU'RE A SAVVY PROBLEM-SOLVER."
Being able to see problems differently is a valuable skill in the workplace. It can open up a team to new ideas and save precious time and resources. Sometimes you may be the person to spot the way out of a problem, and other times it's a coworker who points out the solution that was right in front of your face. If you're grateful for their point of view, they deserve to hear it.
5. "YOU'RE A GREAT COMMUNICATOR."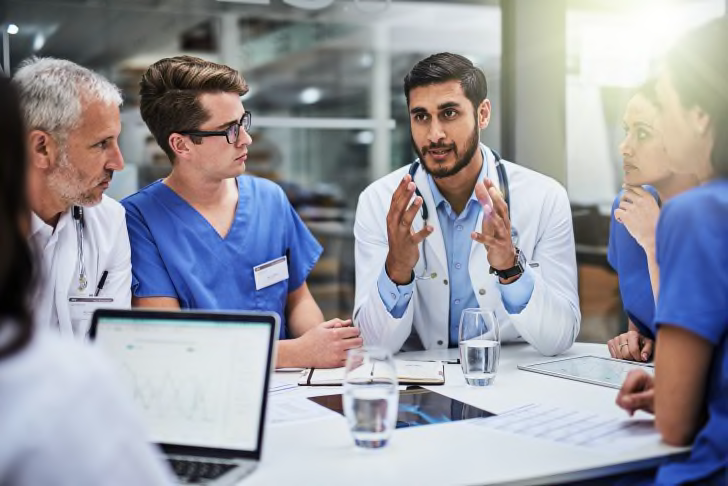 Without communication, collaborating with the people in your workplace would be impossible. A great communicator knows how to understand other people's perspectives, explain their own, and make sure they're never keeping anyone in the dark. They're also not above receiving a compliment every now and then.
6. "I LOVE YOUR ENTHUSIASM."
For some people, getting up and going to work each day is easy: They're personally invested in the company they work for and enjoy helping it succeed. Maybe you're not there yet, but you might see this level of passion and enthusiasm in at least one person you work with. Don't let that inspiring attitude go unrecognized.
7. "I APPRECIATE YOUR TRUST."
Effective management is just as much about offering guidance and support as knowing when to back off. Sometimes leaving employees room to breathe is the best thing managers can do to encourage growth and creativity. It's also a thankless move that often goes unrewarded. Expressing your appreciation to your manager can make a big difference in their day.
8. "WHAT A FUN PARTY (LUNCH/HAPPY HOUR/ETC.)."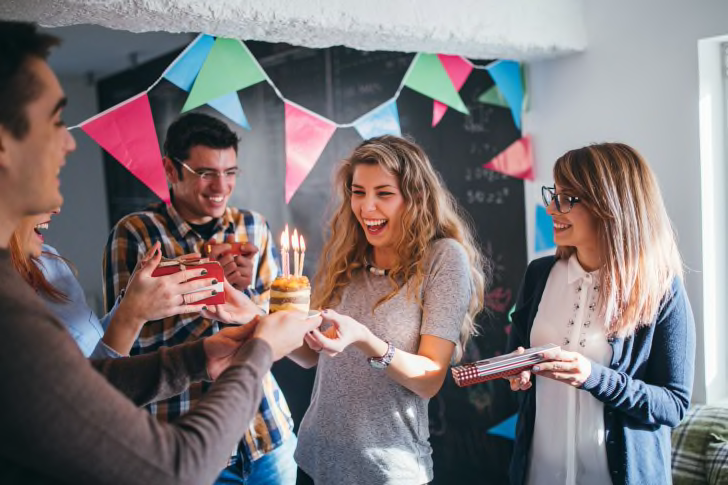 People take certain work events for granted without stopping to consider the employees who make them possible. Birthday cakes don't magically appear and after-work happy hours don't plan themselves. Behind every fun break you get from your day-to-day duties, there's a coworker who took the initiative to make it happen, and they would like to hear that you enjoyed the fruits of their labor.
9. "YOU'VE GOT A KILLER WORK ETHIC."
We all wish we could be the employee who blows through projects without breaking a sweat. If you're not that person, the least you can do is pay the tireless person in your workplace a compliment—especially after a big project that had them tackling most of the work.
10. "YOUR POSITIVE ATTITUDE IS INFECTIOUS."
Just like one pessimistic employee can bring down the whole office, a positive person can have the opposite effect. It's hard to feel grumpy about starting a new week when the colleague sitting next to you does everything with a smile on their face.
11. "YOU ASK GREAT QUESTIONS."
Asking about something you're not familiar with at work can be intimidating, whether it's about a new policy or procedure or perhaps about the ins and outs of a department you don't usually work with. But asking for help or clarification is also the only way to learn and grow. Complimenting a coworker who asks a lot of questions lets them know that not only is that OK, it's valued.
12. "I LOVE YOUR IDEAS."
When someone introduces a great idea at work, people often respond in one of two ways: They get upset that they didn't think of it themselves, or they admire the person for their brilliance. If you want to strengthen work relationships and feel better in the long run, we suggest expressing the latter.
13. "YOU'RE GREAT AT TAKING INITIATIVE."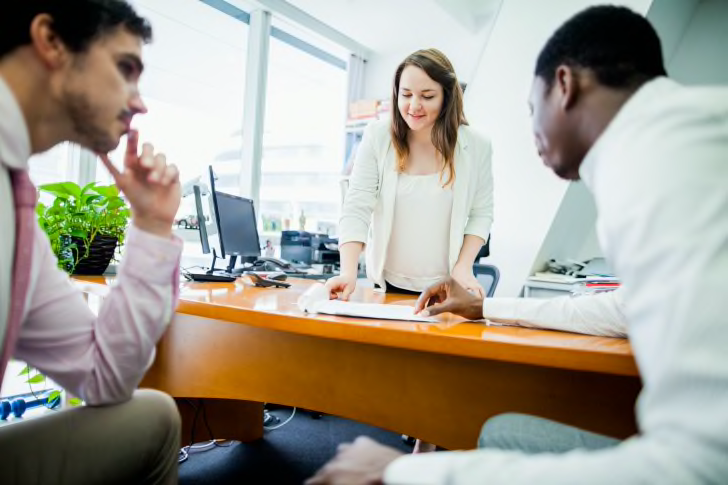 Employees who take initiative help businesses run smoothly. Managers don't have to worry about babysitting them, and their coworkers never end up picking up their slack. Next time you go into work, find the person you know who always takes initiative and compliment them for their efforts.
14. "YOU'RE VERY CREATIVE."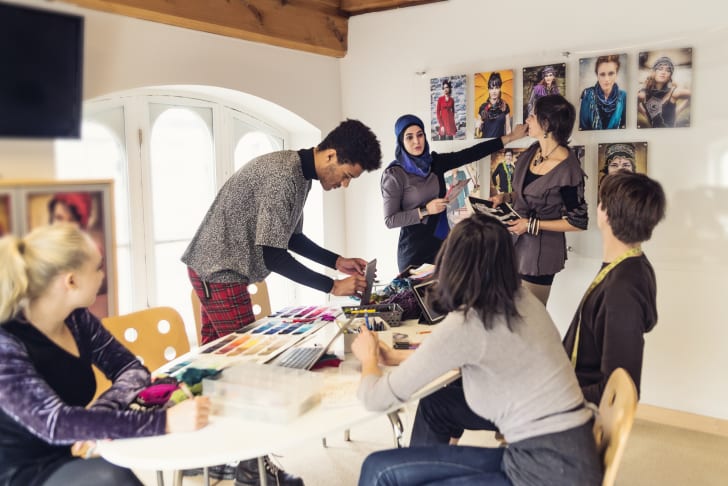 Even if your job isn't particularly inspiring, you may have coworkers who find everyday opportunities to be creative. Their creativity might shine through in the form of a sharply designed flyer, a well-written memo, or an innovative solution to the problem at hand. Sometimes people who don't work in a traditionally artistic field are rarely complimented for their creativity—you can change that.
15. "I APPRECIATE YOU TAKING RESPONSIBILITY."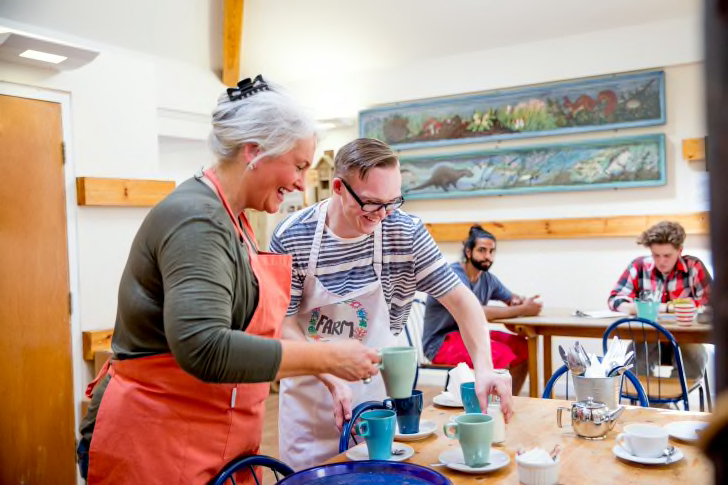 Do you know someone at work who's taken responsibility—whether for a botched performance, a failed pitch, or a missed deadline—even when they could have gotten away with keeping quiet? That's not easy to do. Recognize their actions, and they may be inclined to do it more often.
16. "YOU'RE SO FLEXIBLE."
Sure, you can promise your coworker this is the absolute last time you'll ask them to push a meeting back a couple of days or move up a deadline by a week. Or, you can compliment them on being so flexible and thank them for working around the changes so efficiently.
17. "I LOVE YOUR CONFIDENCE."
Confidence in the workplace is hard to ignore. It radiates from everything a person does, and when you're working on a project with such a person, it can make you feel more confident as well. Let this employee know that you appreciate their poise and self-assuredness.
18. "I APPRECIATE HOW TECH-SAVVY YOU ARE."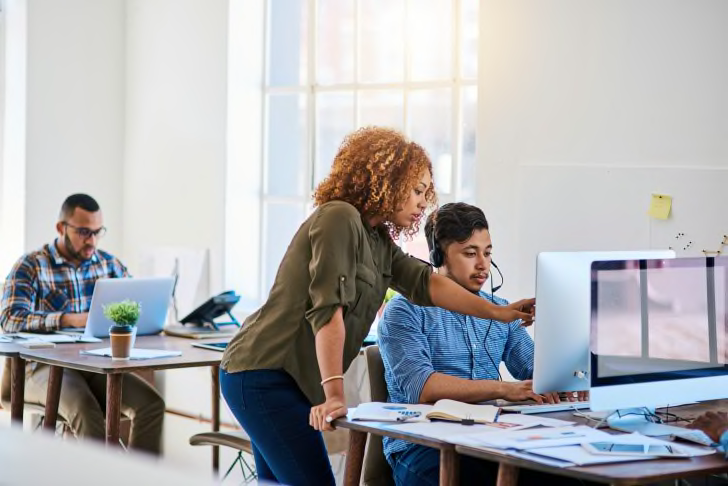 Who do you turn to when your screen freezes, or when the long email you spent the last 15 minutes crafting suddenly disappears? Likely, instead of running to I.T. every time, you ask a nearby coworker who always seems to have the answers. Even if they don't share their know-how for the praise, they deserve a compliment and gratitude.
19. "YOU'RE A GREAT BAKER."
People who bake for their coworkers are a special breed. By sharing what they made with the office, it means that they not only took the time to cook with you in mind, but also that they're sharing a bit of their personal likes or hobbies with you. What better time to compliment the chef than when they bring platter of fresh cookies to the morning meeting?
20. "I ADMIRE YOUR LEADERSHIP."
A good leader is many things, including fair, compassionate, and hard-working. But whatever qualities your manager exhibits that make you appreciate working for him or her, find a chance to let them know you commend their leadership, and that you're a better employee because of it.
21. "YOU HAVE A MIND FOR DETAIL."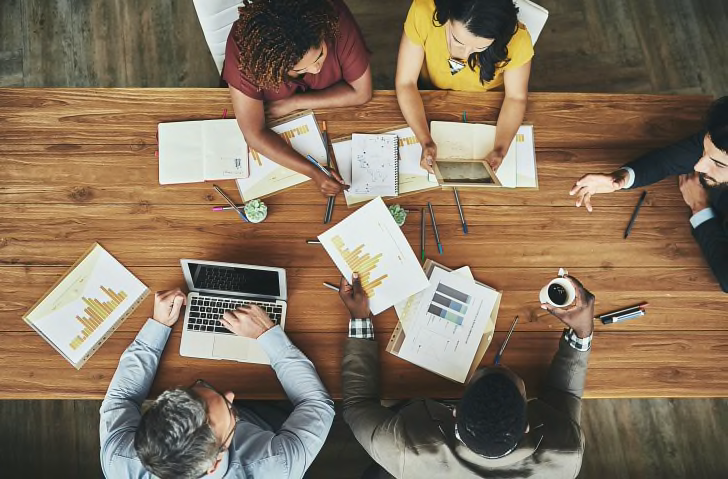 Details make a big difference at work, whether you're writing a big report or a thank you email. Sometimes the details that make the biggest impact on a project are hard to notice on their own. See if you can spot the smart, subtle details the next time you're evaluating your coworker's work, and tell them if you're impressed by what you find.
22. "YOU'RE ON MY WAVELENGTH."
It may not always top lists of most valuable skills to take into the workplace, but empathy can do wonders for office culture. When team members practice empathy and really make an effort to understand the people they work with, they make everyone's job easier. This is one skill that definitely deserves recognition.
23. "THANKS FOR BEING SO RELIABLE."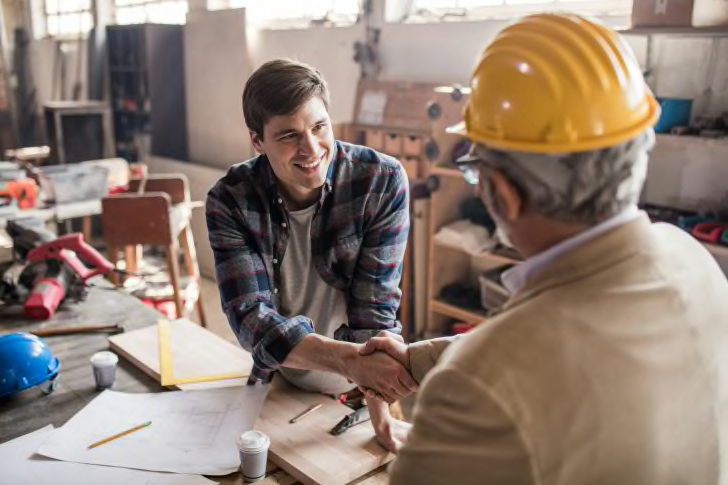 No matter what you do for work, it's impossible to do your job entirely on your own. Reliable coworkers you can depend on for support, guidance, and inspiration are a priceless resource. If they make the effort to show up and work hard consistently, the least you can do is show them you appreciate it.
24. "YOU'RE A REAL TEAM PLAYER."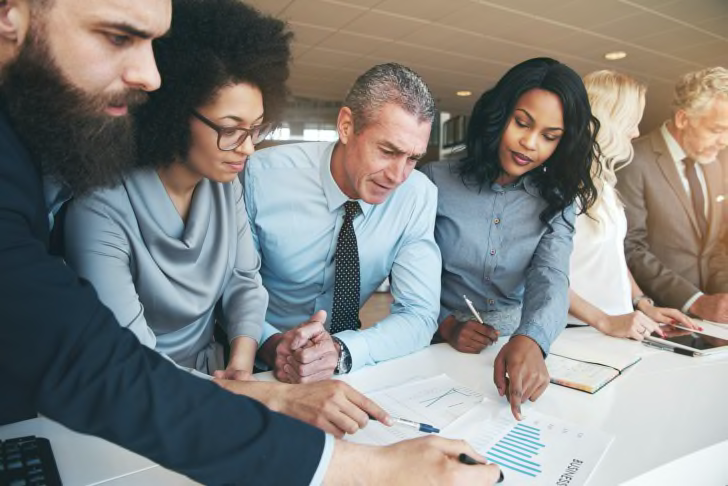 In order to succeed as a team, your colleagues need to have the right attitude. Maybe there's one person on your team who sets a good example for the rest of you: They know exactly when to step back and listen to other people's ideas and when to come forward with their own. Sometimes being a good team player means swallowing your pride to do what's best for the group, and that's behavior worth celebrating.
25. "YOU GIVE GREAT ADVICE."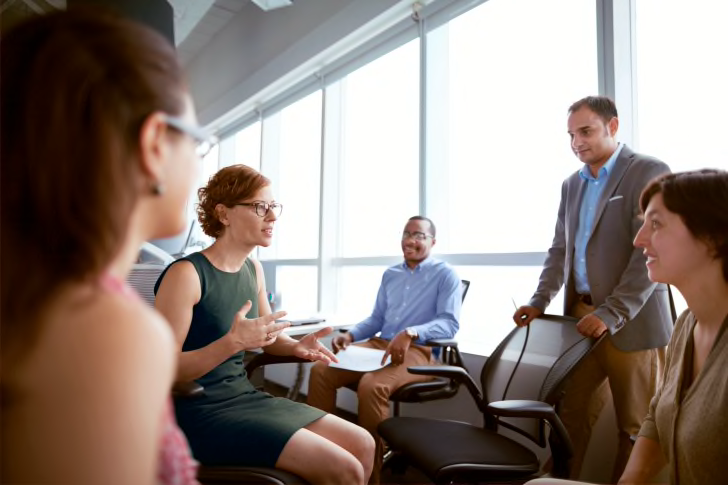 At some point in your career, you've likely relied on a more experienced coworker for advice. Without mentors, many of the world's most successful people wouldn't be where they are today. Never be ashamed to ask for guidance, and once you receive it, make sure to show your gratitude.