Art Lovers in England, Rejoice: France's Famous Bayeux Tapestry is Coming to the UK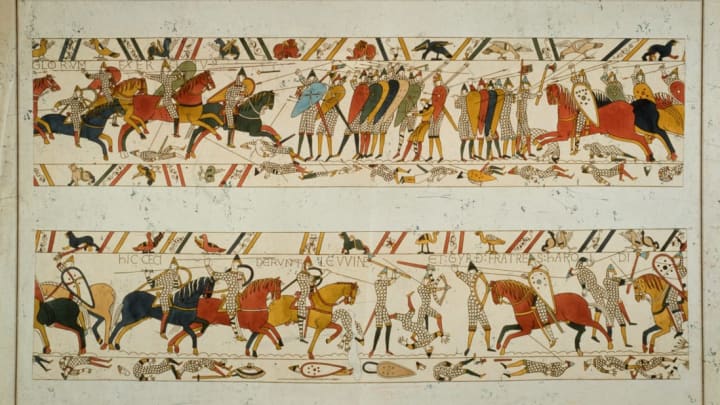 Hulton Archive/Getty Images / Hulton Archive/Getty Images
One of France's most prized national treasures, the Bayeux Tapestry, is officially heading to England for exhibition. The loan will mark the first time the fragile 11th century work has left France in nearly 1000 years, according to The Washington Post.
French president Emmanuel Macron announced news of the loan in mid-January, viewed by some as a gesture to smooth post-Brexit relations with Britain, ABC reports. The tapestry depicts the Norman Conquest of England in 1066, a historically important event replete with guts and glory.
Stretching for 210 feet, the Bayeux Tapestry's nine embroidered panels tell the tale of Harold, Earl of Wessex, who swore an oath to support the right of William, Duke of Normandy, to the English throne once King Edward (a.k.a. Edward the Confessor) died without an heir. But after Edward's funeral at Westminster Abbey, Harold breaks his oath to William so he could be crowned king instead. Believing he was the rightful ruler, William—today remembered as William the Conqueror—decides to wage war and ultimately defeats Harold at the Battle of Hastings.
The historical narrative has endured for centuries, but the tapestry's provenance has been lost to time. Experts think that the artwork may have been created in England, shortly after the Battle of Hastings, although it's unclear who designed and embroidered the scenes. Its original owner, Bishop Odo of Bayeux, the half-brother of William the Conqueror, may have commissioned the Bayeux Tapestry. He became Earl of Kent after the Battle of Hastings, and this new title would have afforded him access to skilled artisans, The Guardian explains.
The Bayeux Tapestry is currently on display in the town of Bayeux in Normandy. It likely won't leave France until 2020, after conservators ensure that it's safe to move the artwork. According to The Telegraph, the tapestry might be be displayed at the British Museum in 2022.
[h/t The Washington Post]