9 Museums Around the World That Every Cat Lover Should Visit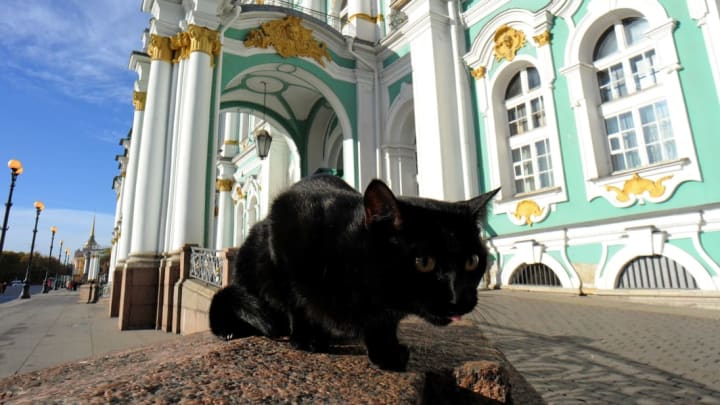 Olga Maltseva, AFP/Getty Images / Olga Maltseva, AFP/Getty Images
Cats are put on a pedestal (sometimes literally) at a handful of feline-loving museums around the world. Here are nine institutions that showcase kitty artifacts, host feline-themed exhibitions, and even serve as homes to real-life cats.
1. THE CAT MUSEUM // KUCHING, MALAYSIA
People in Kuching, Malaysia, are kitty crazy: Even the city's name means "cat" in Malay. Kuching is filled with large feline statues, the local radio station is called "Cats FM," and guests at the 2017 ASEAN Film Festival and Awards, held in Kuching, helped set a Guinness record for the largest gathering of people dressed as cats. It's perhaps no surprise, then, that Kuching is also home to an impressive cat museum.
Located in Kuching City North City Hall, the museum contains four galleries filled with thousands of feline artworks, cat relics, photos, and other objects (including an Egyptian mummified cat). They trace the history of cats and examine different cultural depictions of felines from around the world.
2. THE CAT MUSEUM // ŠIAULIAI, LITHUANIA
Šiauliai, Lithuania's fourth-largest city, has its very own cat museum. Local animal lover Vanda Kavaliauskienė founded the attraction in 1990 after her collection of cat-themed memorabilia grew too large for her apartment. Visitors can view thousands of artifacts—including photos, artworks, and mini feline figurines from around the world—or cozy up with live cats strolling around the premises. (There's also a mini-zoo with exotic animals if you experience cat overload.)
3. THE CAT MUSEUM // MINSK, BELARUS
In addition to viewing plenty of cat art, visitors at the Cat Museum in Minsk, Belarus can check out special exhibitions, enjoy cat-themed books and games, make cat art, and sip coffee or tea in a cat-themed café—all while petting members of the museum's cat "staff." These adoptable rescue kitties live on site and are presided over by Donut, the museum's feline "director."
4. KATTENKABINET // AMSTERDAM, THE NETHERLANDS
Housed in a restored 15th-century home on Amsterdam's Herengracht canal, the KattenKabinet ("Cat Cabinet") art museum examines the role that cats play in art and culture. Museum founder/homeowner Bob Meijer launched the attraction in 1990 in honor of his beloved deceased tom, which he'd named John Pierpont Morgan after the famed U.S. banker.
In addition to a section devoted to John Pierpont Morgan, the KattenKabinet's collections include original works by greats like Picasso, Toulouse-Lautrec, and Rembrandt—all of which depict cats, and are guarded by a bevy of in-house felines.
5. THE SERPUKHOV MUSEUM OF HISTORY AND ART // SERPUKHOV, RUSSIA
The Serpukhov Museum of History and Art is home to a valuable collection of Western European and Russian paintings and home furnishings. Most of these objects came from the collections of A. Maraeva, a successful merchant, and the museum itself is located in her former mansion.
In addition to providing visitors with a sense of local history, the Serpukhov Museum's staff has been known to stage the occasional practical joke. In 2016, they decided to trick local media outlets by writing up a fake job application letter from an orange feline nicknamed Maray (for Maraeva) that hung around the mansion to greet visitors. Signed with a scribbled paw print, the note read: "As I am a direct relative of Maraeva, I ask you to give me a job in your museum. Maray the Cat."
The museum sent the letter to the Russian media, along with a press release announcing that they'd taken the feline up on its offer. They ended up fielding so many questions about Maray that they decided to commit to the joke and hired him as a furry doorman. He now works a normal 9-to-5 shift, with his own special spot in the museum, and is compensated with food and shelter.
6. THE MANEKI NEKO MUSEUM // CINCINNATI, OHIO
Courtesy of The Maneki Neko, or Lucky Cat Museum
Fans of Asian culture and cats can visit the Maneki Neko, or Lucky Cat Museum, in Cincinnati for an extra dose of good fortune. Housed in the small art space are more than 1000 models of the Japanese maneki neko, the "beckoning cat" with a raised paw you'll often see in Asian restaurants as a symbol of luck and prosperity.
Museum owner and operator Micha Robertson began collecting maneki neko of all shapes, sizes, and designs more than a decade ago. Eventually, she amassed so many that she decided to open a tiny museum dedicated to her feline finds. "For me," Robertson told local radio station WVXU in 2015, "it's just taking a basic idea—[it's] not just a cat, but it's a cat with its paw raised—and it's interpreted so many ways. Each one is very different from another. Even the ones that are the same basic look are still very different. I love seeing how many different ways it can be interpreted. And the weirder they are, the more I love them."
Robertson isn't alone in her fascination: Two similar homages to the maneki neko exist in Japan, including the Maneki Neko Art Museum in Okayama and the Maneki Neko Museum in Seto.
7. YUMEJI ART MUSEUM // OKAYAMA, JAPAN
Fans of Yumeji Takehisa (1884-1934), an influential Japanese artist and poet of the Taishō period, can visit museums dedicated to his work in Okayama and in Setouchi, Japan. But only the Okayama location has Kuronosuke, a black-furred feline that serves as the establishment's "manager" and mascot.
Museum officials rescued Kuronosuke in 2016 after a car nearly ran him over. Noting that the homeless kitty looked like a black cat from one of Takehisa's illustrations, they decided to "hire" him to amuse visitors. Kuronosuke—all dressed up with a red ribbon around his neck—began regularly greeting museum patrons several times a week in December 2017. His attendance is "whimsical," according to news reports, since he's probably more interested in chasing mice than schmoozing with art lovers.
8. THE AMERICAN MUSEUM OF THE HOUSE CAT // SYLVA, NORTH CAROLINA
Courtesy of the American Museum of the House Cat
Harold Sims is a retired biology professor and a full-time collector of cat memorabilia. With his wife Kay, he's spent more than 30 years building a vast assortment of feline art, crafts, and tchotchkes. In April 2017, Sims opened up his own roadside museum, the American Museum of the House Cat, inside a Sylva, North Carolina antique mall. Its two rooms are filled to the brim with as many as 10,000 artifacts. (Still more cat objects exist in Sims's private collection.)
Curiosities at the American Museum of the House Cat range from vintage kitty toys (such as 19th-century automatons) to an Egyptian cat amulet dating back to 1000 BCE and a petrified cat discovered in a 16th-century English chimney. Admission fees go towards Catman2, a no-kill cat shelter in Cullowhee, North Carolina that Sims opened adjacent to his home in 2002. In addition to 60 to 80 rescues per year, Catman2 is also home to—surprise!—even more cat art.
9. THE STATE HERMITAGE MUSEUM // ST. PETERSBURG, RUSSIA
OLGA MALTSEVA/AFP/Getty Images
The State Hermitage Museum houses more than 3 million works of art and artifacts, spread across a vast complex of historic buildings. Safeguarding these treasures are efficient security agents, many of whom have tails and whiskers.
The former Winter Palace, where Russia's tsars once resided, is today the museum's main building. It's reportedly been home to cats for hundreds of years, beginning in 1745 when Empress Elisabeth issued a call for "the finest cats of Kazan" to help rid the building of mice. In later years, during the reign of Catherine the Great, these kitties were nicknamed the "Winter Palace cats."
Today's museum cats are a far cry from aristocratic mousers. Many (if not all) of them are former strays, some of which were found huddled near the museum's underground heating system in the late 1990s. Their mere presence is said to deter mice, which are perhaps equally as dangerous to art as thieves or hands-y visitors.
The Hermitage cats are tended to by a team of full-time volunteers, managed by their own press secretary, and permitted to roam through staff offices (they're banned from galleries and the museum director's wing). They're also adoptable.