Those Magnificent Ladies in Their Flying Machines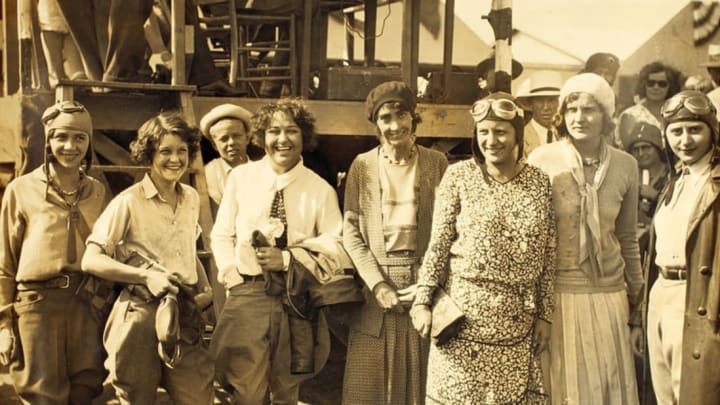 The San Diego Air & Space Museum Archives / The San Diego Air & Space Museum Archives
In the early days of human flight, a new word entered our lexicon: "aviatrix," the female version of "aviator." These women were true pioneers, although if you asked them, they would probably tell you they were just adventurous and loved flying -same as the men who took to the air in those days. Or even today, for that matter. But for a woman to drive one of the newfangled flying machines in the early 20th century took a can-do attitude that wasn't normally encouraged in women.
Baroness Raymonde de Laroche
Elise Raymonde Deroche was the first woman to receive a pilot's license. She was not a baroness, but a French plumber's daughter who became a stage actress under the name Raymonde de Laroche. In 1908, she was smitten with the idea of flying when she saw an exhibition by the Wright Brothers. Immediately, de Laroche began taking flying lessons from airplane builder Charles Voisin. His plane could only hold one person, so her first actual flying lesson was a solo flight, on October 22, 1909. There is some evidence that she was not the first female to fly solo, but she is definitely the first to earn a license. The newsletter of the Royal Aero Club referred to her as a "Baroness" in its report of her feat. Raymonde de Laroche never objected to the title, which stuck to her for life.
Raymonde de Laroche flew in exhibitions and races, but was denied the opportunity to fly in World War I. After the war, she was determined to become a test pilot. She got the job in 1919. In her first test flight, in which she was co-pilot, the plane took a nose dive and both Raymonde de Laroche and the pilot were killed instantly.
Blanche Stuart Scott
Born in 1885, Blanche Scott was an adventurer before she became a pilot. Scott was the second woman ever to drive an automobile coast to coat, from California to New York, in 1910. At the end of her stunt, she took her first flying lesson from pilot Jerome Fanciulli.
To prevent her aircraft from gaining enough speed to become airborne while taxiing on her own, Curtiss inserted block of wood behind the throttle pedal. However, "something happened" on September 2, and Scott managed to fly to an altitude of forty feet in the air.
The Aeronautical Society of America denied Scott the title of "first U.S. female aviator" because her solo flight was not intentional. However, Scott went on to become an accomplished pilot. She joined an exhibition team and performed daredevil stunts, and also went on to work as a test pilot for Glenn Martin aircraft (which eventually became Lockheed-Martin). Scott retired from professional flying in 1916, and became a Hollywood script writer.
Bessica Raiche
Bessica Raiche stood out from the crowd. Born in 1875, she entered the 20th century driving an automobile, wearing bloomers, and eventually practicing medicine as both a dentist and an obstetrician. She and her husband, Frenchman Francois Raiche, were fascinated by aviation and decided to build their own airplane in their backyard in Mineola, New York. They designated Bessica to be the test pilot, because she weighed less than Francois. With no training or experience, she took off for the plane's first short flight on September 16, 1910. In fact, Raiche made five flights that day -and would have flown more, if the plane hadn't crashed. Since she is the first documented woman to fly solo deliberately, Raiche was certified by the Aeronautical Society of America as the first U.S. female aviator. She and Francois went on to build more airplanes, making improvements on each one.
Hélène Dutrieu
Hélène Dutrieu was born in 1877 in Belgium, and by age 20 she was a professional stunt cyclist and champion racer on both automobiles and motorcycles. But that wasn't enough- Dutrieu also learned to fly, and was the fourth woman in the world to earn a license, in 1910. She became one of the first female professional pilots, breaking records and performing in air shows. To put her accomplishment in perspective, she caused a bit of a scandal when it became known that she did not wear a corset while flying. But that still wasn't enough. During World War I, Dutrieu drove an ambulance and worked her way up to director of a military hospital. After the war, she went into journalism and worked to promote the role of women in aviation.
Ruth Law
Born in 1887, Ruth Bancroft Law received her pilot's license in 1912 and began a career as a stunt pilot. Law was very competitive, always trying to outrace, outfly, or do a more dangerous stunt than the next pilot. In 1916, she announced her intention to break the distance record by flying from Chicago to the New York state line, a distance of 590 miles. Few took her seriously. When she tried to buy a plane large enough to carry the necessary fuel, the manufacturer refused, saying a woman couldn't do it (and besides, they were busy building planes for the war). So Law had to make do with a smaller, older Curtis biplane. She outfitted it with an extra gas tank, but she still had to use both her hands for controls, which meant juggling navigation maps as best as she could.
On November 19, 1916, Law took off from Chicago in very cold weather, fighting high winds. There were a couple of close calls along the way, as she encountered fog and high mountains. Law ran out of gas before reaching New York state, and glided in powerless for the last few miles. But she made it, and set a new world non-stop distance record.
Bessie Coleman
Bessie Coleman was born the tenth of thirteen children to sharecroppers in the tiny town of Atlanta, Texas. She had to move away from the family to attend high school, but could only afford one year of tuition. At 23, she went to Chicago and became a manicurist. But as she followed the progress of World War I, she dreamed of flying an airplane. No one would teach a black woman to fly, so she went to France in 1920 to take an aviation course at the Somme, sponsored by the Chicago weekly newspaper The Defender. She was the only woman in her class to receive a pilot's license, but even more, she was the first black American woman to gain a license, and the first person of African American descent to hold an international pilot's license.
Coleman's dream was to open her own school for aviators, but first she had to establish her own flying career. Back in the U.S., she still could not find anyone to train her in the skills she would need for barnstorming shows, the most lucrative of civilian aviation careers at the time. So she returned to Europe for more training in 1922. When she began headlining air shows with her daredevil maneuvers, she gained the respect of men and women, black and white. Coleman became know as "Queen Bess." In addition to flying, she gave lectures on aviation and performed educational exhibition flights. And she saved her money for her school. But it was not to be. On April 30, 1926, she was testing out a plane she had recently purchased, with mechanic William Wills piloting. Coleman was not wearing a seatbelt, as she wanted to check out the vantage point from which she was scheduled to parachute the next day. The engine jammed, the plane shook, and Coleman fell out, plummeting to her death. She was 34 years old.
Pancho Barnes
Photograph: The San Diego Air & Space Museum Archives.
Florence Leontine Lowe was born in 1901 to a wealthy family who raised her in high society. She took riding and ballet lessons, but she was particularly drawn to the interests of her grandfather, legendary Civil War balloonist Thaddeus Lowe. He took Florence to her first aviation show in 1910, and told her one day she would have her own flying machine.
Florence's family arranged her marriage to minister C. Ranken Barnes in 1921. She had a son, but was never happy as a housewife, and felt that she had to compete for the minister's attention. She and the minister separated and were divorced a few years later. This freed Florence, nicknamed "Pancho" by her friends, for the adventures she craved. In 1928, Pancho took flying lessons and passed her solo test after only six hours of instruction. Very few women achieved pilot's licenses at the time, and Pancho's was signed by Orville Wright. She immediately took to barnstorming, performing in air shows and competing in air races. In 1930, she broke Amelia Earhart's world women's speed record by flying at over 196 miles per hour! Pancho then turned to Hollywood, where she became a stunt pilot in several movies. She also founded a union for stunt pilots, the Associated Motion Picture Pilots. 
In 1935, Barnes bought 180 acres of land in the Mojave Desert, near Muroc Field, now a part of Edwards Air Force Base. She opened The Happy Bottom Riding Club, a dude ranch with a hotel, restaurant, nightclub, and a working farm. Barnes arranged for the expanding air base to give her leftover food which she fed to her pigs, which she would then sell to the Air Force. The nightclub became a favorite hangout for pilots, including Chuck Yeager, Buzz Aldrin, and the test pilots who went on to become the Mercury astronauts. You might recall Pancho and her nightclub as it was portrayed in the 1983 film The Right Stuff. She was also the subject of a 2009 PBS documentary, The Legend of Pancho Barnes and The Happy Bottom Riding Club. Pancho Barnes died of breast cancer in 1975.