Linguistic Analysis Finds that Two Famous Jack the Ripper Letters Were Fake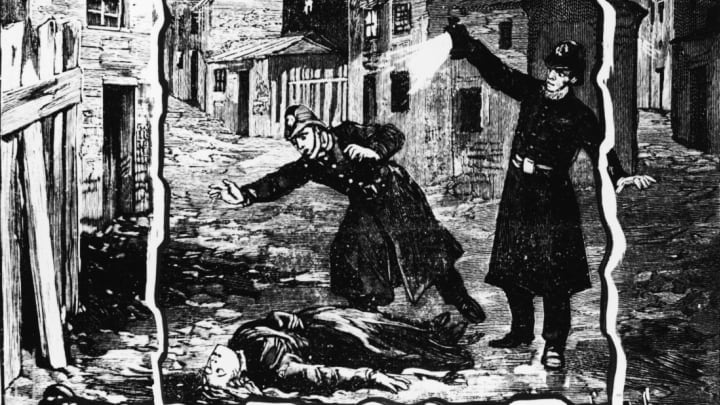 Hulton Archive/Getty Images / Hulton Archive/Getty Images
Despite many new leads and theories that have surfaced in the Jack the Ripper case over the past several decades, the identity of the legendary serial killer remains unconfirmed. Now, Gizmodo reports that researchers are able to rule out much of the evidence that helped shaped the killer's public identity. A new study, published in Digital Scholarship in the Humanities, supports the theory that two of the most famous letters supposedly penned by Jack the Ripper were fabricated.
The Whitechapel murders of 1888 were already gruesome enough to rivet the public's attention. A flood of letters claiming to come from the murderer, some of which included bits of human viscera, were sent to London police and news agencies. When newspapers decided to publish them, the horror of the crimes was amplified to mythical proportions. The first of these missives, the "Dear Boss," "From Hell," and "Saucy Jacky" letters, gave the criminal a personality and his now-iconic nickname. More than 200 copycat letters followed.
Because of the sheer number of Jack the Ripper letters, it's long been assumed that most of them were fake, either written by bored members of the public or journalists looking to stoke the story. There are many Ripper experts who believe all of the letters were hoaxes, but the validity of the original three is still a source of debate. Using linguistic analysis, Andrea Nini of the University of Manchester was able to confirm that two of these letters, "Dear Boss" and "Saucy Jacky," were written by the same person, and that person likely worked for the media.
The forensic linguist came to this conclusion after poring over dozens of letters looking for similarities in language usage. The wording of these two letters, the second of which was written before the first was made public, are close enough to suggest they were written by one author. According to Nini, other letters written after these two were made public are merely trying to mimic their style.
But there is one exception Nini found in his research. "Dear Boss" and "Saucy Jacky" are both linguistic matches with the "Moab and Midian" letter. The latter was never seen in its original form, only as a transcription taken by someone working for the Central News Agency, which suggests it was faked. The similarities between these letters could mean they were all written by one journalist looking to sell papers rather than the actual perpetrator of the Whitechapel murders.
While Nini's research doesn't officially exonerate or condemn any suspects, it does add weight to the theory that the majority of the Jack the Ripper letters are fake, on which most experts agree. Modern-day Ripperologists will just have to look elsewhere when investigating the 130-year-old crimes.
[h/t Gizmodo]