Stormy Waters Carry a 19th-Century Shipwreck to Florida Beach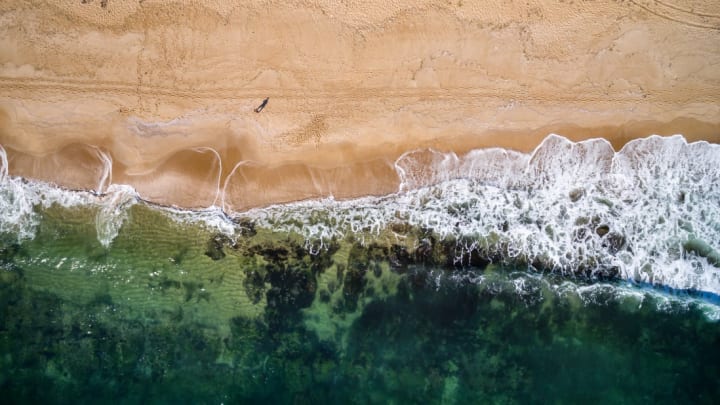 iStock / iStock
Julia Turner and her 8-year-old son Patrick were looking at the ocean from a rented beach house Wednesday morning when they noticed something unusual heaped on the sand. Julia thought it might have been wood from a fence or a raised walkway, but Patrick saw something else. "When I looked out the window, it was immediately a ship," he told the Florida Times-Union.
The newspaper reports that the shipwreck washed up on Ponte Vedra Beach near Jacksonville, Florida, the night of Tuesday, March 27. The debris doesn't include the full vessel—just a 48-foot segment of the hull—but from the remains alone, experts were able to estimate that the ship dates back to the 19th century or even the late 18th century.
Researchers from the St. Augustine Lighthouse and Maritime Museum visited the site Wednesday to study and document it. The copper tack heads they found in the wood suggest that the hull had once been sheathed in copper. The researchers also spotted wooden pegs and Roman numerals carved into the hull's ribs.
The remarkably well-preserved wreck was likely buried in the sand offshore for years before it was brought up by recent storm waves. Where the ship was built and where it went down is hard to determine. Debris from wrecks can travel hundreds of miles before finally making landfall.
Officially state property, the wreck remains on Ponte Vedra Beach, but the tide threatens to drag it back into the sea. Before they left, the museum researchers were able to take photos, video, and measurements of the hull, which can possibly be used to construct a 3D model of the ship.
When ships do end up on beaches via stormy waters, they tend to be a lot newer. Last September, Hurricane Irma dumped several "ghost ships" onto Florida's shores.
[h/t Florida Times-Union]