The Time Ben Franklin and John Adams Shared a Bed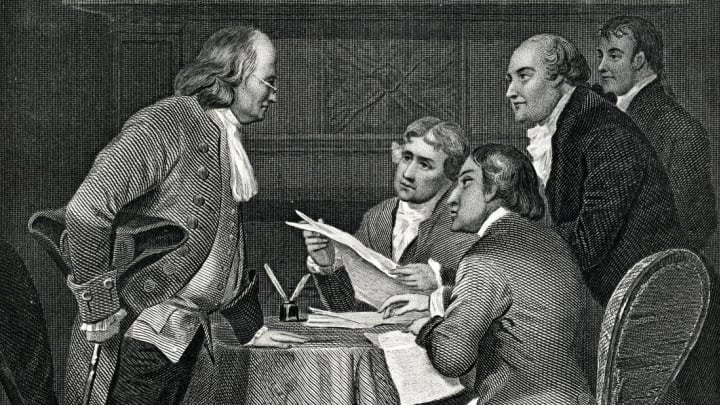 iStock / iStock
Ever been on a road trip where the sleeping conditions were less than ideal? Such indignities aren't just for average citizens like you and me. Even Founding Fathers and future presidents had to bunk with one another on occasion.
In September 1776, just a few months after the thirteen American colonies announced their independence from Britain, Benjamin Franklin and John Adams got stuck shacking up together for a night. As part of a delegation sent by the Continental Congress, they were on their way from Philadelphia to Staten Island to negotiate with Admiral Richard Howe of the Royal Navy for a possible end to the Revolutionary War. As they passed through New Brunswick, New Jersey, the negotiators—Franklin, Adams and South Carolina politician Edward Rutledge—decided to stop for the night and find a place to sleep. 
The local taverns and inns were nearly full, though, and there were only two rooms for the three men. "One bed could be procured for Dr. Franklin and me," Adams wrote in his autobiography, "in a chamber a little larger than the bed, without a chimney and with only one small window."
That window would be a problem for the two men.
A ROOM WITH A VIEW
Adams, who was "an invalid and afraid of the air in the night," closed the window before they got into bed.
"Oh!" said Franklin. "Don't shut the window. We shall be suffocated."
When Adams explained that he didn't want to catch an illness from the cold night air, Franklin countered that the air in their room was even worse.
"Come!" he told Adams. "Open the window and come to bed, and I will convince you: I believe you are not acquainted with my Theory of Colds."
Contrary to the lay wisdom of the day (and everybody's grandmother), Franklin was convinced that no one had ever gotten a cold from cold air. Instead, it was the "frowzy corrupt air" from animals, humans, and dirty clothes and beds, he thought, that led people to catch colds when they were "shut up together in small close rooms." Cool, fresh air at night, he believed, had many benefits. 
Franklin's ideas were inconsistent with Adams's own experiences, he wrote, but he was curious to hear what Franklin had to say. So, even at the risk of a cold, he opened the window again and hopped into bed with Franklin.
As they lay side by side, Adams wrote, Franklin "began a harangue upon air and cold and respiration and perspiration."
"I was so much amused that I soon fell asleep, and left him and his philosophy together," Adams wrote. "But I believe they were equally sound and insensible, within a few minutes after me, for the last words I heard were pronounced as if he was more than half asleep."
The strange bedfellows were out like a light, and continued on their way in the morning. The peace conference they were traveling to lasted just a few hours and produced no results.