25 Things You Didn't Know About Washington, D.C.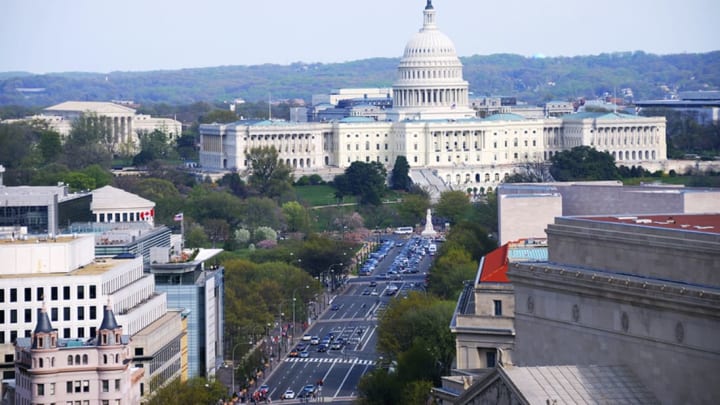 iStock / iStock
You know it's our nation's capital, but were you aware of these fun quirks?
1. The Capitol building was not designed by an American. William Thornton was a British doctor.
2. Similarly, the White House was designed by an Irish architect, James Hoban.
3. The Smithsonian is named for an Englishman, James Smithson.
iStock
4. He never set foot on American soil.
5. D.C. residents could not vote in presidential elections until the 23rd amendment was ratified in 1961.
6. Both Herbert Hoover and John Quincy Adams kept alligators at the White House.
7. The White House movie theater was originally a coatroom.
8. When Jimmy Carter was president, he watched 480 movies there—the most of any POTUS.
Getty Images 
9. D.C. gets more rain than Seattle.
10. Perhaps that's why D.C. residents drink more wine per capita than residents of any of the 50 states.
11. The National Cathedral has lots of wacky gargoyles and grotesques. One of them is Darth Vader.
12. In 1998, one of the unknowns interred at the Tomb of the Unknown Soldier in Arlington National Cemetery (actually just across the Potomac from DC) was identified.
13. D.C. is home to tons of national museums. But don't forget the National Bonsai and Penjing Museum, which houses about 200 meticulously pruned mini trees!
14. There were more members of the media at the 1963 March on Washington than at Kennedy's inauguration two years earlier.
15. The Washington Monument is (accidentally) two different colors.
iStock
16. Funding ran dry halfway through the project. When construction restarted, the builders used stones from a different source. Whoops.
17. When President Woodrow Wilson had to move out of the White House at the end of his term, Prohibition forbade him from moving his precious wine collection. He appealed to Congress and passed a special law that allowed one person to transport alcohol from 1600 Pennsylvania Avenue to Wilson's home. Sneaky!
18. Wilson happens to be the only president buried in the District.
19. Both the Minnesota Twins and the Texas Rangers started out as the Washington Senators.
20. Whereas the Washington Redskins were originally based in Boston.
21. The D.C. Metro is the second busiest subway system in the United States.
Getty Images 
22. D.C.'s streets are lettered—but there is no "J" street.
23. That's because, during the 18th century, the letters "I" and "J" were basically interchangeable.
24. (Thomas Jefferson actually wrote his initials as "T. I.")
25. An empty crypt lies beneath the Capitol building—George Washington was supposed to be buried there.